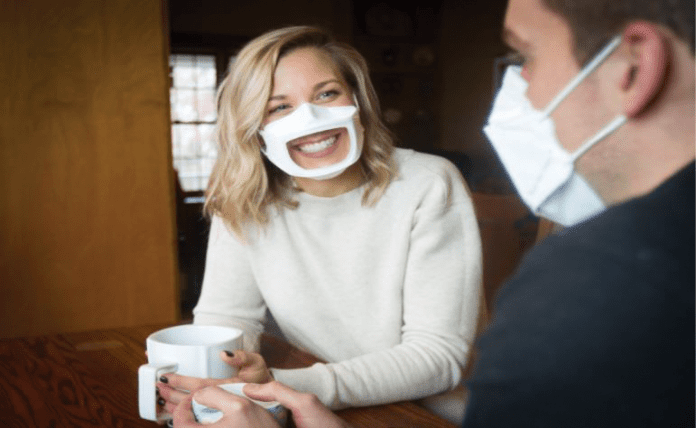 Nearly all college students have faced their fair share of difficulties during the coronavirus pandemic when it comes to keeping up academically. For the Deaf and hard of hearing (DHOH), however, something as simple as understanding a classroom lecture — whether online or in person — has become a considerable struggle.
"Trying to follow along with audio on videos and lectures has definitely been the biggest issue for me," explains Abigail Toth, a freshman studying special education and Deaf education at Kent State University (KSU).
Toth has residual hearing; while she can make out some sounds, she still suffers from significant hearing loss. She says that she was fortunate to have found an online tool that can create captions in real time and that her university offers multiple resources for DHOH students. KSU's Student Accessibility Services office provides her with notes, lectures, and PowerPoint presentations for her classes. While these services were offered even before the pandemic, Toth says they have been vital in helping her keep up online.
"Since I often miss parts and pieces of information through the audio [portions] of lectures and videos, having access to these resources makes it easier for me to stay on track academically," she explains.
The switch to online education has been unpopular among college students overall. In an August survey by the Excellence in Virtual Education project, 65 percent said they disliked virtual classes. Yet DHOH students appear to have an even harder time adjusting to this format. Nearly 75 percent of Deaf college students consider online learning more difficult than traditional learning, according to a recent poll by the National Deaf Center on Postsecondary Outcomes (NDC) at the University of Texas at Austin.
Some of those surveyed said they were denied ASL interpreters for virtual courses because their college or university has an exclusive contract with an interpretation service that does not offer remote services. Many reported being frustrated that professors tend to use more podcasts, audio files, and videos as teaching tools in online courses.
Nearly three quarters of students in the NDC survey indicated that the increased amount of reading and writing required for remote learning is one of their greatest challenges. Many people who are DHOH use American Sign Language (ASL), which has no written form. To read and write in English, they must mentally translate each word to the corresponding ASL sign — which can be especially difficult as the two languages have variations in vocabulary and grammar. Having extra reading and writing assignments, therefore, is often more laborious and time-consuming for these students.
Jasmine Hall is a senior at KSU who was born Deaf and whose first language is ASL. She tried to find a tutor who could help her keep up with the increased workload of written assignments during the pandemic.
"I was struggling to write everything in English because there are not great resources for [finding] English tutors online," she says. Nor could she use in-person tutoring due to concerns about possible COVID-19 exposure. And even if she had been able to find an in-person tutor, Hall says time limits made it hard for her to get the help she needed.
"Tutors had their time limits for every person, which wasn't helpful because I need more than 30 minutes per session," she says. 
Eventually, Hall was able to receive assistance from a friend who is an English major. She knows that many other DHOH students, however, have not been so lucky.
When it comes to seated courses — or any form of in-person communication — a common hurdle for DHOH students is understanding people wearing face masks. These coverings prevent lipreading and can cause muffled speech as well as obscure facial expressions, which are necessary for accurately understanding ASL. 
"Lipreading during the pandemic has been virtually impossible because of masks," says Toth. During her on-campus marching band class, face masks make it more difficult to understand her instructor and fellow students, causing Toth to miss cues. 
Samuel R. Atcherson, PhD, a professor and the director of audiology research at the University of Arkansas for Medical Sciences, has been conducting research into the effectiveness of helping people communicate with transparent facial coverings since 2008. His work has been gaining more attention since the onset of the pandemic, he says.
"We ultimately hope that the use of transparent masks becomes more of the norm, not just for helping people who are [D]eaf and hard of hearing, but for all people," he wrote in an email to INSIGHT, explaining that clear masks have the potential to prevent medical errors by improving communication among health care workers and with patients.
Atcherson, who is hard of hearing, has served as a consultant for the NDC over the course of the COVID-19 pandemic. He recommends that faculty who want to improve accessibility for DHOH students start by ensuring their face and mouth are visible when communicating, if it's safe to do so. 
"However, I caution that not all [DHOH] people are great lip readers, so it should never be assumed that unobstructed view of the face works for everyone," Atcherson wrote in the email.
For online lectures and videos, he advises reducing background noise as much as possible, speaking closely into the microphone, and using a room that does not cause echoes. He also points to captions as a vital resource and suggests that instructors make transcripts available after class.
Hall and Toth agree with these recommendations, and their personal advice for DHOH students is to communicate when they are feeling overwhelmed — not just to professors but to family, friends, and classmates. There is no shame in struggling or being unmotivated in school during this difficult period, Hall says.
"It is so important to remind ourselves right now that these are such unprecedented times," Toth adds. "Masks and social distancing have such a damaging impact on communication. However, keeping in touch with friends and your peers is so important in keeping your mental health in check."●
Lisa O'Malley is the assistant editor of INSIGHT Into Diversity. This article was published in our March 2021 issue.