This November, NCAA Division 1 (D1) colleges and universities are required to submit documentation, signed by presidents, chancellors, and other high-ranking officials, attesting that they have completed a review of DEI (diversity, equity, and inclusion) policies and programming within their athletics departments. The association's individual conferences must also complete a review by November 2024. 
This process is a key part of the NCAA's recent member-driven efforts to advance DEI principles in college sports and better support student-athletes following a nearly decade-long gap in such requirements.
In the early 1990s, the NCAA mandated that D1 member institutions undergo a certification process every five years that included requirements on gender equity and "minority opportunities." That process was phased out in 2010. 
In the following years, internal NCAA committees led by representatives of member schools developed the policies that would lead to the current process. Approved in 2019 for individual schools and in 2020 for the conferences, it requires that D1 institutions and conferences complete a DEI review every four years. 

"The goal is to build support for the diverse body of student-athletes and foster communities of belonging and inclusivity in college sports," says Amy Wilson, PhD, managing director of the NCAA Office of Inclusion.
"When the membership voted to move forward with this legislation, I think they were making a statement about our focal point, who we're here to serve — student-athletes," she says. "The student-athletes are a diverse bunch at the intersection of all kinds of core identities. If we are really in the enterprise of developing human beings, then we want them to be their true selves, and we want them to be in environments where they can reach their full potential. It is important that we're looking at DEI and that we're creating cultures of belonging where they are comfortable and can thrive."
The NCAA's Office of Inclusion regularly engages with member schools through various forums and conferences. Most notable is the annual Inclusion Forum held in April, which provides workshops and sessions to help member institutions best support their DEI athletic goals. During the most recent forum, the NCAA presented its "Diversity, Equity and Inclusion Review Framework," a comprehensive guide released in fall 2022 on what schools should consider in their review process, including the recruitment of diverse athletes, equitable and inclusive hiring practices, and mental health support services for marginalized students and staff. 
In support of these efforts, the association has identified DEI and gender equity as key principles in its new constitution, which was ratified in January 2022.

Helen Grant, an independent Title IX and DEI expert and consultant, has conducted Title IX compliance reviews for college athletics departments for nearly 17 years and since 2020 has focused on DEI in her process, utilizing the NCAA's framework. 
In each of her comprehensive reviews, Grant takes several days to interview athletics directors, Title IX coordinators, DEI officers, coaches, and student-athletes. She specifically meets with individuals from a wide range of sports and racial and ethnic backgrounds to get an understanding of their experiences. 
Though focused primarily on athletics, she often talks with university officials in other departments to glean information about the entire school's commitment to DEI practices. Particular areas of study for Grant are support services and the existing sense of belonging for student-athletes from all backgrounds.
"I'm so happy that we're doing things nationally, not just in athletics, to recognize the fact that diversity is good. We've always had diversity in athletics but having support and education there for all of these people of different cultures and ethnicities to understand each other and work together is tremendously important," says Grant. "Those kids and the staff spend 90 percent of their life for four or five years together, going through good and bad [experiences], so they need to understand each other. They'll certainly perform better and feel better about academics and athletics if they feel like they belong and they're being supported."
Although many colleges and universities had lackluster athletic DEI programming prior to 2020, most have increased their efforts significantly since then, leading to a better environment for their student-athletes, says Grant.
"In the schools that I've worked with, well over 100 here and there, they have been extremely responsive in their [DEI] programming," she says. "It may have started out being reactive, but I think it got the ball rolling."
Under current policies, the NCAA does not collect data from the reviews. Instead, the process is meant to ensure that institutions are reflecting on their own practices and exploring how they can improve them. Changes to that process, including data collection or higher levels of accountability, would need to come from member legislation.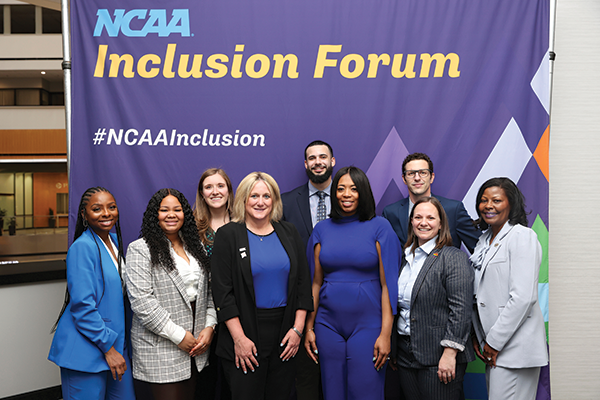 Institutions can, however, be penalized for failing to complete a review. Those that do not submit an attestation form within the first month after they are due are subject to a $500 fine, but schools that exceed the deadline by two months would be placed on restricted membership status, meaning they would not be eligible for association revenue distribution and potentially lose out on millions of dollars. For example, in the 2021-2022 fiscal year, the Southeastern Conference received nearly $722 million in revenue, averaging more than $50 million among each of its 14 member universities.
Fortunately, the risk that schools would fail to complete these reviews is low given that the entire process was driven and approved by NCAA members, says Wilson. The main challenge comes from legislation in states like Florida and Texas, which have recently passed anti-DEI laws targeted at colleges and universities. As of early September, there had been no significant pushback against the association's DEI review process, but a small number of member institutions had questioned how state laws may impact their review, says Wilson. 
Despite this potential hurdle, the NCAA's new requirements have maintained overwhelmingly positive support from D1 schools, she says.
"Certainly, one of the questions that is there for schools to consider is 'What is possible for us to do in the current environment that we are living in?'" says Wilson. "I think the schools are recognizing the value of this for student-athletes and then working to navigate their current environment state by state."●
This article was published in our October 2023 issue.