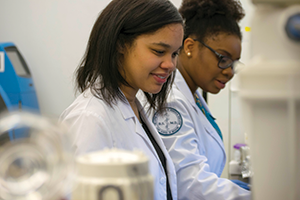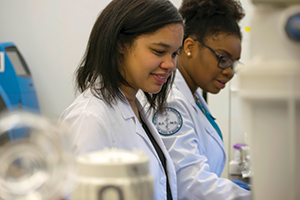 The City University of New York (CUNY) School of Medicine is on average the fourth most diverse medical school in the nation, and the most diverse at a predominantly white institution. CUNY achieves this success through its dedication to an inclusive mission along with several key tactics.
According to the Journal of the American Medical Association, 57 out of 219 enrollees in CUNY's program — or 26 percent — identify as Black or African American. Nationwide, Black students made up only 7 percent of overall medical school enrollment in the 2018-2019 academic year. Nearly 8 percent of enrollees at CUNY's medical school identify as Hispanic or of Spanish origin while representing 6 percent of total medical school enrollment nationally. Roughly 53 percent of students at the School of Medicine are from underrepresented groups, including more than 80 percent who are immigrants or children of immigrants.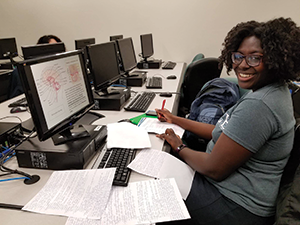 CUNY only recently started granting medical degrees (MD), though the institution has existed for 45 years with two undergraduate degree programs. From the time the medical school was founded in 1973, "the mission of the school has always been to provide opportunities for students from backgrounds that have been historically underrepresented in medicine," says Annabel Santana, assistant dean for diversity and educational affairs.
Data on graduation rates is not yet available, though the program has received positive anecdotal feedback from students. First-year medical student Abena Baah-Fordjour says she selected the school "because I felt at home from the first minute I stepped on campus. No other school has such a clearly defined mission that it kept reiterating and working towards."
Students in the program obtain their bachelor's degree and MD in seven years. Because enrollees are admitted out of high school, they do not have to take the Medical College Admission Test (MCAT). The admissions team uses a holistic review process that considers experience in past leadership roles and community volunteer work instead of relying solely on traditional test scores and grade point averages. 
"It's clear that there has been a leaky pipeline when you look at the number of students underrepresented in medicine who used to be pre-med or believe they are on the path to medical school," says Erica Friedman, interim dean.
Friedman considers the MCAT a hurdle that "is known to distinguish high-scoring students and low-scoring students, not on innate intelligence but more on previous experiences with standardized tests or [having] an incredibly strong education through middle school and high school that puts them at an advantage for being good test takers."
"Our model recognizes that in order to recruit those who are underrepresented in medicine into the field and into primary care you need to capture them early so that they don't get caught in this leaky pipeline," Friedman adds.
The school's recruitment process also plays an integral role in enrolling students who are underrepresented in medicine.
Admissions staff work hard to develop relationships with high school students, sometimes as early as their first year. Staff attend college fairs, visit high school classrooms, and participate in academic enrichment programs.
"We bring our students along with us to our recruitment events," says Jerrold Erves, associate director of admissions. "What that instantly does is help younger students thinking about medicine and applying to our program realize that they can because they see students who may not be much older than they are."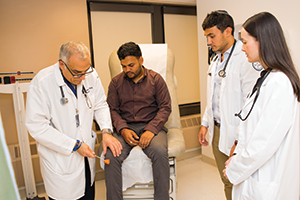 As early as their first year in the CUNY program, students go out into the community to learn about the structural, social, and environmental challenges to health. This practice lays a foundation to help them "understand that to be a good physician, it's really important to know where people live, learn, work, pray," says Joan Dorn, chair of community health and social medicine.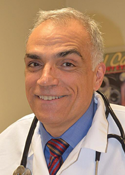 These experiences expose students to the social problems and diseases that are more prominent in underserved communities, "such as high incidents of asthma and diabetes, substance abuse, and childhood obesity," says Ernest Patti, course director and senior emergency medicine physician at St. Barnabas Hospital.
Students also learn firsthand about the need for primary care physicians in these communities. "[For] folks who live in an area that's depressed economically, it's harder for them to get good medical care on a regular basis. If you want to go see a doctor in the zip code around the medical school, there aren't as many primary care offices open after hours," Patti says.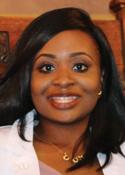 Gladys Obaji, a first-year medical student, says she knew her first day on campus that she chose the right school. "There was a certain kind of peace that overwhelmed me that day. I felt like I belonged. I would attribute this sense of belonging to the diverse group of students who offered to welcome the newly accepted students." 
"We have a very passionate group of support staff and faculty. They just really love our students," Santana says. "We have our challenges, too. It's not the perfect environment. … We're really trying to have a climate and a culture that can support our students and we are examining our own processes to see where we can make changes. We're trying to be proactive."
Jen Roberts is a contributing writer for INSIGHT Into Diversity. This article ran in our May 2019 issue.