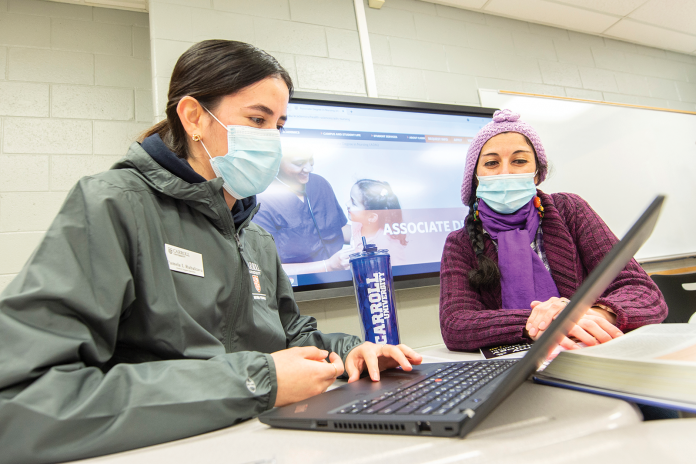 Responding to the critical need for nurses and culturally competent health care, Carroll University's associate degree in nursing (ADN) program focuses on recruiting diverse and bilingual students to serve Hispanic and Latinx communities in nearby Milwaukee. The program launched in 2021.
"The nursing shortage has been serious for a couple of years, and the pandemic and retirement of many baby boomers have really contributed to that," says Lori Magestro, DNP, director of the ADN program and clinical assistant professor of nursing at Carroll. "The situation has moved from serious to critical to dire."
The ADN program was born out of the university's partnership with the United Community Center (UCC), a local nonprofit organization that provides health, legal, educational, cultural, and community development services to Hispanic and Latinx families and individuals in Milwaukee. Recognizing a need for more culturally competent nurses, UCC worked with Carroll to establish the program utilizing space at its center.
The program admits students from all racial and ethnic backgrounds, but because of the region being served, there is an emphasis on recruiting Hispanic and Latinx students, especially those who are bilingual, Magestro says. Nearly 60 percent of this year's cohort are from racially underrepresented backgrounds, which is significantly higher than Carroll's main campus, where only 8 percent of students are non-White.
An increase in nurses who speak both Spanish and English is expected to improve patient health outcomes. The presence of representative nurses increases patients' trust in their care providers, allows them to better communicate their needs and concerns, and provides a better overall sense of understanding between patients and nurses, says Magestro. Regarding Hispanic and Latinx patients, for example, a nurse from the same background would understand the important role that families play in health decisions for individual members, she says. 
"By having diverse and bilingual nurses, it really leads to positive effects on our patients," Magestro says. "When patients have nurses caring for them who are of their same culture and speak their same language, they have a better understanding of their own health."
Carroll's ADN program has a capacity for 24 students annually. This year, 16 have enrolled; the inaugural cohort had 19. The small number of students ensures that they have a more personal experience with the faculty and their classmates and helps the program to be more flexible for its high percentage of nontraditional students, some of whom are parents.
"When patients have nurses caring for them who are of their same culture and speak their same language, then they have a better understanding of their own health."

Lori Magestro
"We wanted a smaller class size on purpose so that we could provide a personalized educational experience and provide the support that our students need," says Magestro. "We wanted to be more nimble. I know not only our students' names, but I know pretty much all of their spouses', children's, or parents' names. It's fun because you really get to connect with the students."
Carroll's ADN program and others like it play an important role in addressing the critical shortage of nurses, but they also offer significant benefits for the participants, Magestro says. Along with close working relationships with faculty members, the program provides a bilingual support, enrollment, and retention specialist who regularly communicates with students and their families for academic, social, and emotional assistance. Additionally, a cohort of individuals from similar or shared backgrounds helps them feel more welcome.
"It makes my heart melt when I see students who had told me they were struggling in a different program thriving in this one," she says. "Obviously the faculty are here to support students, but what's happening is students are really supporting and connecting with each other."
Through the ADN program, Magestro and her colleagues ultimately plan to build a pathway program for students to obtain concurrent associate's and master's degrees.●
This article was published in our January/February 2023 issue.