"Auntie, I really wish they'd have air conditioning in jail."
It was a scorching hot summer in the Bronx. Ronnette Summers couldn't believe what was coming out of her nephew's mouth.
"Why would you say that?" she snapped.
"Oh, because that's where my teacher told me I was going to wind up," he replied.
Rodney, who is Black, was only 12 years old at the time. A student in special education, he had some "behavioral issues," and he was "constantly, constantly getting suspended," Summers recalls. He had been removed from the classroom so many times that he was still reading on a pre-K level.
Looking back, Summers sees the vicious cycle for what it was. "Rodney would just get up and do something foolish when he felt like the work was getting too hard for him because he knew they would kick him out of the class," she says.
As a child of color and a student with a disability, Rodney was statistically more likely to be suspended from or arrested in school.
Inequities persist when it comes to who is punished and how harshly, both in and out of schools, despite a national decline in the overall numbers of children who are becoming involved in the juvenile justice system, according to Girls for Gender Equity (GGE), a Brooklyn-based advocacy organization for young women of color.
But some organizations have made significant gains in cutting off the pipeline to prison and creating pathways to college. This is a much-needed component of diversity, equity, and inclusion work at colleges and universities across the country.
[Above: Children's Defense Fund of New York student advocates rally in front of New York City Hall to call for school climate reform.]
The Children's Defense Fund (CDF), a national child advocacy and research organization, works alongside parents, caregivers, youth activists, and other youth justice experts to combat these inequities.
They are transforming the cradle-to-prison pipeline into a cradle-to-college pathway for all young people, with a particular focus on populations from underrepresented groups. Reforms that they have spearheaded in New York and California, home to some of the most diverse youth populations in the country, demonstrate their pioneering work.
Institutions of higher education are also working to combat the cradle-to-prison pipeline through efforts such as research and data collection, student scholarships, and teacher training programs. 
Underrepresented groups who are disproportionately targeted by punitive discipline include Black and Brown youth, children with disabilities, foster youth, LGBTQ individuals, girls of color, English language learners (ELLs), children with post-traumatic stress disorder (PTSD), and poor children.
Living in communities with heavy police surveillance, a lack of family or financial support, homelessness or housing instability, reduced access to education or employment, and vulnerability to exploitation and trafficking lead to these inequities, according to Julia Davis, director of youth justice and child welfare at CDF-NY, the New York branch of CDF.
A major focus of CDF's work across the country is reducing this disproportionality. Advocates take a multi-pronged approach, from increasing the number of Title IX officers in the New York City public schools to prevent gender-based violence, to working directly with young people with disabilities and ELL children living in Long Beach, California, whose parents need help navigating the rights and protections their children are guaranteed under individualized education plans.
To avoid the fate he expected for himself, Rodney switched schools and eventually improved his reading skills. When asked to describe what changed for her nephew, setting him on a path toward educational attainment, Summers' answer was simple: "He stopped getting suspended."
Eliminating Exclusionary School Discipline Practices
A crucial part of clearing the pathway to college is reducing exclusionary discipline policies at K-12 schools. Such policies include suspending students for long periods of time, often for vague and highly subjective infractions.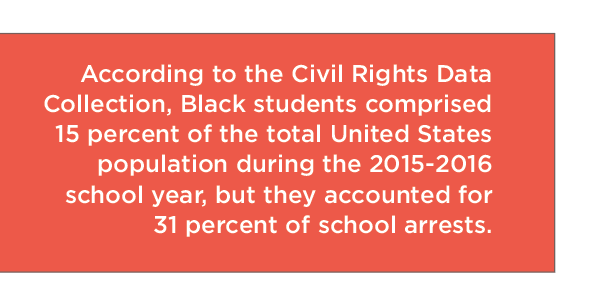 This practice leads to school pushout — the removal of children from school environments when they most likely need counseling or caretaking. Removing them from this safe haven when they are most vulnerable often increases the likelihood that they will have negative interactions with law enforcement in the future.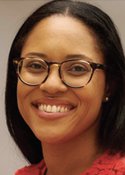 Punitive discipline also does nothing to change student behavior, CDF-California's (CDF-CA) executive director Shimica Gaskins says. "Suspensions in schools, they're not accountability. They're an isolation and rejection method," she says.
A 2016 article in The Atlantic illustrates how this practice affects underrepresented students at higher rates. It describes how an in-school police officer slammed a Black girl to the floor after she refused to put away her cell phone. She was later arrested, along with a classmate who was punished for recording the event on her cell phone. 

Suspending or even arresting students for subjective reasons is a widespread practice in America's public schools. Such offenses are given a variety of confusing names, from "boisterous behavior" in South Dakota to "annoying conduct" in Alabama, according to the article.
Advocacy organizations and institutions of higher education advocate for the following solutions to address the widespread problem:
● Push for laws that limit the length and sometimes even the option of suspensions and expulsions as well as the acceptable criteria for taking such punitive action.
● Address implicit bias as a root cause of disproportionality when it comes to high levels of school discipline and police contact for underrepresented groups.
● Advocate for the eventual removal of police officers in schools.
● Invest in "restorative justice" practices and social emotional learning as a way to both prevent and resolve conflicts in school.
One recent reform initiated by the Trump administration has undermined these efforts. In December 2018, the White House issued a school safety report recommending that the U.S. Department of Education eliminate Obama-era guidance designed to reduce the number of students of color who are harshly disciplined in America's public schools.
"We've been working so hard to change the punitive school climate and to recognize the role it plays in mass incarceration in our country," Gaskins says. "Rescinding that guidance really denies students' experience in schools and also denies that schools have a responsibility to be a safe haven for our children." 
Challenging Implicit Bias
Implicit bias training for educators and law enforcement is essential to improving discipline policies, Gaskins says. 
"At CDF, we really see how racial bias in schools, both implicit and explicit, is one of the biggest contributors to the pipeline. It can really override good policies until schools and districts tackle this issue directly," she says.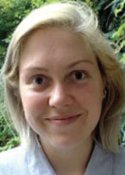 Charlotte Pope, CDF-NY's education justice policy manager, helps conduct four-hour implicit bias workshops with members of the New York Police Department (NYPD) who are training to become school safety agents. CDF-NY has also implemented a city-wide warning card program so school safety agents can refer students with behavior problems to school administration or counseling as opposed to arresting them or summoning them to appear in criminal court. 
Meanwhile, the NYC Coalition for Educational Justice (NYCCEJ), a parent advocacy organization, recently won a $23 million investment from the city for anti-bias training for teachers, administrators, and staff. These trainings educate school personnel about the reality of disproportionality and the relationship between subjective discipline referrals and the prison pipeline, Pope says. 
CDF-CA is still developing its implicit bias strategy, Gaskins says. It's a sensitive topic for a lot of educators, and many are resistant to it, she adds. For instance, the school board in Orange County recently voted to initiate implicit bias training for teachers, and "there was a big uproar," Gaskins explains. 
Eliminating Police Officers in Schools
In an ideal world, there would be no police officers in schools, advocates at CDF say. They argue that these safety agents generally do not make campuses safer. More importantly, they can significantly contribute to school pushout. 
"Police are trained to look for criminal activity. So, when you put them into schools, usually they will find it based on their training. While safety is important and a precursor for students' learning, having police on campus doesn't actually promote that," Gaskins says.
The girls surveyed in GGE's The School Girls Deserve report said that school safety agents "did not make them feel safe but rather criminalized in school, constantly surveilled, and imprisoned." In addition to eliminating police presence, they advocate for the removal of metal detectors as well, which they say create a "prison-like atmosphere." 
CDF-CA leads discussions with local communities about how and why to divert the nearly $70 million that goes toward state school police officers into other educational investments.
In New York, CDF has endorsed the national Dignity in Schools Coalition's (DSC) "Counselors Not Cops" campaign. According to DSC's website, it's a "set of policy recommendations [that] calls on schools, districts, states, and federal policy-makers to remove any law enforcement assigned to be present on a regular basis in school." 
Restorative Practices and Social Emotional Learning
If on-site police officers and punitive discipline policies are negative forces that need to be mitigated, what are the preventative, proactive approaches that schools can take to have a positive effect? Advocates point to restorative justice (RJ) as well as an increased emphasis on social and emotional learning.
RJ is the philosophy that all community members are accountable for creating and maintaining a respectful school environment. When there is conflict, the RJ approach focuses on exploring the needs of the different individuals involved and repairing relationships through a process of mediation.  
This approach is how Rodney learned to trust adults again, Summers says. When he misbehaved at his new school, expecting to be suspended, teachers responded to his behavior with curiosity instead of reactivity, and they figured out "what was really going on." They realized that he felt embarrassed about his low reading skills and set him up in a separate room where he felt more comfortable asking questions. 
Incorporating restorative practices into a school's culture can reduce the need for the justice aspect, also known as the process of conflict resolution. Marc Brackett, PhD, founder and director of the Yale Center for Emotional Intelligence, incorporates these as part of the center's RULER program, a training process for K-12 educators in social and emotional learning.
Such approaches are geared toward the adults in a school as much they are toward children.
"The importance of adult development cannot be overstated," Brackett says. "One of the things that makes RULER unique is that the first year of implementation is focused on the adults developing their own comfort level and skills with emotional intelligence."
Creating an entire school culture that attends to how students and teachers feel is a complex, step-by-step process. But at a basic level, Brackett says, school administrators need to think about how the people in their building or district feel. This approach is the foundation of establishing a more cooperative and equitable school climate. 
The New York City public school system is taking this approach a step further. In June 2019, Mayor Bill de Blasio announced a school-to-prison pipeline reform package that includes bringing restorative practices to every school citywide.
The city will roll out this $12 million investment over a three-year period, Pope says, beginning with the training of district superintendents and principals and then implementing restorative justice action teams in schools.
More than Better Discipline Policies
Replacing punitive disciplinary practices with more effective, respectful ones is just one aspect of creating a school climate that puts all children on a path toward higher education. As stated in GGE's The School Girls Deserve report, "most research on school pushout focuses on how young people experience harsh discipline in school, [but] school pushout goes beyond discipline."             
Summers says culturally responsive education, in which underrepresented students are actually represented in the curriculum, is key to keeping young people engaged.
Summers became a parent activist with the New Settlement Parent Action Committee in the Bronx, part of NYCCEJ. She didn't want any other child to experience the alienation that Rodney felt for so long. 
"Culturally responsive education is really about seeing the students for who they are and showing them that they're valued," she says. "If you're on a teacher's path, you should be taking classes around culturally responsive education. You should be taking classes about alternatives to punitive discipline. You shouldn't have to wait until you get into the schools to figure it out."
She envisions a world where every single child in the U.S. is shown the path toward college.  
"What I'm hearing," Summers says, "is that the school-to-prison pipeline issue is improving because not as many children are going to prison. I don't care if it's one. That's too many for me." 
Rodney definitely beat the odds, his aunt says. Today he is 19 and a graduate of KIPP NYC College Prep High School. He begins college this fall.
Ginger O'Donnell is a senior staff writer for INSIGHT Into Diversity. This article ran in the October 2019 issue.