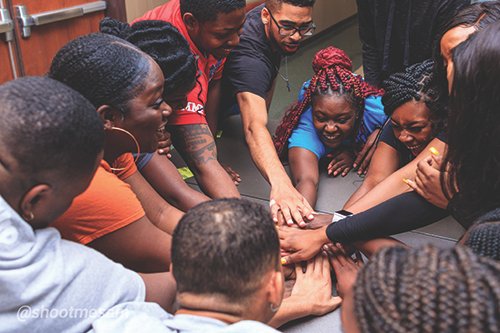 A 2016 LinkedIn survey conducted by the Adler Group found that 85 percent of jobs are filled through networking. In 2017, Business Insider estimated that at least 70 percent of open positions are not even advertised. Although networking is the most effective way to land a new job compared with career websites or other options, according to Forbes, it is the "least desirable job search method among young adults."
For students from underserved backgrounds networking can be especially difficult. Social capital and other less obvious factors — such as having the financial freedom to accept an unpaid internship — can put them at a severe disadvantage when it comes to making professional connections.
Networking situations can sometimes lack cultural relevance, making students feel as though they need to code-switch or "hide who they are," explains Mary Finn, the founder and director of Snap Academics, a private college advising service. It often requires knowing how to professionally introduce oneself to a stranger, dress appropriately, and shake hands. Although those lessons can be useful, Finn says it also sends a message to participants that they can't be their authentic selves.
Instead, students from underserved backgrounds or who are the first in their families to attend college should embrace their identity when networking and understand they are a part of a category of people that colleges and universities want to support, says Finn.
[Above: First-year students participate in a skills-building activity during a special orientation week for the Minority Mentorship Program (MMP) on the campus of the University of Central Arkansas (UCA) in August 2019. MMP has more than 300 student members and has been in existence since 1991. (Photo Courtesy UCA)]
"Colleges want to make first-generation [and underserved] students successful, so if they use their identity as an asset and see it that way, they can start to connect [as a community] in the way that wealthier kids tend to," she says.
In addition to using basic campus resources like career centers and professional student organizations, these students should take advantage of networking opportunities specifically tailored to their needs, says Finn. She recommends that colleges and universities consider how to best provide students from underrepresented groups with straightforward opportunities to make professional connections. Mentorship programs and partnering with companies and organizations that can offer credit-bearing internships, for example, expand opportunities for underserved students to make close, authentic connections to people who can help jumpstart their careers.
"Middle- and upper-class kids tend to find those connections through their parents or people in their social world, but [underrepresented students] need it to be made a little more explicit to them in that way," Finn says.
Peer-to-Peer Networking
The Minority Mentorship Program (MMP) at University of Central Arkansas (UCA) is one example of a longstanding, large-scale effort to cultivate a networking mindset among underrepresented students.
The program consists of 350 non-White students and has been in existence since 1991. Incoming students are partnered with more advanced members who are from similar backgrounds and can provide peer-to-peer guidance — a technique that Dierre Littleton, associate director for UCA's Office of Diversity & Community, says has a greater influence than traditional mentoring and networking.
The technique is sometimes referred to as "networking across," or connecting with peers to gain insight from someone who's more approachable and sharing the same experience in real time.
Littleton oversees MMP and other initiatives and says the key to getting people involved in a networking culture is creating a welcoming campus environment so they'll want to join student-led programs.
Through the initiative, UCA offers an exclusive orientation week to non-White students where mentors are trained and paired with mentees. Known as "Transitions Week," the event includes activities around academics and skills for professional success, such as financial literacy. The orientation allows underrepresented students to start cultivating a networking mindset and learn how to start making connections with new people across an expansive organization before the semester even begins.
Doing so makes them feel welcome on campus and comfortable with reaching out to others for advice or assistance, and it sets them up with role models to turn to when it comes to navigating their educational and career paths.
"The sense of belonging is a big piece for minority students, especially if they attend a PWI [predominantly White institution]," Littleton says.
Reaching Out
Isaac Serwanga is a motivational speaker and co-creator of the Profound Ivy organization, which provides career development and leadership support for educationally disadvantaged students. He is also the author of the book How to Network in College: A Practical Guide to Student Success in the Networking Age, and he hosts networking workshops for students at Kansas State University, University of California, Berkeley, and more.
Serwanga's lessons are based on what he has learned since his own time in college, when being a member of the baseball, football, and track teams left him little time for networking, he says. Consequently, when he graduated from Princeton University in 2013, he didn't have a job lined up.
Rather than dedicating his energy solely to job hunting, he spent the next seven months building professional relationships.
"I would almost make it a job for me to go out and have conversations over the phone, attend conferences, and learn from people who are in particular areas that I thought I might be interested in," Serwanga says. "The beginning of networking, especially for young people, is building relationships, and the best way to build relationships is to listen to other people's stories."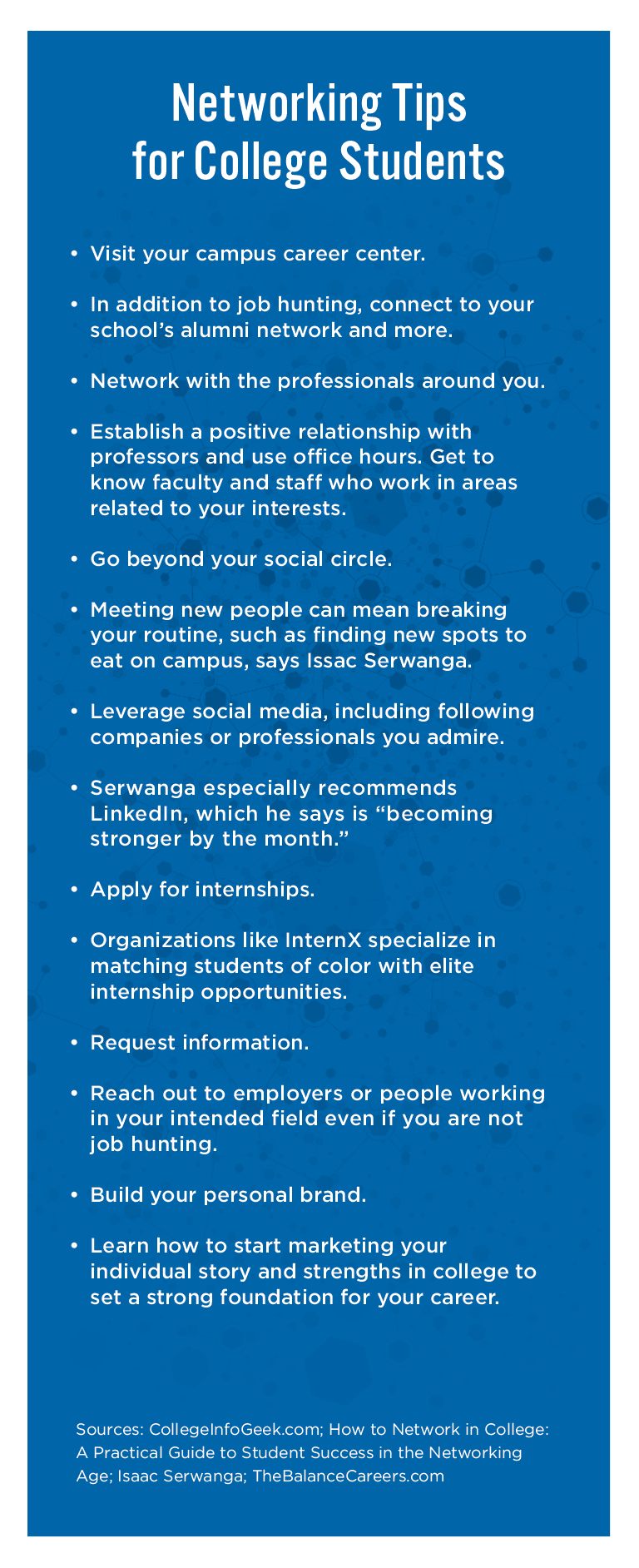 Serwanga recommends students use the opportunity to speak to new people as a way to gather insider knowledge of their intended career field. "Curate for yourself four to seven questions that you would ask every professional who's going into a desired industry," he says, "You have to become the interviewer, in a way."
During the journey of growing his professional circle, Serwanga says he learned more about where he wanted to go in his life and career and met individuals who could not only serve as mentors but helped open doors he couldn't have by himself. Eventually, employers began reaching out to him rather than the other way around.   
Students should be prepared to get turned down when reaching out to professionals, however, as "no" is the most common word they may hear, Serwanga says. That's just part of the networking game, especially when it comes to cold calls and emails, he adds.
Learning to prepare for these setbacks is another way that students from diverse backgrounds can cultivate a networking mindset and the resiliency to overcome the challenges of building totally new connections. Doing so can mean the difference between landing a dream job upon graduation or struggling for months — or longer — to launch one's career, despite doing the hard work of having earned a degree.
Mariah Stewart is a staff writer for INSIGHT Into Diversity. This article ran in the December 2019 issue.