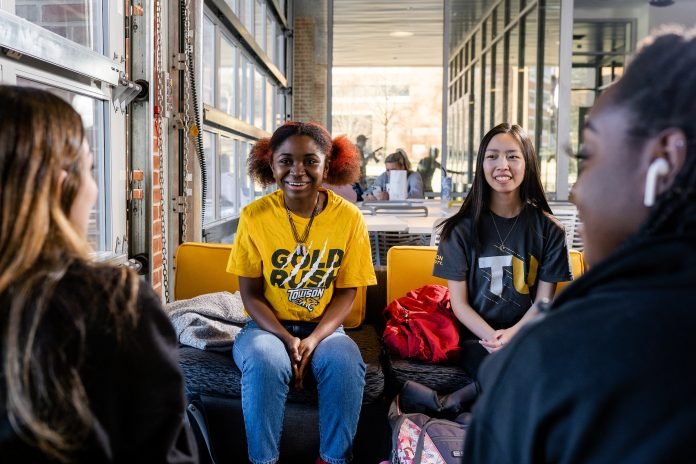 Resolutions and Safe Spaces — Adelphi University
Adelphi University's Office of Community Concerns and Resolution was established in fall 2021 to simplify and enhance the system for reporting discrimination, bias, and abuse. It provides students, faculty, staff, and alumni with a single place to report nonemergency complaints or concerns, including those involving harassment and sexual misconduct. Adelphi also introduced Students Beyond the Binary, a new student organization focused on transgender and gender-nonconforming issues. It serves as an advocate and provides a safe space for members of trans, nonbinary, and gender-nonconforming communities and their allies. 
Elevating Stories of the Unrecognized — Agnes Scott College
In July, Agnes Scott College launched the Acknowledging our Past: Acting Now for a Transformed Future project, which aims to elevate the lives and stories of the people of color who built the college. In addition to this project, the college recently hosted its third annual Women's Global Leadership Conference, entitled "Leading Inclusively: Transformative Change Across the Globe."
AmeriCorps Tutors for Youth — Arkansas State University
Arkansas State University (A-State) has strengthened local community ties through Neighborhood Red Wolves Community Engagement, which is the university's AmeriCorps program providing math prep tutors and post-secondary readiness mentors to local youth. A-State has also impacted recruiting through the Student Diversity Recruitment team and the A-State INSPIRE program for first-year students. 
Multicultural Mentorship — Augustana College
Augustana College in Illinois administers the Preparation, Awareness, Community, and Engagement (PACE) Multicultural Mentorship Program. The yearlong program is designed for first-year students of color with the goal of preparing them for their college experience, helping students gain awareness of their own and others' identities, building a supportive community, and encouraging engagement with each other and the larger campus community. In addition, the college houses Sisterhood of Unique Ladies, a supportive and inclusive community for women of color to share similar experiences, discuss issues that impact them, and thrive as leaders and students.
Strategic Plans + Climate Survey = Inclusive Excellence —
Ball State University
Throughout 2022, Ball State University has made significant progress on its five-year Inclusive Excellence Plan, which aims to advance broad DEI goals across the university, including campus culture, policies and infrastructure, and recruitment and retention. Among these goals was the February 2022 implementation of a campus-wide culture and climate survey. In July, the university also welcomed Rashida Willard as the new associate vice president for inclusive excellence. Willard leads and manages Ball State's Office of Inclusive Excellence, which is dedicated to the recruitment, retention, and celebration of diverse faculty, staff, and students.
Addressing Bias Across Campus — Binghamton University
Binghamton University reestablished the Affirmative Action Office and adopted the Bias Incident Response Team model comprised of campus partners representing a diversity of voices that employ education, counseling, and cultural competency training to help resolve incident reports. Binghamton is proud of its investment in innovative student programming like the 2022 INSIGHT Into Diversity Inspiring Programs in STEM Award-winning Watson College Scholars Program. This academic and professional development initiative encourages and assists students from underrepresented groups to pursue careers in science, technology, engineering, and math. 
Minority Male Initiative — Broward College
The Minority Male Initiative (MMI) at Broward College supports racially underrepresented male students with resources, services, and opportunities to strengthen educational outcomes through student recruitment and engagement. The initiative is primarily designed to address disparities in graduation rates. More than 520 students have participated in the MMI, with 200 graduating from the college or continuing on to a four-year program. Broward advanced its DEI efforts by inviting members of the LGBTQIA+ Employee Resource Group to paint Progress Pride Flags in prominent areas of the college's three main campuses. 
CAMP for First-Year Students —
California State University, Fresno
As part of its efforts to support, retain, and graduate more underserved students, California State University, Fresno (Fresno State) operates the College Assistance Migrant Program (CAMP). CAMP provides academic, financial, and personal assistance for first-year students from migrant or seasonal farmworker families to increase educational access and improve retention. Fresno State also supports students of various diverse identities through numerous campus groups that promote discussion and community building, such as Queer Talks, American Indian Meets, Asian Pacific Islander Hangouts, and Racial Healing Circles. 
Ethnic Studies for Health Care Professionals —
California State University, Los Angeles
Established in 2020, the College of Ethnic Studies is the newest college at California State University, Los Angeles, and one of only two schools of ethnic studies in California. The college centers the histories, traditions, cultures, experiences, struggles, and accomplishments of diasporic communities of color, making connections between the local and transnational. This year, it launched a new center and program to address the acute need for culturally diverse and responsive health professionals: the Health Professions Center and its signature program, the Martin Delany-Pan African Studies Pathway to Medical School Program. 
Bridging Gaps for First-Year Latinx Students —
Case Western Reserve University
Since 2018, Case Western Reserve University has operated the Líderes Avanzando program for first-year Latinx students, which utilizes an adapted curriculum to help bridge societal gaps affecting this high-potential population. Program participants are matched with Latinx peer, alumni, and faculty or staff mentors to enhance their academic skills, build self-efficacy, and explore career interests. The university also administers Diversity 360, a three-hour diversity education program required for all incoming students, staff, and faculty. Program topics include awareness of microaggressions, understanding of privilege, and increasing capacity to engage in dialogue across differences.
Grant Supports Inclusive
Teaching, Student Retention —
Colorado School of Mines
Colorado School of Mines (Mines) was awarded $200,000 from the Newmont Corporation for two DEI projects: The STEM Equity Fellows program which aims to develop curriculum to increase inclusive teaching across Mines courses, and the Strategies Promoting Undergraduate Retention project that investigates factors that affect the retention of underrepresented students and works to identify solutions. 
Building Pathways to
Academia —
Columbia University in the City of New York
Columbia University launched the Inclusive Faculty Pathways initiative to support students in pursuit of an academic career. The initiative includes the new Provost's Postdoctoral Research Scientist and Scholar Program and many pathway initiatives. The university has also experienced success with the Provost's Initiative to Support Faculty Cluster Hiring.
Urban STEM Education — Davenport University
The College of Urban Education at Davenport University launched a BS in Urban STEM Education program. The program provides culturally responsive teacher preparation, field experiences, and high-quality science, technology, engineering, and mathematics education in urban environments. This expansion lowers teacher turnover, diversifies teacher pathways, and increases graduation rates within urban districts. In 2020, a first-generation initiative was developed providing students with support through a peer mentor program. Students who participate in mentoring retain at an average rate of 86 percent compared to 68 percent who do not. 
Graduate School Pathways in Partnership with MSIs —
East Carolina University
Launched in fall 2021, the Chancellor's Commission on DEI at East Carolina University (ECU) is charged with guiding dialogues with campus and community constituencies about the historical and contemporary landscape of DEI at ECU resulting in recommendations to address disparities, adjust policies and practices, and establish DEI priorities. The ECU Graduate School Pathways Program develops mutually beneficial partnerships with Minority-Serving Institutions and other schools producing high numbers of underrepresented populations and is designed to provide informal and formal pathways to ECU's graduate programs with an emphasis on student success. 
SAFE Zones Welcome Students Back to Campus —
El Paso Community College District
The El Paso Community College (EPCC) Diversity and Inclusion Programs created SAFE Zone banners for each of the EPCC campus locations. The banners not only welcome students to campus but show a commitment to creating understanding and respect for the school's LGBTQ+ community. 

Employee Resource Groups — Emory University
Emory University houses numerous employee resource groups that offer networking and community engagement opportunities for marginalized and underrepresented employees. The voluntary, employee-led groups were established around common interests and identities, such as the Emory Black Employee Network and the Emory Pride Employee Network, which launched in 2022. Emory also manages the Arts and Social Justice Fellows program. Inspired by faith in the power of art to open spaces for conversation, community-making, and collective action, the program pairs Atlanta artists with Emory faculty to exchange ideas about the arts and social justice to help students translate learning into creative activism for racial justice.
Welcoming DACA Students — Farmingdale State College
For Farmingdale State College (FSC), DEI means "for all." FSC is proud to be the only college in the State University of New York (SUNY) system to partner with TheDream.US
to offer scholarships to DACA students. Through this partnership, FSC has enrolled and welcomed 22 DACA students, doubling the enrollment forecast for its first year. Retention rates of underrepresented students exceed the national and SUNY-wide averages. FSC attributes this success to its commitment to building an inclusive culture. 
Support for Active Aging —
Florida Atlantic University
Florida Atlantic University's (FAU) Charles E. Schmidt College of Science hosted the inaugural Diversity in Science Festival to promote the ideals of mutual respect and inclusion. FAU was named a member of the Age-Friendly University (AFU) Global Network. AFU network institutions are recognized for promoting an inclusive approach to healthy and active aging through research, enhanced learning opportunities for people across generations, and innovations that address issues affecting older adults. 
Scaling Up Programs for Underrepresented Students —
Georgia Institute of Technology
The Office of Minority Educational Development received a $250,000 grant from the Strada Education Network in partnership with the Taskforce on Higher Education and Opportunity to expand and scale its programming focused on enhancing the educational experiences and outcomes of underrepresented students. 
African American Males Scholars Program —

 

Greenville Technical College
The African American Male Scholars Initiative (AAMSI) at Greenville Technical College uses a case-management approach to impact student success. Established in 2019, the initiative works to overcome barriers and help participants achieve educational and economic success. AAMSI has dramatically increased persistence and retention rates for the 148 scholars who have participated. 
New Tuition Model, New Leader for Diverse Recruitment — Hope College
Hope Forward at Hope College is a funded tuition model based on generosity, gratitude, and giving. The Hope Forward pillars are accessibility (removing financial barriers to a college education), generosity (graduates giving back in gratitude for the gift of funded tuition they received), and community (building a lifelong relationship with students and alumni). The college also established a new assistant director of admissions and multicultural recruitment position that assists the admissions team to enroll cohorts that increasingly reflect the diversity of local, state, and national communities.
DEI, Title IX Training for All —
Hudson County Community College
Hudson County Community College (HCCC) provided high-impact DEI professional development opportunities to all its constituents, including offering eCornell's Diversity and Inclusion Certificate and gender equity and Title IX training to all interested students, faculty, and staff. The college also ran two successful cohorts of the eight-week Diversity, Equity, and Inclusion Student Passport Program. HCCC held its first virtual two-day Teaching and Learning Symposium on Social Justice in Higher Education, where 25 experts presented to 485 participants representing seven states, 47 colleges, and seven social justice organizations. 
Expanding Faculty Diversity — Indiana University Bloomington
Over the past year, Indiana University Bloomington has greatly expanded faculty diversity through the university's Presidential Diversity Hiring Initiative, which also saw the appointment of the first associate vice president for faculty and belonging. The addition of 54 new faculty from underrepresented groups means the university has its most diverse group of faculty in its 200-year history. The university also established the Jane Jorgensen (pictured) Diversity, Equity, and Inclusion Internship, designed to help students develop skills in leadership, anti-racism, and social justice advocacy.
At the Top: Conversations on Racism — Indiana University-Purdue University Indianapolis
Approval of a DEI path toward promotion and tenure moves Indiana University-Purdue University Indianapolis (IUPUI) from talking about institutional values and aspirations to creating transformational change. IUPUI continued the White Racial Literacy Project with the Chancellor's Leadership Reading Program, which is inclusive of all vice chancellors and deans, in a yearlong reading of "Presumed Incompetent: Race, Class, Power and Resistance of Women in Academia" as well as an auditorium-packed lecture featuring Ibram X. Kendi, author of "How to Be an Antiracist." 
Campus-wide Strategic Planning for DEI — Kent State University
All 55-plus units and/or divisions at Kent State University embarked on a four-year, university-wide DEI Strategic Planning process where each unit conducted an audit of their current practices and identified at least one goal for the next three years.
DEI Plan Asserts Commitment to Inclusive Campus —
Lehigh University
Lehigh University released its first Diversity, Inclusion, and Equity Plan to improve its infrastructure, policies, and practices and to continue to build an inclusive campus community. This plan asserts Lehigh's unequivocal commitment to enhancing DEI and its dedication to being an anti-racist institution. Lehigh's Baker Institute launched Rightful Inclusive Student Entrepreneurship (RISE), a research-backed initiative to improve DEI in entrepreneurial programs. RISE provides tools and resources to help level the start-up playing field, foster a growth mindset, and scale the entrepreneurial endeavors of students from underrepresented groups. 
Closing the Gap for Latinx Students — Metropolitan State University of Denver
Metropolitan State University of Denver (MSU Denver) has enrolled the highest number of students of color and first-generation college students in Colorado. From fall 2021 to fall 2022, the university closed the retention gap for Latinx students. Retention rates for this student group now mirror the university's average and brings Latinx students within a fraction of a percentage point of their White peers. 
Modules for Understanding DEI Strategies —
Miami University
Miami University faculty and staff host the DEI Module Series, which consists of 45-minute educational courses for mid- to upper-level management to learn DEI strategies. Topics include bias, microaggressions and stereotypes, race and anti-racism, ableism, LGBTQ+ identities, and cultural intelligence. The university also offers the Women of Color Leadership Support Network for faculty and staff to reflect on their leadership journey with others who have engaged in similar ways as women of color in leadership roles. The program centers around community building, honest conversations, and support.
Early Intervention for At-Risk Students — Mississippi State University
Mississippi State University recently restructured its Office of Student Support and Outreach in the Division of Access, Diversity, and Inclusion. The newly centralized efforts work to get students from groups that are statistically at high risk for dropout to participate in early intervention and best practices, creating a strong support system and enhanced pathways to graduation. The university is also cultivating a more supportive environment for its diverse community using Completion Grants, which provide $1,000 to underresourced undergraduates who are close to graduation to help them earn their degrees. In 2021, the university awarded 1,862 Completion Grants.
Acknowledging Harm, Taking Steps Toward Redress — Mount Holyoke College
Mount Holyoke College (MHC) has taken steps to acknowledge its participation in harmful practices toward Native American and Indigenous communities and provide redress for these harms. In the past year, MHC created a land acknowledgement policy, established two full-tuition scholarships for Native American/American Indian students, expanded and rededicated the Indigenous cultural center, and hosted MHC's second annual Indigenous Peoples' Day Teach-In. MHC has also committed to creating a just, accessible, and equitable environment for people with disabilities by increasing resources to establish full-time positions devoted to ensuring that progress is made toward creating a campus that affirms, supports, and honors diverse abilities.
Traveling Exhibit Fosters Belonging — Northern Illinois University
Northern Illinois University (NIU), the City of DeKalb, and community partners created "Voices of Belonging," a traveling exhibit that broadens understanding of belonging by sharing the lived experiences of campus and community members. Listeners are encouraged to contemplate how they welcome people into their lives and communities. NIU's commitment to student success led to the creation of Student Financial Advising Services, which focuses on financial literacy. Financial advisers educate and guide students and their families on financial aid, tuition and fees, and tools related to budgeting, loan repayment, and other critical real-world financial skills.
Equity Advisers for Hiring, Promotion — Northwestern University
Led by its inaugural director of diversity, equity, and inclusion, Northwestern University's Alumni Relations and Development (ARD) unit launched an equity adviser program to proactively dismantle barriers to hiring and promotion. Embedded in ARD hiring cycles, equity advisers interrupt bias, design data-driven outreach strategies, and interview and evaluate candidates using a standardized rubric. Since its inception in 2021, Northwestern's Racial Equity and Community Partnership Grant Program has funded 18 innovative projects focused on solving the systemic problems of racial inequity in its home communities of Evanston and Chicago.
Guarantee for Individual Graduation Success — Ohio University
Ohio University's (OHIO) Black Alumni Reunion is hosted every three years by the Ohio University Alumni Association in partnership with the entire OHIO community on the Athens campus. The reunion brings thousands of alumni back to campus and the place that forever ties them to one another. OHIO is committed to addressing graduation and retention gaps through a new program, Guarantee+, launched in fall 2020. Guarantee+ delivers individualized graduation plans that ensures all students graduate on time and on plan or the university will make it right, including covering the cost of additional courses.
Center for Black and Indigenous Student Success — Oregon State University
In the fall of 2021, the Dr. Lawrence Griggs Center for Black and Indigenous Student Success at Oregon State University was launched to provide academic support, co-curricular opportunities, career development, recruitment, and outreach. A structure to foster employee affinity commissions was also created at the university for a new President's Commission on Indigenous Affairs, which will support existing presidential commissions, including the President's Commission on the Status of Women and the President's Commission on the Status of Black Faculty and Staff Affairs. 
First Class: Majority Black, Indigenous,
and People of Color — Portland State University
In 2021, Portland State University (PSU) welcomed its first majority Black, Indigenous, and people of color first-year class and new faculty cohort. PSU was recognized as an ACLU Racial Justice and Equity Scholar for its efforts to support and advance underrepresented employees, including providing a leadership academy, insider tips and support for new faculty, deeper data disaggregation and analysis, development of managers, extended training, and infusion of equity into performance reviews.
Employee Resource Groups Growing — Princeton University
Over 30 percent of Princeton University's employees participate in employee resource groups (ERGs). Princeton's two newest ERGs are the Parents and Caregivers ERG, which provides a forum for staff with caregiving responsibilities, and the Asian Staff at Princeton ERG, which developed a Year of the Tiger series celebrating Asian and Asian American voices. Princeton has appointed its inaugural vice dean for diversity and inclusion, who will provide leadership for all dean of the faculty appointments, direct the Presidential Postdoctoral Research Fellows program, and conduct institutional research on the history, progress, and possibilities of diversifying the university's faculty and academic professional community.
Faculty Earns Credentials for
Inclusive Teaching — Regis College
To continuously improve Regis College's ability to promote an inclusive and equitable learning environment and deepen student belonging, dozens of faculty, mostly in science, technology, engineering, and mathematics studies, spent the summer completing a nationally recognized teaching credential for Inclusive Teaching and Equitable Learning through the Association of College and University Educators. Working in collaboration with the Association of Independent Colleges and Universities in Massachusetts and Suffolk University, Regis launched an inclusive leadership program for higher education professionals. The program fosters more inclusive communities and addresses DEI challenges.
Action Plan to Address Systemic Racial Inequities —
Rochester Institute of Technology
Rochester Institute of Technology (RIT) unveiled the RIT Action Plan for Race and Ethnicity in 2021. Its goals include looking at and addressing systemic racial inequities and injustices, improving graduation rates, and attracting and retaining diverse, world-class faculty and staff. A new RIT Minett Professors Endowment Fund will help ensure student academic success. For more than 30 years, these multicultural academic professionals from the Rochester, N.Y., community have shared their expertise with students, faculty, and staff. 
Faculty Professional Development
in DEI — Rockland Community College
Rockland Community College (RCC) recently enhanced its commitment to DEI ideals by offering related professional development courses to faculty and expanding its DEI department. Throughout a nine-week program, RCC faculty participate in Lumen Learning Circles that connect users to virtual learning communities of faculty peers who share evidence-based teaching practices. 
Center Celebrates Neurodiversity Culture —
Rowan University
In 2021, Rowan University launched the Center for Neurodiversity, a cultural center within the Division of Diversity, Equity, and Inclusion. The center utilizes programming, research, and community engagement opportunities to advance autonomy and opportunities for neurodivergent people, discuss neurodiversity through a strengths-based lens, and offer a space to celebrate neurodiversity culture. A 2022 virtual series hosted by the center focused on the intersectionality of neurodivergence, gender, and race. 
Council Tracks DEI Goals — Saginaw Valley State University
Saginaw Valley State University's (SVSU) Office of Diversity Programs operates the Diversity, Equity, and Inclusion Council, which serves to track goals set by numerous campus stakeholder subcommittees. The subcommittees are each composed of dozens of students, faculty, staff, or administrators at SVSU. These groups organize goals centered on recruiting, retention, engagement, and the enhancement of the campus experience. In addition, SVSU recently received a $1.2 million grant from the U.S. Department of Education to support rural student success. This program focuses on college preparedness and access, student retention and success, and employability for students from rural backgrounds.
Prioritizing LGBTQ+ and AAPI
Inclusion — San Diego State University
San Diego State University was awarded a 5 out of 5 score for its LGBTQ+ community inclusion on the Campus Pride Index. Along with becoming an Asian American and Native American Pacific Islander-Serving Institution, the university also opened its Asian Pacific Islander Desi American Center. 
Affirming Racial Justice — Smith College
In 2021, Smith College launched its racial justice action planning process for all departments and offices. In 2022, the Smith College Board of Trustees voted to eliminate loans from student financial aid packages and replace them with grants, and Smith College received a record number of applications from students of color, with overall applications increasing by 20 percent. 
Closing the Equity Gaps to Boost Success —
Southern Illinois University Edwardsville
As part of its commitment to inclusive excellence and student success, Southern Illinois University Edwardsville (SIUE) launched the Community-Oriented Digital Engagement Scholars program and the Black Scholar Experience this fall. Both initiatives provide built-in community support aimed at closing equity gaps and boosting retention and graduation rates among first-generation and Black students, respectively. Additionally, fall 2022 marked SIUE's most diverse student body to date. Enrollment among Latinx and Hispanic students increased by 5 percent and international student enrollment reached an all-time high.
Statewide Symposium on Higher Ed — Southern Illinois University System
In October 2022, the Southern Illinois University System (SIU System) hosted the state's inaugural Illinois Higher Education Equity Symposium, which brought together educational leaders, lawmakers, and community partners to discuss ways to create, expand, and sustain equity within higher education. The year prior, the SIU System announced plans to establish itself as an anti-racist university system. This commitment involves developing and maintaining policies, behaviors, and systems that enhance racial equity and promote positive and sustainable change for students, faculty, and staff.
Weaving DEI into Classroom Discussions —
Southwestern Law School
The Dean's Task Force for Equity, Inclusion, and Belonging at Southwestern Law School recently identified and encouraged ways faculty can incorporate topics involving DEI within their classrooms. To further DEI education, there was also a reintegration of electives with DEI coverage into the school's curriculum. Within the school's commitment to diversity and inclusion, an extra layer of review for applicants from underrepresented groups was instituted in faculty recruitment. The Law School has hired five diverse faculty over the past two years and completed a pay equity study to address all challenges. 
Youth Civic Engagement Program —
Stetson University College of Law
Stetson University College of Law (Stetson Law) has successfully implemented impactful programs focused on DEI, such as the Youth Civic Engagement Program. The initiative provides an immersive learning experience for underrepresented youth that addresses advocacy, civic engagement, and civil dialogues across differences. Stetson Law has remained committed to its Anti-Racism Action Plan, enacted in 2020, through various initiatives including the Social Action Training Series, which teaches students how to create systemic change through policy research and advocacy, voter registration and outreach, and community organization and mobilization.
Ambassadors for Inclusion — Suffolk University
Suffolk University offers programming to faculty, staff, and alumni in the form of a professional learning community called the Ambassador for Inclusion Program. Participants engage in independent study around DEI concepts and meet weekly with cohort partners for community dialogue sessions. Approximately 200 people have completed the program. Suffolk also hosts a Truth, Racial Healing, and Transformation Campus Center with guidance from the American Association of Colleges and Universities. The program began in the summer of 2020 and has hosted over 30 Rx Racial Healing Circles with students, faculty, staff, alumni, and community partners.
Material Support for First-Generation, Low-Income Students — Swarthmore College
To improve education access for first-generation and economically disadvantaged students, Swarthmore College operates the Textbook Affordability Program and the Computer Access Program. The first provides up to $700 per year to qualifying students to purchase textbooks and course materials, while the latter supplies new computers to high-need students. Last year, Swarthmore's Women's Resource Center, Office of Sustainability, Environmental Studies, and the First Generation/Low Income Program partnered to offer students produce from the community garden. The offering of healthy food options has benefited the overall well-being of marginalized groups who have expressed higher levels of stress.
Center for Anti-Racism Established — Temple University
Temple University established the Center for Anti-Racism to serve as a vital resource to implement impactful, informed, and solution-based research, training, programming, and advocacy efforts. The center, which operates with input from students, faculty, staff, and community members, seeks to unravel the web of racial hierarchies, undo systems of racialized oppression, and dismantle the structural imbalances they create. In addition to creating the center, Temple University welcomed its first African American president, Jason Wingard, in 2021. The university also recently experienced the highest enrollment rates of Black and Latinx students in its history. 
Student Diversity Advisory Council — Texas A&M University
In spring 2022, Texas A&M University student workers in the Office for Diversity launched the Student Diversity Advisory Council (SDAC). The SDAC is a university-wide organization that serves as a student advisory board and liaison between campus communities and university administration in regard to DEI policies and practices. Deans Committed to Anti-Racism Efforts (Deans CARE) launched two initiatives in response to the increasingly urgent national calls for racial and social justice: Deans CARE Undergraduate Internships and Deans CARE Summit. 
Certificate for Inclusive Excellence —
Texas A&M University-San Antonio
Texas A&M University-San Antonio (A&M-San Antonio) launched the JagSEAL of Inclusive Excellence Certificate program this fall. The program is designed to offer faculty and staff at A&M-San Antonio the opportunity to gain the skills and knowledge to support a strategic, sustainable approach to inclusive excellence.
R.I.S.E. to the DEI Challenge — Texas Christian University
Texas Christian University's (TCU) Responsible for Inclusion and Sustaining Excellence (R.I.S.E.) program provides participants with tools and opportunities to advance personal and professional development in DEI. Participants are challenged to improve intercultural development, strengthen advocacy and activism skills, and develop strategies to interrupt structural and systematic issues of power and privilege. To promote inclusion and equitable outcomes in all things TCU, the Inclusive Excellence Research Grant program supports practitioner research in existing programs and new initiatives to apply evidence-based research strategies and promote institutional and community change in inclusive excellence. The grant provides up to $15,000 of project support.
Diversity Awards Program Raises Scholarship Funds —
Texas Tech University
In fall 2021, Texas Tech University's (TTU) Office of Institutional Diversity hosted journalist, author, and addiction recovery advocate Elizabeth Vargas as the keynote speaker for the Celebrate Diversity Awards Banquet. The event serves as a fundraising tool to pay for diverse student scholarships and recognizes faculty and staff with community service and diversity-focused awards. In addition, TTU hosted its first Hispanic-Serving Institution (HSI) week last fall by holding several campus events to foster inclusive conversations about Hispanic and Latinx culture, programs, services offered at TTU, and the benefits of being an HSI.
Building Community Through Racial
Equity Series — Towson University
At Towson University, the Baltimore-Towson University program in the Office of Partnerships and Outreach partnered with the Office of Inclusion & Institutional Equity (OIIE) to develop a series centered on racial equity through the lens of local communities and context. All events incorporated presentations by Lawrence Brown, PhD, and his book "The Black Butterfly: The Harmful Politics of Race and Place in America." OIIE supports faculty and staff affinity groups.
Creating Equity Associate Dean Roles in Each School — Tulane University
Tulane University created equity, diversity, and inclusion (EDI) associate dean positions within each of the university's schools and within many of Tulane's non-academic units to sustain EDI and racial equity change with students, staff, faculty, alumni, and community partnerships. The university launched Tulane Strategy for Tomorrow, an EDI and racial equity five-year strategic action plan, with more than 35 campus unit plans guiding the university's work from 2022 to 2027. 
Expanded Impact for the Safe Zone
Resource Center — The University of Alabama
For more than a decade, The University of Alabama Safe Zone Resource Center has supported campus LGBTQIA+ community members and the overall campus with resources, advocacy, and education. In 2021, the center expanded its impact with the appointment of its inaugural professional director, Lizzie Smith, PhD. The university has also increased its new student engagement with the Multicultural Visitation Program and the Our Bama program. 
Graduate Certificate in DEI / Advocacy —
The University of Alabama at Birmingham
A Diversity, Equity, Inclusion, and Advocacy (DEIA) certificate is now available at The University of Alabama at Birmingham for students to discover, understand, and contextualize the historical and current underpinnings of DEIA. This is the only graduate certificate in Alabama that addresses these topics across all industries. For 13 years, the university has also offered the Blazer Male Excellence Network (BMEN), a peer-mentoring group for Black male students. The 2021-2022 BMEN cohort performed exceptionally well during the fall semester, with an overall GPA of 3.4. Ten of the 22 mentees received presidential honors for earning a GPA of 4.0.
Native Community Center Deepens Connections — University of California, Berkeley
The Native Community Center recently opened at the University of California, Berkeley is managed by the Native American Student Development team. The center is a result of a five-year collaboration and provides campus space for Indigenous people to connect and deepen the community. In addition, The Commission on the Filipino Language awarded a faculty and staff team with their Kampeon ng Wika (Champions of Language) Award — the first time a U.S. university has been given this award. It recognizes the university's well-established Filipino language program's work and advocacy.
Student Success Offices Offer Holistic
Support — University of Central Florida
The University of Central Florida (UCF) received a $5 million gift from the Ginsburg Family Foundation, amplified by an additional $2.5 million from UCF, to establish the Ginsburg Center for Inclusion and Community Engagement. Five student success offices are being developed to holistically support racial, ethnic, and underrepresented groups of students. Additionally, UCF joined The Alliance of Hispanic Serving Research Universities, which aims to double the number of Hispanic doctoral students and increase the number of Hispanic faculty at member institutions by 20 percent. The university hired 12 Hispanic and Latinx faculty during the fall 2021 semester.
Scholarships for Local Public School Students — University of Cincinnati
The Marian Spencer Scholarship bolstered the University of Cincinnati's (UC) commitment to Cincinnati Public Schools with an investment of $6 million (a gift from UC alumnus and venture capitalist Jim Goetz, plus university matching funds) to provide 40 students with full tuition, room and board scholarships, and a service-learning trip to Tanzania. Last year, the university enrolled its most diverse student body in its history, and this fall, UC broke that record. As part of this growth trend, a new Center for Identity & Inclusion will be located in the heart of campus.
Campus Diversity Liaisons Build Campus DEI Competencies — University of Florida
In 2022, the University of Florida completed a comprehensive inventory of its DEI landscape, finding more than 900 unique and active DEI initiatives. In addition, each college and business unit has a Campus Diversity Liaison (CDL). The CDLs are networked into the Office of the Chief Diversity Officer, where they share best practices, brainstorm solutions, and build competencies in inclusive excellence work. 
Bridge to Faculty Recruitment Program — University of Illinois Chicago
At the University of Illinois Chicago (UIC), the Bridge to Faculty (B2F) recruitment program is designed to attract underrepresented postdoctoral scholars with the goal of a tenure-track junior faculty position after two years. B2F supports departments with little or no presence of underrepresented faculty in their field. At UIC, the Office of Diversity, Equity & Engagement has leadership roles supported with federally funded, DEI-focused science, technology, engineering, and mathematics grants aimed at equipping instructors with inclusive strategies for supporting underrepresented students. 
Record Freshman Class of Underrepresented Students — University of Kentucky
This fall, for the first time, the University of Kentucky enrolled more than 6,000 first-year students. The university's commitment to diversity and inclusivity has continued to grow, as demonstrated by the fact that 1,100 of them are students of color from underrepresented populations, a nearly 24 percent increase from the previous year. The Office of the Vice President for Research recently created the Research Scholars Program to promote diverse faculty success in alignment with national priorities for research diversity. It is a one-year, multicomponent investment in the success of junior faculty and mentors and integrates national, evidence-based programs with existing campus programs.
Educating for Equity Fellows Program —
University of Louisiana at Lafayette
Funded by a Louisiana Board of Regents grant, the Educating for Equity Fellows Program at the University of Louisiana at Lafayette is a cohort-based professional development program that promotes equity-minded teaching and learning in virtual environments. It offers stipends to faculty who complete four engagement sessions and a deliverable outlining their plan to make their virtual courses more equitable and inclusive. The Office of Campus Diversity participated in the Office of Sustainability's Fête de la Terre Celebration in April, exhibiting a research poster outlining how diverse groups affect and experience climate change. 
Programs Foster Industry Pathways — University of Louisville
The University of Louisville's Maker Faire partnership with General Electric Appliances was designed to inspire and create pathways for historically underrepresented students to consider becoming engineers. The university's Louis D. Brandeis School of Law partnered with other Kentucky law schools for the Kentucky Legal Education Opportunity summer institute to prepare students from low-income and historically marginalized backgrounds for the rigors of law school.
New Center Serves AANAPISI Campus Community — University of Massachusetts Lowell
In the past year, the University of Massachusetts Lowell (UMass Lowell) proposed and adopted the Pillars of Inclusive Excellence, a five-point framework the university will use to build its next DEI action plan. UMass Lowell recently launched the Asian American Center for Excellence and Engagement. 
Equity Advisors Focus on Hiring Process — University of Missouri–St. Louis
The University of Missouri–St. Louis launched the Equity Advisors Training program with an inaugural cohort of 26 faculty and staff members. The 16-hour training focused on best practices for hiring processes to promote inclusive excellence, equity, promotion, and advancement, particularly in science, technology, engineering, mathematics and other fields where women and minorities are underrepresented. The university also established the Hispanic/Latino Faculty and Staff Network to provide a forum for discussion of ideas and to enhance professional development opportunities for Hispanic/Latinx faculty and staff. 
Partnership Expands Student

 

Success Program — University of

 

North Carolina at Charlotte

 
In June 2022, Bank of America partnered with University of North Carolina at Charlotte to support student success with a $2.5 million investment. The funds expand the university's summer bridge program for historically underrepresented students and supports the creation of a Community Innovation Incubator for community-based research to address regional issues.
Leadership Programs for Faculty of Color — University of North Carolina
at Greensboro
University of North Carolina at Greensboro's new general education program for all students, Minerva's Academic Curriculum, for the first time includes student competencies in global and international learning and DEI. The Faculty Success and Development for Scholars of Color, a pre-tenured faculty summer mentoring program, was also initiated. The Faculty Leadership Program for Scholars of Color, for mid-to-senior faculty, included one-on-one executive coaching and personalized assessment.
President's Leadership Academy for Students —
University of North Florida
The University of North Florida (UNF) President's Leadership Academy provides selected students with purposeful engagement and mentoring to help navigate educational, social, and personal challenges as they define their individual leadership philosophies and pursuits. Since 2012, UNF has recognized the outstanding work of faculty, staff, and students in DEI through the Presidential Diversity and Inclusion Award. Recipients are given a monetary award and recognized at the university's convocation ceremony each fall. 
Record Graduation Rate for Students of Color — University of North Texas
The University of North Texas (UNT) saw a record increase of nearly 15 percent in its four-year graduation rates for underrepresented students. UNT also experienced a record increase — nearly 10 percent — in six-year graduation rates for the same student population. 
Cohort-Based Program Seeks Post-Graduation Equity — University of Oregon
Research, Internship & Student Engagement (DucksRISE) is a cohort-based program at the University of Oregon (UO) focused on equitable post-graduation outcomes for underserved students, centering Black, Indigenous, people of color, first-generation, and low-income students through educational activities, career exploration, and mentorship. Students develop competencies through a one-credit career readiness seminar, internships, research fellowships, job shadowing opportunities, study abroad, and more. UO received a grant from the Mellon Foundation to institute the Pacific Northwest Just Futures Institute (JFI) for Racial and Climate Justice. JFI is a regional platform with other universities, and is a seedbed for applied, publicly engaged research that innovatively addresses the intertwined issues of racial inequality and climate crisis. 
Cluster Hire Initiatives Target Top Candidates —
University of Pittsburgh
The University of Pittsburgh created two cluster hire initiatives in 2019 and 2020: the Latinx Cluster Hire Initiative and the Race and Social Determinants of Equity and Well-Being Cluster Hire and Retention Initiative. These programs seek to hire, promote, and retain top candidates with expertise in research, teaching, and community engagement in their respective fields. The university facilitated the Racial Equity Consciousness Institute for a significant number of faculty and staff, engaging participants through a constructive framework to analyze the complexity and pervasiveness of racism and reflect on what they can do individually and collectively to advance racial equity in their institutions and communities.
Latino Scholarship Program Observes 30 Years — University of South Florida
Providing a diverse and inclusive community is one of five goals in the University of South Florida's new strategic plan released this year. The university's Latino Scholarship Program also celebrated its 30th year in 2022. Since 1992, the program has provided $4.2 million to more than 600 graduates.
Restorative Justice Office Engages Campus —
The University of Texas
at San Antonio
The University of Texas at San Antonio (UTSA) has created the Restorative Justice Office, which provides services to the campus and enhances relationships within the community. The office delivers programs, connects with faculty, staff, and students, and engages in many group and individual restorative justice activities involving more than 2,000 people. UTSA has also increased its affinity groups, which promote a greater sense of belonging throughout the university, by 25 percent to 16 total.
Campus Diversity by the Numbers —
The University of Texas at Arlington
The University of Texas at Arlington (UT Arlington) champions diversity with the fifth-highest undergraduate ethnic diversity of universities across the nation. The university offers students a place where they can engage with cultures and perspectives from around the world. In addition, UT Arlington is the latest university to earn the prestigious Texas American Native American Pacific Islander-Serving Institution designation. 
Cultural Connections Meetings Foster Retention — The University of Tulsa
The Office for Diversity, Equity & Inclusion at The University of Tulsa hosts a monthly Cultural Connections meeting, which serves as a safe place for the leaders of underrepresented and marginalized student organizations to gather for support and collaboration. A program goal is to increase retention of underrepresented students. The office also hosted its first DEI Week, which engages the campus community in conversations and activities. Within the series is an inaugural DEI Awards Banquet to honor students, faculty, staff, and alumni devoted to their work. 
Prison Exchange Program Promotes Understanding — University of West Florida
University of West Florida's (UWF) Inside-Out Prison Exchange course addresses the creation of social justice policy and its impact on society. UWF offers the first and only such course in the region. The Inside-Out Prison Exchange Program is an international initiative that encourages dialogue and education among incarcerated individuals and university students. The university's newly launched Sexuality and Gender Resource Center fosters and promotes equity, access, and inclusion for all genders and sexualities through education, resources, support, and programming. This is accomplished through education and awareness programs, campus and community outreach, training opportunities, and more.
DEI Features Prominently in Strategic Plan —
Virginia Commonwealth University
Virginia Commonwealth University's (VCU) newly recalibrated strategic plan, Quest 2028, was adopted in June 2022. The first of the plan's four goals is titled "Diversity Drives Excellence," and 42 of the plan's 59 measurable goals and strategies are DEI-focused. The VCU Office of Health Equity leads a campus and community collaboration raising awareness of health disparities and inequities. The initial racial equity health and history program explored VCU's role in Richmond and American history. The second phase places students with safety-net provider community organizations to experience health inequities firsthand. 
Black College Institute for High Schoolers — Virginia Tech
The Black College Institute is an academic summer enrichment program by Virginia Tech that hosts talented, high-achieving, and academically curious rising high school juniors and seniors. In 2021, the program received more than 1,200 applications and in 2022 won an Anthem Award in the special projects category. The Asian Cultural Engagement Center (ACEC) at Virginia Tech is a space for Asian, Pacific Islander, and Desi American students to come together in community. ACEC hosts Ramen for Reading Day to provide an opportunity for students to come together to talk, eat, and relax before exams.
Partnership Aims to Eliminate
Equity Gaps — West Chester University of Pennsylvania
West Chester University of Pennsylvania hopes to eliminate student equity gaps by 2030 by co-leading the Moon Shot for Equity mission for the Southeastern Pennsylvania region with Delaware County Community College and the education firm EAB. This public-private partnership employs research-based best practices to remove systemic barriers and address equity gaps. The university has exponentially grown undergraduate and graduate student membership in the Tri-Alpha Honor Society for first-generation college students. 
Increased DEI Staff Fosters Additional Programs —
Widener University
At Widener University, the new role of diversity, equity, inclusion, and belonging (DEIB) program manager is responsible for supporting the chief diversity officer, communicating DEIB information across the university, and assisting with LGBTQIA+ workshops and special projects. The addition of this staff member has resulted in the DEIB Communications and Resources Hub and an on-campus gender-inclusive housing option for students. Diversity Programming Mini Grants funded by the Office of the President encourage collaborative DEIB programming across campus. Faculty and staff can apply for one of 10 grants each academic year, available in amounts ranging from $100 to $500.
Dedication: Memorial to the Enslaved —
William & Mary
In 2015, William & Mary (W&M) formed the Lemon Project Committee on Memorialization in response to the call for a memorial honoring enslaved people exploited by the university. The campus community celebrated the dedication of Hearth: Memorial to the Enslaved in May 2022. A century ago, the first Asian student enrolled at W&M, and this fall marked the beginning of the college's Asian Centennial, which celebrates all those at W&M, past and present, who identify as Asian or of Asian ancestry. The celebration will conclude with spring 2022 commencement.●
This article was published in our November 2022 issue.