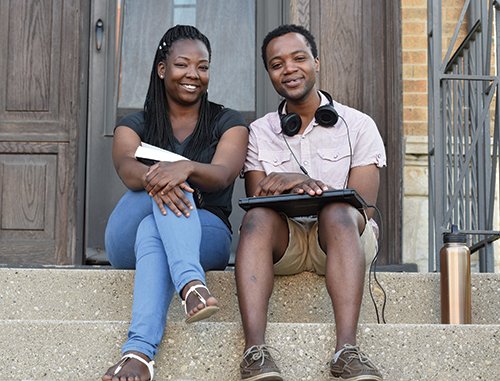 One in three college students has uncertain access to safe and affordable housing, according to the Wisconsin HOPE Lab. In a 2018 study, one in 10 had experienced homelessness in the previous year. 
Students who are couch surfing, living out of a vehicle, or failing to pay their rent may not know where to turn for help or may fear the stigma associated with homelessness. However, increasing attention to the issue is inspiring campuses and organizations to assess what barriers their students are facing when it comes to housing and to provide stronger, more innovative support services.
Above: The Dax Program, created by the nonprofit organization DePaul USA in 2015, supports DePaul University students who are experiencing homelessness. The program assists with basic needs and housing options such as the Dax House, a facility that provides short- and long-term housing for students at $150 per month. A recent series of portraits features Dax Program students on campus; the program has a 93 percent retention and graduation rate. Photo by Kathy Hillegonds
Campus Compact
"If a student is experiencing hunger and housing insecurity, they don't have the opportunity to take advantage of what college ought to be," says Andrew Seligsohn, PhD, president of Campus Compact, the nation's largest national organization dedicated to civic engagement in higher education. "It prevents education from being this lever [of change]."  
On its website, Campus Compact has gathered research and best practices for addressing student homelessness and has developed tools for faculty, administrators, student services professionals, and student leaders. Included among its online resources is the Student Housing Insecurity Mapping Tool, a simple inventory for institutions to track which resources, programs, services, and partnerships they offer for students who are at risk of or who are currently experiencing homelessness. After completing the inventory, administrators can distribute this list to faculty and staff so they are aware of what aid their institution offers and can give referrals.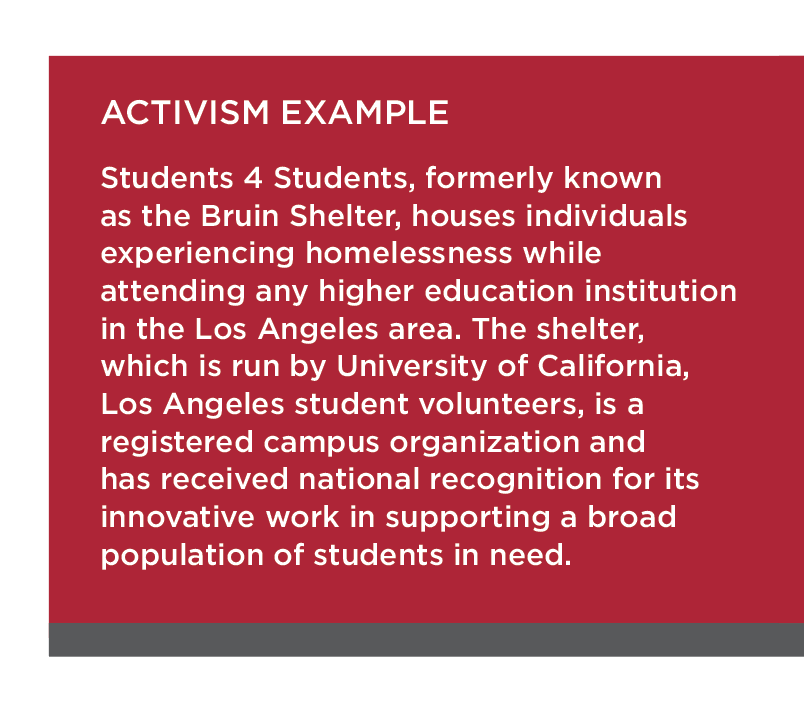 "Part of the idea was to ask this question, 'How can everyone on campus contribute to making an institution a place where students can succeed and not be prevented by facing housing insecurity?'" Seligsohn says. "The building of a coalition has been useful. It destigmatizes this issue for colleges and universities." 
Based on a study of 50 colleges and universities, Campus Compact determined the following best practices for supporting housing-insecure students:
Develop and provide specific training for faculty and staff.
Identify gaps in support for vulnerable student populations, including formerly incarcerated students and those who were once in the foster care system.
Actively cultivate community-campus partnerships with organizations that specialize in working with individuals who face homelessness.
Create a single point of contact to coordinate campus and community services.
As an organization dedicated to civic engagement, one of Campus Compact's goals is to inspire students to work directly in combating housing insecurity. 
"One of the next steps [for engaging on this issue] and a deep connection to our work is that every college and university see it as its role, educationally, to help students build the capacity for advocacy and policy change," Seligsohn says, "so that whatever issues students are facing, they can raise their voices in an effective way to move the issue forward." 
DePaul University
At DePaul University in Chicago, where Ellen Herion Fingado serves as dean of students, personalized interventions and community partnerships have been critical for serving those struggling with financial stressors such as housing insecurity. 
When it comes to student homelessness, DePaul "has been really great at leaning in" to the problem, Fingado says. The school collects data to understand the scope of housing insecurity on campus, and staff tracks enrollment data so they can intervene when it appears that a student may be on the brink of dropping out due to struggles with housing or meeting other basic needs. 
"If we can try to intervene at an earlier and lower level, that proves to be a more successful outcome," Fingado says. Her office reaches out with personalized emails to students who appear to be in this type of dilemma, and support staff can refer them to resources such as the DePaul University Student Emergency Assistance Fund.
The fund, administered through the dean's office, provides one-time assistance to help students cover rent, medical bills, school supplies, transportation costs, and living expenses such as food and utilities. During the 2018-2019 academic year, it gave more than $33,000 to students. The largest portion of the fund went toward housing, with $14,467 paid in student rent. 
The university also has a unique partnership with DePaul USA, a national nonprofit organization, known as the Dax Program. Created in 2015, the program is designed to support the approximately 50 DePaul students who experience homelessness each academic quarter, according to its website. Fingado's office and community partners can refer students to the Dax Program for help with basic needs and housing options such as home hosts. 
It also operates Dax House, a facility that provides short- and long-term housing for DePaul students ages 18 to 26. Residents are expected to work 10 hours per week and pay $150 a month in rent; they can stay in the house up to three months after graduation. 
"I have seen how giving students direct funding or connecting them with the Dax Program is truly life-changing for them," Fingado says. "It provides a sense of belonging and stability and helps them feel like they have a plan."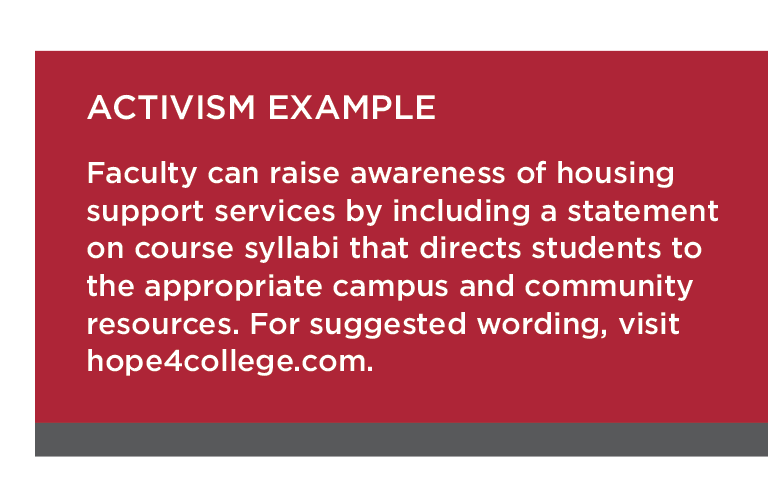 Holyoke Community College
When Rosemary Fiedler came on staff at Holyoke Community College (HCC) in Massachusetts as coordinator of the recently formed Thrive Student Resource Center, it was a dream come true. Her experience on campus as a 45-year-old mother of four earning her associate degree helped lift her and her children out of poverty, and she wanted to help others facing the same hardships. 
The center was originally conceived of through a partnership between HCC, People's Bank, and the local chapter of the United Way to focus on personal finance. But it wasn't long after she started her position that Fiedler, who now holds a master's degree in education, recognized that checking accounts and credit scores weren't a priority for students if they were struggling to meet basic needs.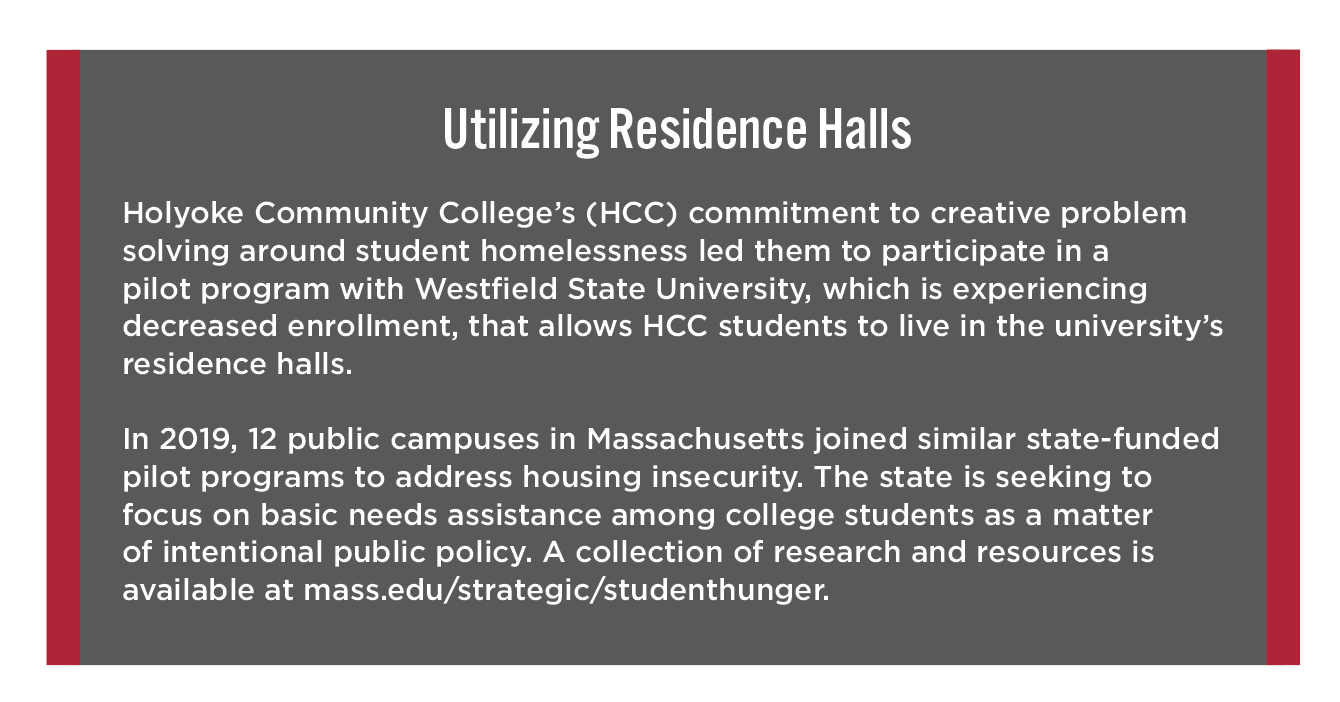 "It's about food and housing first," Fiedler says. 
The Thrive Center now offers basics needs assistance in addition to financial coaching. Students can access food, school supplies, toiletries, and more. The center provides guidance on obtaining legal aid, SNAP benefits, tax preparation, and credit repair. When it comes to housing, Fiedler learns about the students' individual situations and helps them find the resources that are right for them. 

Students appreciate having a one-stop shop for assistance, and a central point of contact on homelessness issues is a best practice for institutions seeking to collect accurate data about the use of resources as well as for strengthening partnerships with organizations outside of the college. 
Fiedler shares information about the center's services at new student orientation, in presentations to campus employees, and in classrooms and tutoring centers.  
It's important that the campus community is aware of what the center has to offer and how they can help students who may be struggling, she says.
"Let's say a tutor notices a student is carrying three backpacks and hasn't eaten," Fiedler says, explaining that carrying multiple bags or luggage is an indicator of homelessness. "The tutor can say 'Let me get you down to the Thrive Center to talk to our coordinator." 
By having the entire HCC community engaged in this work, the college can reach students before the struggles of finding secure housing lead them to drop out of school.
"If we can keep them here in the short term," Fiedler explains, "then in the long term they have their whole lives ahead of them to earn money and thrive."
Brianne Sanchez is a contributing writer for INSIGHT Into Diversity. DePaul University is a 2014-2017 and 2019 INSIGHT Into Diversity Higher Education Excellence in Diversity (HEED) Award recipient. This article was published in the April 2020 issue.