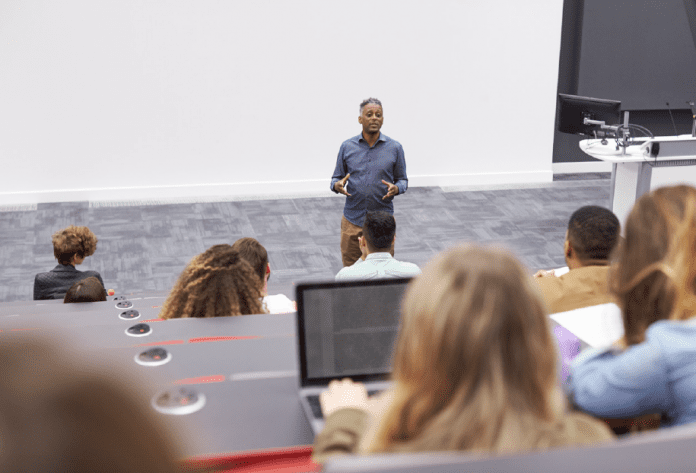 Teacher diversity has long been a problem in U.S. schools and one that does not appear to be improving even as the nation becomes increasingly multicultural. Currently, 80 percent of public school teachers are White compared with 46 percent of students, according to the Institute of Education Sciences. This is barely an improvement from the late 1980s, when 87 percent of teachers were White, as were nearly 7 in 10 students.
While there is no simple solution for improving ethnic and racial representation in America's teacher workforce, a number of higher education institutions have recently launched new programs to attract students of color to the teaching profession. Alleviating this underrepresentation is crucial for the success of diverse K-12 students — and for the nation's future.  
"We know that many of the inequities that Black students face in public schools are the result of cultural unconsciousness [and a] cultural mismatch in the classroom where their ways of being and knowing are not understood by a largely White teacher workforce," explains Manya Whitaker, PhD, an associate professor and chair of education at Colorado College (CC). Having Black teachers provides multiple benefits for these students, including reducing the disproportionately high rates of Black children who are placed in remedial education or subjected to in-school suspension or expulsion, she says.
CC recently partnered with the Sachs Foundation, an organization that grants scholarships to Black students from Colorado, in an effort to address the gap in teacher representation. The foundation provided a $575,000 grant to fund new scholarships, internships, and postgraduate stipends for African American students at CC who want to explore a career in education. Unique aspects include a summer fellowship program that allows them to work with community partner organizations specializing in a range of education-related fields including finance, education reform, public policy, and classroom teaching. 
"The goal is to really expose students to all aspects of public education to better inform their decision making about where they want to make a difference and if they truly want to do that in the classroom," Whitaker says.
The Sachs Foundation partnership includes two full-tuition scholarships for African American students pursuing a master's degree in education. It also provides a stipend of up to $20,000 annually during the first three years of their teaching career.
Low wages prevent many people of color from pursuing their passion for teaching, according to Whitaker. The first few years of teaching are when attrition is highest, as new teachers make the lowest salaries and are often struggling to pay back student loans, she explains.  
Whitaker's own career path is an example of how the financial realities of being a classroom teacher can deter someone from the profession. Her longtime goal was to become a middle school English teacher, but she knew it would be nearly impossible to pay off her student loans on a K-12 educator salary. "The biggest benefit [of this program] is changing the narrative around teaching and letting students know they can have a productive and lucrative career in the classroom if they can take advantage of programs like this one," she says. "Money doesn't have to be the barrier to pursuing a passion."
Alabama A&M University (AAMU), a historically Black institution, also recently launched a program that offers financial support in an effort to increase teacher diversity. The university's Males for Alabama Education (MALE) initiative was created in 2019 to attract men of color to K-12 teaching careers. The MALE program is funded by the state and provides up to two years of tuition assistance for Black men pursuing a degree in education. It is targeted for juniors, seniors, and graduate students and includes funding for textbooks, test preparation materials, and other costs associated with becoming a state certified teacher.  
"Placing minority male teachers, who can understand the experiences of some of these students who may be coming from the same or similar backgrounds and who can provide a different perspective in the classroom, is extremely important," says Samantha Strachan, EdD, interim department chair and assistant professor of science education at AAMU.
As of 2016, Black men made up only two percent of the public teacher workforce nationally, according to the U.S. Department of Education (DOE). Yet having these role models in the classroom is one of the most effective ways to improve educational outcomes for boys and young men of color. Research shows that having Black male teachers also leads to lower disciplinary and dropout rates, higher test scores, and more positive overall attitudes toward education for these students, according to a study from the National Network of State Teachers of the Year. 
Nearly one-third of Alabama public K-12 students are Black compared with 20 percent of the state's teachers, according to AL.com.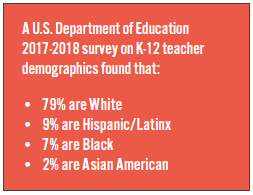 As there are so few men of color that are K-12 educators, another goal of the MALE initiative is to build a mentorship network between current education students and graduates working in the profession. "This program allows us to provide that extra support that they may need, so that the students in Alabama can greatly benefit from having a diverse group of teachers," Strachan says. 
So far, 14 men have enrolled in the program, and interest is steadily increasing. Many are interested in seeking a career change, and there has even been some recent interest from out-of-state students, she says.
Offering financial support as a major recruitment tactic for people of color appears to be working, as other education degree programs across the U.S. have recently launched similar programs. Many also require participants to spend at least one year teaching in schools that have large populations of students of color in their state or local community.
In October, the University of North Carolina at Chapel Hill School of Education was awarded a $4.8 million grant from the DOE to recruit underrepresented students to serve as teachers in high-needs schools. The program will focus on encouraging Latinx students to pursue elementary and special education degrees. Participants will receive $25,000 stipends during their first three years on the job.
In February, the LaFetra College of Education at the University of La Verne in California received a $400,000 grant from Branch Alliance for Educator Diversity, a nonprofit organization dedicated to closing racial gaps in the teacher workforce. Nearly half of the university students are Latinx. The grant will help prepare some of them to work in the local Pomona Unified School District where 87 percent of students are Hispanic or Latinx, according to The Inland Valley Daily Bulletin. 
DOE research indicates that efforts to increase diversity in K-12 teaching ranks could have even broader implications for reducing bias and easing racial tensions as the U.S. moves toward becoming a majority-minority nation. 
"Improving teacher diversity can help all students," a 2016 department report states. "Teachers of color are positive role models for all students in breaking down negative stereotypes and preparing students to live and work in a multiracial society.●
Erik Cliburn is a senior staff writer and Mariah Bohanon is the senior editor for INSIGHT Into Diversity.