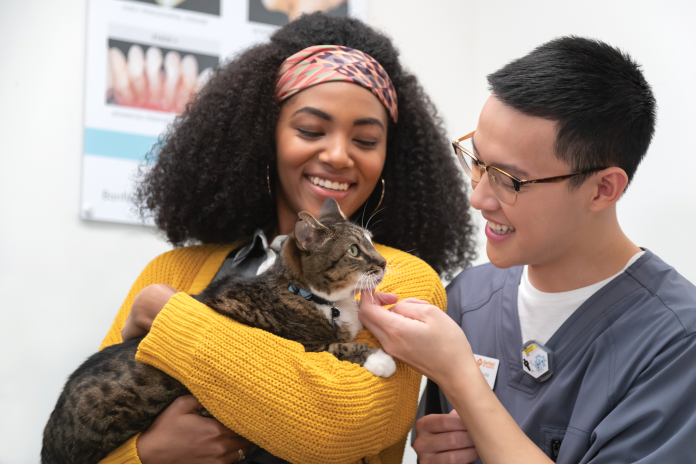 A new study by Mars Veterinary Health (MVH) estimates that 75 million pets in the U.S. will go without health care because of a need for nearly 41,000 additional veterinarians by 2030. 
MVH, the world's largest provider of veterinary care and employer of veterinary professionals, recently published a series of studies to analyze this crisis and find solutions.
"We believe the veterinary workforce [shortage] may be the single biggest issue our industry will face for a generation," MVH president Doug Drew wrote in an email to INSIGHT. "Fueled by increased generational interest in pet ownership and the estimated 23 million pet adoptions during the COVID-19 pandemic, veterinary practices across the country are stretched thin." 
The surge in adoptions brought a heightened awareness to an already ongoing veterinarian shortage. The workforce crisis has contributed to long wait times at veterinary offices, higher costs for animal care, and mental health challenges among veterinary professionals, including burnout and depression.
Research has found that it would take more than 30 years of graduates to meet the 10-year industry need for qualified veterinarians.  
"The number of U.S. veterinarians is increasing just 2.7 percent annually," the MVH study states. "Even with the new veterinary graduates expected over the next 10 years, a shortage of nearly 15,000 veterinarians (16 percent) will likely still exist by 2030."
Multiple factors contribute to the shortage, including professional recruitment and retention challenges caused by mounting student loan debt.
Compounding the workforce shortage dilemma is a severe lack of diversity in the profession, with nearly 90 percent of doctors in the industry identifying as White, according to the American Veterinary Medical Association (AVMA). 
"The single most important issue that we have to deal with in this profession is the topic of diversity," Andrew Maccabe, CEO of the American Association of Veterinary Medical Colleges (AAVMC), stated in a 2020 interview regarding DEI efforts. "Our profession must become more diverse if we're going to be able to handle the challenges of the future."
To address these issues, MVH and other private and nonprofit stakeholders, including colleges such as The Ohio State University, recently formed the Diversity Veterinary Medicine Coalition (DVMC). The DVMC aims to increase the representation of people of color in this field and improve access to quality animal care. Most recently, the DVMC partnered with the Thurgood Marshall College Fund to offer financial assistance to students attending historically Black colleges and universities. Starting in the fall 2022 semester, a select number of those interested in pursuing veterinary careers will receive need-based scholarships of up to $10,000 for the academic year. 
MVH is also investing $25 million in student debt relief initiatives by 2025, according to Drew. This investment includes a collaboration with Banfield Pet Hospital, a network of privately owned veterinary clinics throughout North America, to provide veterinarians with debt relief measures. 
Additionally, MVH is piloting a mentor platform that will provide veterinary students and first-year veterinarians access to senior professionals in the field.
"This is instrumental in supporting students through their most imperative years of veterinary school and their first year in the role, which we know can be the most challenging," Drew says of the mentor program.
The corporation also collaborates with Pawsibilities Vet Med, a nonprofit organization that aims to improve the recruitment and retention of underrepresented groups into the profession. The partnership helps increase diversity through mentorship, professional development, and resources to diverse students.
"To meet the growing need for veterinary professionals, we must both retain the exceptional talent already working in the industry and inspire the next generation," says Drew. 
Some universities are also answering the call to increase the number of practitioners in this field by launching new degree programs. The AAVMC reports that there are only 32 accredited colleges of veterinary medicine in the U.S., but new veterinary schools are experiencing a growth rate that has not been seen since the 1970s, according to the Veterinarian Information Network News Service. 
In Arizona, where lawmakers are currently considering a bill to reduce veterinarian student debt in the hopes of attracting and retaining new graduates, the University of Arizona College of Veterinary Medicine became the first public institution to offer veterinary medical degrees in fall 2020. Nearly 35 percent of students in the inaugural class are underrepresented. The college has taken steps to promote diversity and inclusion, such as hosting Lunch and Learn workshops for faculty and staff to learn about students' sociocultural identities and foster community. 

In New Jersey, where experts say the shortage has reached crisis levels, Rowan University plans to open the state's first veterinary medicine program by fall 2025.
At the federal level, government officials are also seeking solutions to this crisis. In 2021, the U.S. Department of Agriculture (USDA) designated 221 veterinary shortage areas in 48 states. Qualified veterinary professionals can offset student debt by working in one of these regions through the USDA Veterinary Medicine Loan Repayment Program (VMLRP). The VMLRP pays up to $25,000 each year toward qualified educational loans of veterinarians who agree to serve in a shortage area for three years. 
According to the AVMA, the program has been "tremendously successful" in placing veterinarians into areas where they are most needed; however, applications for VMLRP routinely exceed available funding. 
Other advocates have called for providing more in-school support as a solution for improving student retention. Some have urged veterinary colleges to also offer more mental health support and training to better prepare students for demanding careers and reduce the risk of burnout or changing professions. 
Andrew West, director of the Academy for Teaching and Learning in the College of Veterinary Medicine and Biomedical Sciences at Colorado State University, says schools can address potential stress factors and build encouraging learning environments by assessing academic workloads and other challenges. 
"Where are we giving more tests than we should? Where are we causing ambiguity in what is expected for success? Where are we holding students longer in clinics than what is reasonable?" West told an NBC news outlet in November 2021.
At Cornell University College of Veterinary Medicine (CVM), officials recently created a well-being committee and established a new administrative position centered around mental health support. Additionally, CVM alumni launched the Well-being and Mental Health Fund. According to Cornell's website, if the fund acquires the desired $100,000 endowment, the finances "will offset costs associated with the curricular adjustments already underway and programmatic efforts overseen by the new CVM director of well-being, Kathryn Buckley."
Such proactive support efforts by veterinary schools, coupled with a significant rise in applicants nationwide, may indicate a more positive future ahead for this crucial workforce. In 2020, the number of veterinary school applicants rose 19 percent, according to the AAVMC. In 2021, they increased another 5.5 percent. While all of the reasons for this drastic recent growth remain unclear, the AAVMC attributes "growing awareness and appreciation for the veterinary medical profession" for motivating more young people to pursue this dynamic field.●
Mariah Stewart is a senior staff writer for INSIGHT Into Diversity.
This article was published in our May 2022 issue.