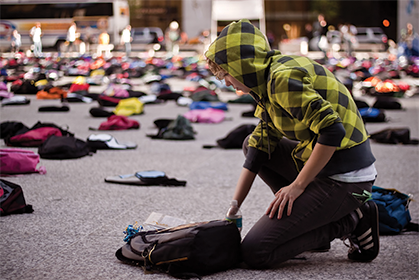 Students attending college right out of high school face the daunting reality of taking on new challenges at an age when mental health issues often present themselves, according to the National Alliance on Mental Illness (NAMI). Anxiety and depression are the two most common health concerns among this population, while suicide is the second highest cause of death for individuals ages 10 to 34, the National Institute of Mental Health (NIMH) reports.
[Active Minds' Send Silence Packing suicide awareness exhibit at Daley Plaza in Chicago.] 
To address the formidable mental health challenges facing them, students on college campuses across the country are stepping up. Over the past decade, a growing number have formed education and advocacy groups to teach their peers about mental health, destigmatize its struggles, and offer a supportive network.
Use of campus mental health resources has increased at significantly faster rates than that of general enrollment at higher education institutions in the United States, the Center for Collegiate Mental Health reports. "Nationally, campus counseling centers are having trouble keeping up with the demands of help-seeking," says Alison Malmon, founder and executive director of Active Minds, a mental health awareness and advocacy group. "This is due to a number of factors, which I think include increased help-seeking, increased mental health diagnoses, and better and earlier treatment prior to college."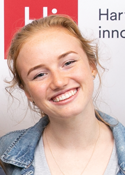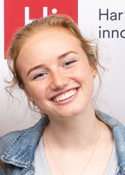 Nevertheless, some undergraduates may still be afraid to ask for help or may not know what resources are available. Sara Valente, a senior at Harvard University studying computer science, says she waited an entire year to seek help for her depression and anxiety symptoms. "Having to walk into counseling and mental health services in the campus center can be a daunting thought," she says. As a high-performing student, she also doubted whether her struggles were serious enough to warrant professional therapy.
Student-led groups help individuals like Valente gain the courage to talk about these issues and seek assistance. Some are affiliated with national umbrella organizations, while others were created on campus. Their primary function is to facilitate talking openly about mental illness in order to reduce stigma, increase help-seeking behaviors, and make available resources known.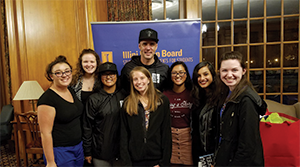 To Write Love on Her Arms
To Write Love on Her Arms (TWLOHA) supervises 65 student-led university chapters, known as UChapters, at institutions across the U.S. Founder Jamie Tworkowski was working in the surfing industry when he decided to help his friend Renée, who was battling depression, self-injury, and substance abuse. He wrote a story, titled "To Write Love on Her Arms," describing his experience of helping Renée enter a treatment center. The piece eventually led to the formation of the nonprofit.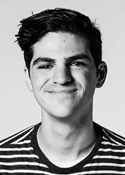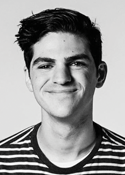 Student diversity is fundamental to the identity of the UChapters, according to Aaron Baccash, the organization's supporter engagement coordinator. "I think that To Write Love has always been [a place] where people from underrepresented groups feel a lot of belonging," he says. He cites the enthusiasm of an international student who learned about TWLOHA through the nonprofit's outreach at an electronic music festival and decided to host a UChapter on his campus. "To Write Love was such a huge thing for him because in the country that he was from, he had never experienced people talking about these types of things," Baccash recalls.
UChapter members typically meet twice a month. These meetings include planning future events to spread the message of hope and help on campus, discussing articles, videos, and podcasts related to the needs of the students. Sometimes TWLOHA sends organizational materials for the meetings, and other times they are coordinated by UChapter leaders.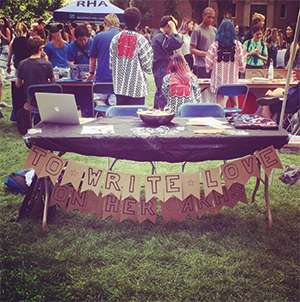 The chapters play an active role in suicide prevention awareness. They are all invited to participate in TWLOHA's World Suicide Prevention Day campaign in September, Baccash says. In 2018, students were asked to respond to the prompt "tomorrow needs me because" on note cards and then displayed the cards throughout campus. One chapter decided to host a pancake breakfast the following day. "We want students to do things that feel unique and specific to their community but within the To Write Love voice," Baccash says.
Harvard University SMHL
Other student-led organizations were established through specific institutions, such as Harvard University's Student Mental Health Liaisons (SMHL).
SMHL, founded in 2008, was created out of a partnership between six student members and the university's Counseling and Mental Health Services. The group — whose programming is supervised by clinicians — now has nearly 30 participants from diverse cultures, religious and socioeconomic backgrounds, and academic disciplines. As a sponsored student organization, its members undergo diversity and inclusion training when they join, says Valente, who currently serves as SMLH's co-president.
SMHL has transitioned from organizing large-scale events to a "more small-scale workshop-centered model," Valente says. At orientation workshops for freshmen, members share their own mental health stories, provide a breakdown of campus resources, and encourage first-year students to think about mental health challenges that may arise during their college years. Other groups on campus can also reach out to SMHL and request a workshop. "We give a workshop called 'Being There' to groups of upperclassmen teaching them how to support a struggling friend," Valente says. Members also have a voice in developing official campus mental health policies.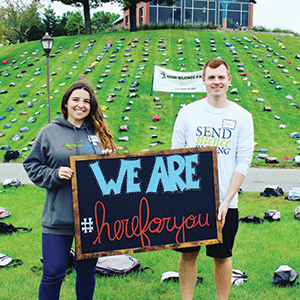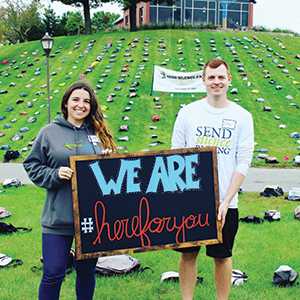 Active Minds
Active Minds, a nonprofit that calls itself "the nation's premier organization supporting mental health awareness and education for students," oversees more than 450 campus chapters with more than 16,000 student members. Alison Malmon founded the organization in 2003 at age 21 after her brother took his own life.
Zoe Howland is co-president of the Active Minds chapter at Ithaca College (IC), where she studies sociology, Culture and Communication, and Women's and Gender Studies. She was diagnosed with major depression and generalized anxiety disorder at 15, and then with panic disorder at 19. She joined Active Minds during her first semester of college after noticing the group at a student organization fair.
"I was just looking for a group of people that I could potentially be involved with at that point, and I thought it was interesting that they were talking about mental health. I definitely did not know how influential it would be [for me] during my time at IC," she says.
Howland and other members of her chapter meet once a week. They listen to presentations related to mental health and organize de-stressing activities. "The last couple of presentations we have had focused on psychosis, borderline personality disorder, and advice regarding how to talk to your professors when struggling with your mental health."
Research shows student-led mental health groups have a significant impact on creating supportive campus climates. According to the RAND Corporation, becoming involved with a chapter of Active Minds makes students more likely to connect with peers who are struggling with depression, anxiety, suicidal thoughts, or other mental health issues. This change can occur within the span of a single academic year. Additionally, researchers found campuses with Active Minds chapters generally have a more supportive campus climate surrounding mental health, where students are more likely to seek help when they are in distress.
For the members of these groups, sharing their individual stories and shaping the conversation about mental health on campus is a major part of the healing process. "There's something really empowering about completely owning your narrative, especially when you're doing it for a larger purpose — to inspire someone else or to de-stigmatize an issue on a larger scale," Valente says.
Those involved in the student-led mental health movement believe that their work has the potential to shape the national conversation surrounding these issues. Valente believes that, too. "College students and young adults in general are the new generation of leaders, policymakers, and voters," Valente says. "How we shape our smaller scale environments — like college campuses or workplace environments — reflects how we will go out and shape the world."
Ginger O'Donnell is a senior staff writer for INSIGHT Into Diversity. This article ran in our March 2019 issue.