From major metropolitan cities to rural areas, housing costs across the U.S. have skyrocketed. In 2021, the median home sales price rose nearly 17 percent from the year prior — the highest increase on record since 1999, according to the National Association of Realtors. While the surge in prices is affecting many Americans, college students are finding it especially difficult to acquire affordable housing while pursuing a degree. 

The most recent report from The Hope Center for College, Community, and Justice at Temple University found that nearly half, or 48 percent, of students at two-year and four-year colleges were affected by housing insecurity in 2020. Approximately 14 percent experienced homelessness at one point. 
The COVID-19 pandemic contributed to the high rates of housing insecurity and homelessness, the report states, by causing dormitory closures as well as layoffs and furloughs that impacted student finances. Although campuses are now open and operations are mostly back to normal at many colleges, students around the nation are continuing to report struggles with accessing affordable housing.
Many schools have recently experienced a demand for on-campus accommodations that far exceeds supply. The University of Tennessee at Knoxville, Case Western Reserve University, and the University of Miami are just a few of the institutions that have informed students that housing for upperclassmen will not be guaranteed for the 2022-2023 academic year. Issues with overflow have meant some students at schools such as Tennessee State University have had to be housed in hotels until dormitories or on-campus apartments could be made available. At historically Black colleges and universities, an uptick in enrollment following the racial justice movement of 2020 has resulted in housing shortages for students at Howard University, Spelman College, and more. 
Similar challenges have occurred for those seeking to live off campus. The home listing website Realtor.com  conducted a survey of more than 500 college students and found that 30 percent reported having a more difficult time securing housing in 2021 than in the year prior. The persistent rise in rent prices is partly to blame, according to the website, which shows the average rent for studio apartments jumped to $1,474 nationwide in February 2022, marking a 17 percent increase from 2021. With close to 60 percent of all college students living in off-campus housing, according to the most recent National Postsecondary Student Aid Study, many are likely feeling this burden. News reports show that students at a wide variety of institutions across multiple locales have had issues finding affordable accommodations for the upcoming academic year.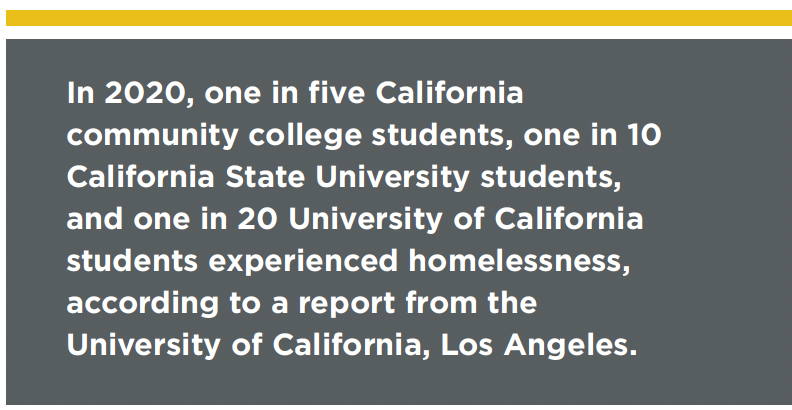 While these issues have been documented in states all over the U.S., few are dealing with as significant a crunch as California, where the median price for a single-family home escalated from $588,070 in 2020 to $800,000 in 2021, according to data from the California Association of Realtors. The state already had a serious housing shortage prior to the pandemic, with a 2017 University of California, Los Angeles (UCLA) study estimating that California needed at least 3 million more housing units to meet demand. Many of the state's large colleges and universities simply lack the space to accommodate their students. For example, although there are 116 institutions in the California Community Colleges (CCC) system, only 11 offer student housing, according to the CCC website. Others, including the California State University (CSU) and University of California (UC) systems, collectively had more than 16,000 students on wait lists for dorms for the fall 2021 semester, a report from the California Legislative Analyst's Office shows. 
Recently, the UC system has received the most attention for housing challenges. Concerns over the number of students occupying so much of the local housing led to a temporary legal battle between UC Berkeley and a neighborhood group. Although the U.S. Supreme Court ruled in early March 2022 that the school must put a cap on enrollment, state lawmakers were able to overturn the measure. Many UC schools are looking to add more options; at UC Santa Barbara, a planned 4,500-bed building has received criticism and been dubbed "Dormzilla" for its tiny rooms and lack of windows. Thus far in 2022, UCLA has been the only UC campus to guarantee housing for new students for up to four years, thanks to two recently constructed apartment buildings on campus. Meanwhile, graduate student workers at multiple UC campuses, including those in Santa Barbara and Santa Cruz, have been protesting for cost-of-living adjustments to mitigate the recent uptick in rent costs.  
To help remedy this situation, California lawmakers approved a bill in September 2021 that provided $500 million toward expanding affordable housing options for college students in the 2022 fiscal year. While experts say the bill is a good first step, sustained financial support will be needed to make a real difference. After all, housing costs are more expensive than tuition and fees at most of the state's public colleges and universities, according to the Public Policy Institute of California.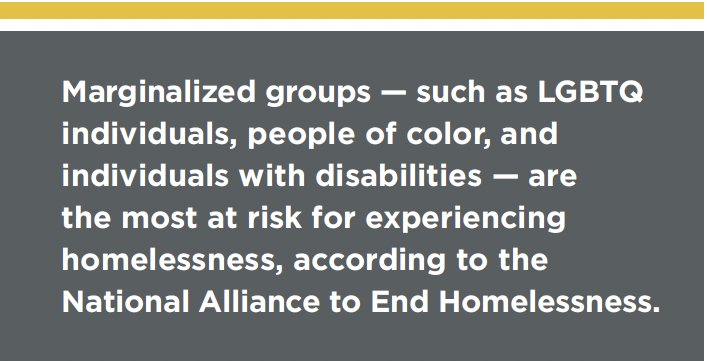 In addition to providing emergency grants and accommodations for students in need, several California colleges have developed broader initiatives to examine and find solutions to this crisis as well as other basic needs issues. The Center for Equitable Higher Education operates dual programs on the California State University, Long Beach (CSULB) and California State Polytechnic University, Humboldt campuses. Established in 2021, the center is dedicated to researching equity gaps in higher education and promoting economic, housing, and food justice for college students. 
The center is currently working on a project to evaluate the effectiveness of the College Focused Rapid Rehousing program, a state-funded initiative that connects CSU and CCC students experiencing homelessness with a community-based agency to obtain subsidized housing. As part of the program, students are also assigned a case manager who helps them access resources for mental health, academic development, and more, according to Rashida Crutchfield, EdD, the center's director and an assistant professor of social work at CSULB. 
The rehousing program is "one of the most progressive responses to homelessness among students" and a big investment for the state, Crutchfield says, which is why the center is studying how successful it is in supporting students in need.
At other colleges in the state, students are leading efforts to help those in need of shelter. The nonprofit organization Students 4 Students started with a group of individuals at UCLA who noticed many of their classmates did not have a place to sleep. In 2016, the group created the Bruin Shelter program to house up to five students at a local church near UCLA. Since then, students at UC Davis, UC Santa Cruz, and the University of Southern California have created similar shelter projects on their campuses.
Other higher education institutions across the U.S. have devised innovative solutions to their housing problems as well. The College of Idaho in Caldwell became the first school to convert shipping containers into student dorms, just in time for the fall 2020 semester. In Washington State — which has the fifth largest homeless population in the country — officials at Tacoma Community College partnered with the local housing authority to provide rental assistance to students facing housing insecurity. 
Crutchfield says that one of the most successful approaches schools can take is to work with a community-based organization that specializes in housing issues.
"Higher education institutions themselves are not housing experts, so those meaningful connections with community-based agencies are really critical," she says. She adds that schools should also work with the "larger ecosystem" to enact change, such as advocating for increased financial aid and other support from the city, state, and federal government.
Regardless of the method that colleges take, the need to address student housing issues will likely increase in coming years. The demand is expected to grow from 8.5 million beds in 2020 to 9.2 million by 2031, according to a recent report from the National Multifamily Housing Council.●
Lisa O'Malley is the assistant editor of INSIGHT Into Diversity. 
Learn how the affordable housing crisis is affecting college and university employees in Part 2 of this story in our upcoming June 2022 issue.
This article was published in our May 2022 issue.