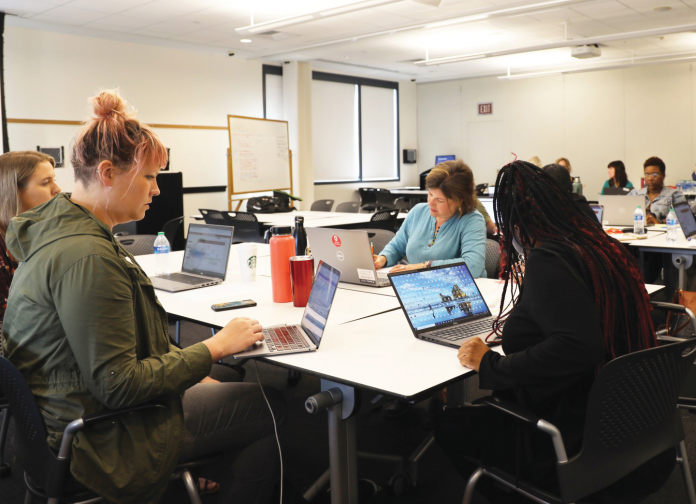 In June, 50 higher education institutions from across the U.S. came together to participate in the 2022 Summer Institute on Equity in the Academic Experience, a three-day series of workshops and discussions that aims to increase access to education and support services for racially underrepresented, economically disadvantaged, and first-generation students.
The institute was organized by a coalition of 11 colleges and universities and the American Talent Initiative, a Bloomberg Philanthropies-supported collaboration between the Aspen Institute's College Excellence Program, Ithaka S+R, and an alliance of higher education institutions dedicated to expanding access and support for low- and moderate-income students. 
The event had more than 70 teams composed of 250 college faculty, staff, and administrators — double the number of participants at the inaugural 2019 institute. A hybrid format allowed teams to meet in person at individual campuses or regional hubs while also engaging in virtual sessions with other attendees from across the U.S. Participating schools included both Minority-Serving Institutions and predominantly White institutions. 
Attendees were split into inter- and intra-campus teams representing diverse personal and professional backgrounds, academic disciplines, and institutional roles. They attended workshops, presentations, and discussions focused on reducing institutional isolation and siloing by building better connected networks with strategic equity goals.
"We realized institutions have projects designed to bridge equity gaps and enhance student success, but that work is disconnected," Roderick Lee, an associate professor of information systems at The Pennsylvania State University-Harrisburg and member of the institute's leadership advisory board, said in a press release. "Expanding the ecosystem is an important part of this, because egg-crated silos and isolation impede progress."●
This article was published in our September 2022 issue.