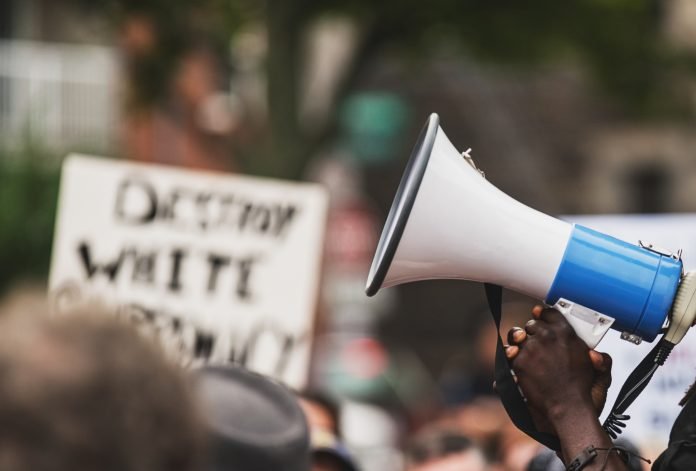 On Aug. 1, hundreds of students from various Chicago universities and colleges joined together for a protest to demand their schools divest from the Chicago Police Department (CPD) and reform their own campus police forces.
The protest, Solidarity Street: Abolish CPD Block Party, was organized by Chicago students and activists to draw attention to issues of racism surrounding campus policing. Protestors also made speeches demanding universities stop cooperating with U.S. Immigration and Customs Enforcement, redirect police funding into mental health support and healthcare resources for students, and lower tuition and housing costs if classes are held online in the fall.
According to The Daily Northwestern, students from all the major schools in the Chicago area attended, including the University of Chicago, DePaul University, Northwestern University, University of Illinois at Chicago, Loyola University Chicago, Columbia College Chicago, Roosevelt University, and Northeastern Illinois University.
The crowd of student protestors met at Millennium Park, where they were addressed by Tynetta Muhammad, a student at the University of Illinois at Chicago and a member of Black Youth Project 100, a national organization that describes itself as being comprised of "Black youth activists creating justice and freedom for all Black people."
Muhammad was joined by other speakers, including Ariel Atkins from Black Lives Matter Chicago, who spoke about her own experience with police brutality when protesting against the CPD. Atkins stated that at previous protests she attended, she was tear gassed and watched police beat fellow protestors.
While various other issues were discussed, including comments from Muhammad on how universities contribute to neighborhood gentrification that harms people of color, the main focus of the protest was higher education institutions' relationships to the CPD.
In addition to CPD involvement, private schools like Northwestern University and the University of Chicago also have their own police — which protestors say can make it harder to establish transparency. These institutions and their campus police departments are private entities, and therefore are not subject to the Freedom of Information Act.
Because of these challenges, activists at these schools say they rely on university leadership to voluntarily release information about police budgets and work with students to enact police reform.