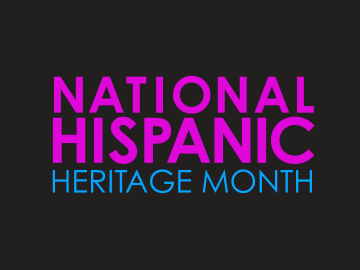 National Hispanic Heritage Month, which takes place from September 15 through October 15, is a time for celebrating the culture, contributions, and history of the second largest ethnic and racial group in the United States. The list below recognizes just a few of the many Hispanic and Latinx women who have made a difference by bravely standing up for human rights in the face of adversity.
Julia de Burgos
Born 1914 – Carolina, Puerto Rico
Died 1953 – Harlem, New York
What she's known for: her legacy as a renowned poet and activist for Puerto Rican independence
De Burgos' poetry is considered seminal to Hispanic and Latinx literature, though it gained much of its renown only after her death. As a descendant of Afro-Caribbean roots, she is also admired today for defying the societal norms of her time by dedicating her life to social justice, feminism, and art. Her legacy has been recognized in recent decades with a posthumous honorary doctorate from the University of Puerto Rico, a U.S. Postal Service commemorative stamp, and the founding of the Julia de Burgos Cultural Arts Center in Brooklyn. 
Aida Giachello, PhD
Born 1951 – San Juan, Puerto Rico
What she's known for: her work as a leading researcher and advocate against health disparities for communities of color, the elderly, and women
Giachello has served as a professor at the University of Illinois at Chicago and the Northwestern University Feinberg School of Medicine and as president of the National Hispanic/Latino Diabetes Federation, of which she is a founding member; she is also the founder of the Midwest Hispanic AIDS Coalition. Giachello has been recognized as one of Time magazine's 25 Most Influential Hispanics in America, named a Health Equity Champion by the Centers for Disease Control and Prevention, and in 2018 was included in The Guardian's Frederick Douglass 200 list, which honors individuals who embody Douglass' spirit of social justice activism.
Dolores Huerta
Born 1930 – Dawson, New Mexico
What she's known for: serving as a national leader in the fight for civil, labor, and women's rights
As a co-founder of the National Farm Workers Association (today known as the United Farm Workers union) with César Chávez, Huerta has improved the lives of millions through grassroots campaigns, non-violent resistance, and political lobbying. Among her many honors are nine honorary doctorates, The Eleanor Roosevelt Human Rights Award, and the Presidential Medal of Freedom. She remains an active defender of human rights through her work as founder and president of the Dolores Huerta Foundation. 
Raffi

 

Freedman-Gurspan
Born 1987 – Intibuca, Honduras
What she's known for: serving as the first openly transgender White House staff member in U.S. history
Freedman-Gurspan was a senior associate director for public engagement and a liaison to the LGBTQ community for President Barack Obama. She has also worked as a policy advisor and director of external relations for the National Center for Transgender Equality. She currently serves as a member of the U.S. Holocaust Memorial Council and deputy director of All On The Line, an anti-gerrymandering organization. 
Sources: Dolores Huerta Foundation; The Guardian; The Independent; Julia de Burgos Cultural Arts Center; Mitú; NBC News; The New York Times; Northwestern University Feinberg School of Medicine; NPR; The Washington Post
Mariah Bohanon is the associate editor of INSIGHT Into Diversity. This article ran in the September 2019 issue.