Multiple studies have proved that diversity is a critical component in driving innovation. Yet when it comes to applying for patents in the U.S., women and people of color are severely underrepresented due to barriers such as a lack of awareness and financial resources. A 2020 report from the U.S. Patent and Trademark Office (USPTO) found that less than 13 percent of all inventor-patentees are women. Meanwhile, only 1 percent of African American and Latinx college graduates hold patents, with an application rate that is half that of White inventors, according to a 2018 study in the journal Technology and Innovation.
Experts believe insufficient diversity among inventors has serious consequences on the country's economic growth and innovation leadership. "If women, minorities, and children from low-income families were to invent at the same rate as [W]hite men from high-income (top 20 percent) families, the rate of innovation in America would quadruple," according to a 2017 working paper by the National Bureau of Economic Research.
In October 2021, the USPTO announced that U.S. Commerce Secretary Gina Raimondo would lead a national initiative to promote innovation by diverse inventors as part of the Biden administration's broader strategy to improve gender equity. The Council for Inclusive Innovation, formerly known as the National Council for Expanding American Innovation, works to promote groups that are underrepresented in patenting.
At Yeshiva University's Benjamin N. Cardozo School of Law (Cardozo), there is an ongoing effort to close this "patent gap." The New York City law school launched the Cardozo Patent Diversity Project in 2019 to boost the number of patents issued to underrepresented inventors by connecting them with pro bono legal assistance to navigate the complicated process.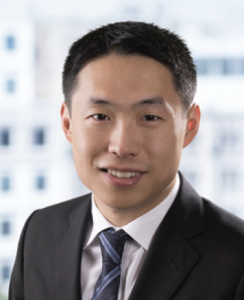 By drawing upon its alumni network, Cardozo was able to establish a list of 20 distinguished law firms and professionals to provide legal help, says Victor Wang, JD, the project's director. Alumni connections also aided the program in securing a $200,000 grant from Google.
Now in its third year, the project is currently working with 10 underrepresented inventors to secure patents. Applicants are screened for several factors, including gender, ethnicity, financial resources, prior patent experience, and baseline knowledge of the USPTO process. Once accepted, the inventors are then matched with a participating law firm or attorney.
Ensuring economic equity is a critical part of the project, Wang says. Significant costs required to obtain a patent are a key barrier for many underrepresented inventors. Just filing for a patent can cost $5,000 to $10,000, while the entire process can run as high as $50,000, depending on the complexity of the technology. 
In addition to providing pro bono legal support, Cardozo law students assist participants by conducting patentability searches. These searches entail analyzing pre-existing patent applications to determine the likelihood of an invention being deemed novel enough to receive a patent from the USPTO. Students also offer inventors guidance on how the patent process works to help them make the best financial decisions.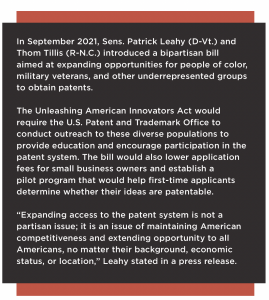 "By providing this type of analysis that I personally believe the firms do not usually provide, I think it's a little bit more helpful for the inventors," Wang says. "Because with limited representation comes limited resources, and if you spend all your limited resources on patents, that might be to your detriment." 
Cardozo students are able to provide this guidance for the inventors throughout the patenting process without minding the billable hours or costs, he adds.
Although the process of obtaining a patent can take several years, the project already boasts one success story. Rose Coppee, a Black woman inventor, was able to secure a patent with the help of Cardozo and the law firm Jones Day. Her design, a modular hairbrush with a specially designed handle, allows users to distribute styling products directly through its bristles.
The program helped Coppee connect with an attorney who, she says, did more than simply help her fill out the patent application. "He educated me on the whole process of going through patents," she states in a video for the project. "It's very important that you have someone hold your hand and walk you through it." 
Coppee was linked to Cardozo through Start Small Think Big, a nonprofit that helps small business owners who are low-income or from marginalized communities access the resources and support they need to be successful. Developing partnerships with these kinds of local community organizations has been the most effective way of reaching underrepresented inventors and entrepreneurs, Wang says.
Work is also underway to create educational materials that translate complex legal information on patents into an easily digestible format. Wang states his goal is to publish a one-page guide with the essentials on patent filing and inventing this summer and eventually expand this document into a booklet. In addition, the program is in the early stages of developing an app that contains easy-to-understand information.
Having this type of knowledge, along with financial assistance and other support, can help make it more likely that inventors like Coppee acquire patents for their innovations — a result that makes the lengthy and complex process worth the effort.
"The most exciting thing about getting a patent out there is actually seeing something that you thought in your head actually come to life," Coppee says in the video. "I think that's the most important thing, and the most fun thing about it."●
Lisa O'Malley is the assistant editor of INSIGHT Into Diversity. 
This article was published in our July/August 2022 issue.