Despite efforts to increase diversity among business school students and employees in recent years, the teaching workforce at many of these institutions remains relatively homogeneous. Some scholars are calling for business colleges to rectify their persistent lack of diversity and serve as exemplars of better recruitment, retention, and advancement practices in the workplace.
A 2021 survey by the Association to Advance Collegiate Schools of Business found that while the number of ethnically and racially underrepresented faculty at these schools has grown by 7 percent over the last decade, White employees still constitute nearly three- quarters of this workforce. Similarly, although representation of women has increased, they continue to comprise only 34 percent of full-time faculty. 
One way to address this is by raising awareness about the ways candidates of color are often screened out of the faculty hiring process, says Sonja Martin Poole, PhD, interim associate dean of academic affairs and a professor of marketing at the University of San Francisco School of Management. 
In past analyses of these processes at U.S. business schools, Poole and her research partner, American University Professor Sonya Grier, identified four primary reasons this occurs:
Race is considered unmentionable
Diversity is poorly defined and understood
There is undue faith in "colorblind" criteria
School hierarchy and gatekeepers reproduce inequitable practices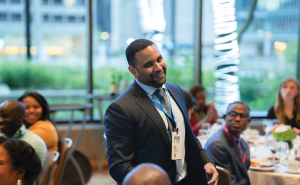 "First, [business] school leaders must acknowledge the various ways race influences faculty hiring in order to find ways to make hiring more inclusive," Poole says. "They also need to signal to their hiring committees and the rest of the faculty that they visibly and genuinely support underrepresented [people in] academics." 
Avoiding openly discussing race and ethnicity makes it more difficult to hire diverse faculty, she says. 
Similarly, failing to have a set definition for diversity "enables individual search committee members to define or interpret diversity as they see fit," which makes it difficult to assess whether diversity goals are being met, she says.
Furthermore, search committees that use merit-based criteria they deem to be "colorblind" or completely objective can disadvantage underrepresented candidates. For example, committees that consider the number of times a candidate has been published in an academic journal may not realize that Black and Latinx academics might study race-related topics that tend to be overlooked by top-ranked journals, Poole says.
Ensuring that committees include diverse members who can draw attention to these issues is not always an effective antidote. Poole and Grier's research has found that Black and Latinx faculty in these roles may feel like they have been selected solely for their diverse perspective, and more powerful committee members continue to have the final say in candidate selection. The latter, such as department chairs and tenured professors, often continue to reinforce traditional inequitable hiring practices. 
Poole suggests schools incorporate DEI education into faculty and staff orientation, events, leadership workshops, and meetings where hiring, retention, and promotion issues are addressed. 
Survey Highlights
 

Top Considerations

Business schools aiming to improve their recruitment and hiring processes for diverse faculty may also look to The PhD Project, a nonprofit that supports underrepresented individuals pursuing doctoral degrees and academic careers in business schools. The organization recently conducted a member survey that asked what participants value in an employer and what would deter them from working for a particular school. 

The survey found that members consider the following factors, in order of preference, when applying for a faculty position:
Geographic location
Compensation

 

Research support
Campus and community culture
The survey also probed for deal breakers, or what factors would make members decide not to apply to or accept a job with a particular employer. The top four are:
Compensation

 

Campus and community culture
Geographic location
Research support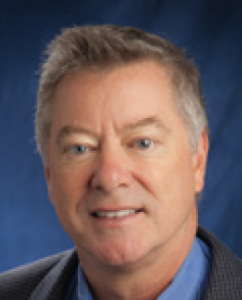 Blane Ruschak, president of The PhD Project, says that many individuals who choose to pursue a doctoral degree in a business-related discipline do so as a second career after working in corporate America. Others have spouses and children to consider when deciding if and where to relocate for a faculty position. 
Compensation is an especially important factor for individuals who left lucrative corporate careers to pursue academia, he says. 
Business schools should not overlook the importance of culture and support in attracting underrepresented candidates, Ruschak says. For example, some survey takers said they would still consider working at a school in a less desirable geographic location if it had other incentives, such as an inclusive culture. Candidates want to know they will feel welcome on campus, he says, especially at institutions where they could be the only underrepresented business faculty or one of just a few. 
"They're looking for schools that make them feel valued, that basically give them the sense that they are going to have the ability to make an impact," Ruschak says. 
When The PhD Project members were asked about what influences their decision to stay after accepting a faculty position, they listed research support as the most important consideration. Campus culture came in second.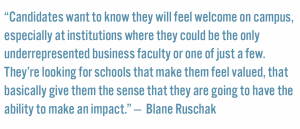 Regarding why they may decide to leave a position, campus and community culture was at the top. Ruschak says this highlights the importance of inclusivity and intentional support for diverse faculty as they progress in their careers. 
"For them to want to leave, they usually have encountered a bad culture where they don't feel wanted or there's a hostile environment, whether it be with students, administrators, other faculty, or even the local community," he says. "Or they're in a situation where they've basically been given excessive service requirements."
As underrepresented faculty progress in their careers and strive toward tenure, they are often assigned a disproportionate number of tasks that detract from their research abilities, according to Ruschak. Many of the members of The PhD Project have reported being asked to serve on multiple DEI projects or committees because they are one of a small number of diverse employees. While business schools may view this as inclusion, it can become an overwhelming expectation, he says. 
Challenging Structures and Systems
Colleen Ammerman, director of Harvard Business School's Gender Initiative, says employers often focus on recruitment methods or surface-level indicators of inclusion when it comes to attracting and retaining diverse candidates, but true equality in the workplace requires intentional steps by team and department leaders to recognize possible inequities.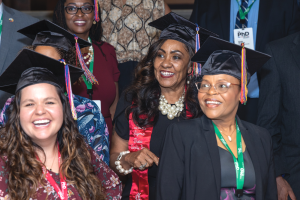 "Unfortunately, oftentimes what is easier to focus on are notions or feelings of inclusion, which, while important, are not the same thing as actually changing structures and systems such that people do genuinely have equal opportunities," Ammerman says. 
For example, leaders must be aware of issues such as similarity bias, which is the unconscious tendency to be drawn to people who share similar characteristics — race, gender, religion, or other traits — as oneself. Research has shown that this often results in preferential treatment and promotions in the workplace, even when managers believe they are providing equal opportunities to all team members. 
Colleges of business have the unique ability to raise awareness of this type of inequity by teaching students about it while at the same time serving as examples of equitable employment, Ammerman says. 
"I think business schools have a good opportunity and an obligation to be both a leader and model for what it means to develop organizations that afford people equal opportunities," she says.●
Mariah Bohanon is a contributing writer for INSIGHT Into Diversity. 
This article was published in our October 2022 issue.