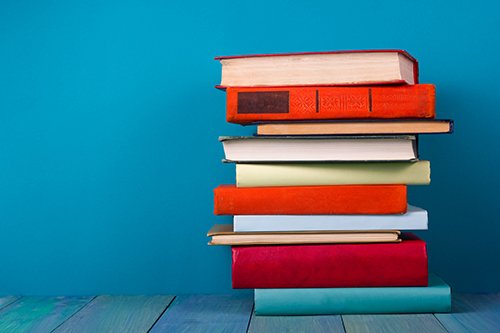 For business schools, having the ability to adapt curricula to keep pace with ever-changing employer demand and industry needs has always been a primary goal. During times of rapid economic upheaval — such as a global pandemic — keeping curriculum relevant becomes even more important.  
"Business schools are constantly re-envisioning themselves to offer the most innovative and timely business education for their students," explains Stephanie Bryant, executive vice president and chief accreditation officer for the Association to Advance Collegiate Schools of Business International. "With a world-altering event like the COVID-19 pandemic, it's necessary for business schools to re-evaluate their curricula to make sure it is best serving their students and the new challenges they will face in the business sector."
Being resilient in the face of change is a valuable attribute in such situations, Bryant says, noting that one benefit of business education is that it teaches students to have "the business mindset to identify and adapt to market disruptions and leverage new opportunities." Even in seemingly disastrous situations such as the Great Recession, business schools were able to focus on creating a more positive future, she points out. They assessed what led to the financial crisis, such as poor risk management and a lack of social responsibility and adjusted their curricula accordingly. 
Now, business schools are preparing students to address the unique challenges of the COVID-19 pandemic and its potential long-term effects on the economy and workplaces. 
"We are already seeing more courses focused on leading during crisis times, thinking creatively and innovatively to solve complex problems, risk management, strategic management, financial modeling, and talent acquisition and retention, as some of the areas on the rise in the curriculum," Bryant says.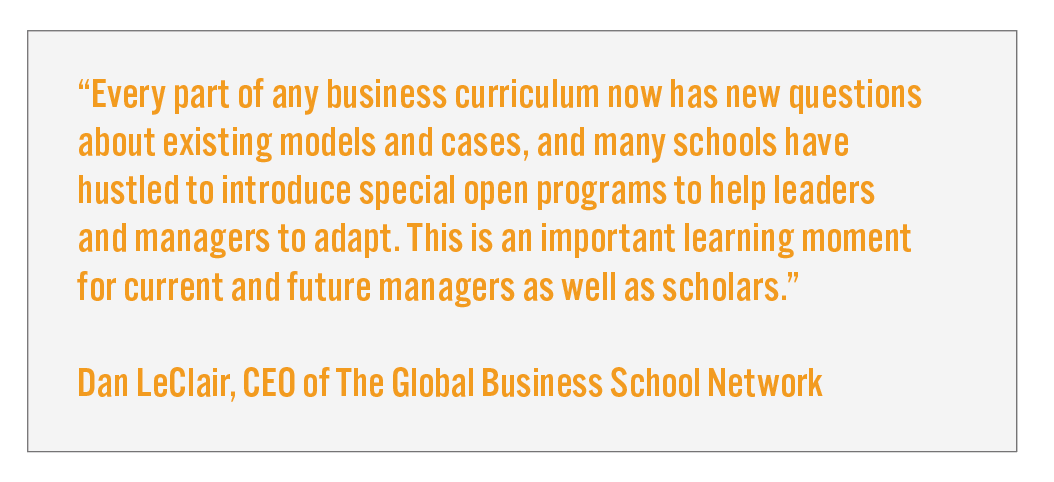 Mauro Guillén, a management professor at the Wharton School at the University of Pennsylvania, noted in a March interview with CNBC that there have been multiple instances in recent history in which the business landscape was suddenly turned upside down. Lessons learned from the Great Recession, the terrorist attacks of 9/11, and large-scale natural disasters all provided "some solid underlying management principles that can be distilled, and that's what we want to convey to our students and also some companies, organizations in the U.S., and also policymakers," he states.
The Wharton School was one of the first institutions to focus on the coronavirus pandemic as a learning opportunity in real time. It began offering a six-week, half-credit course in March called "Epidemics, Natural Disasters, and Geopolitics: Managing Global Business and Financial Uncertainty." The class was open to all University of Pennsylvania students and saw an enrollment of more than 500 in its first iteration.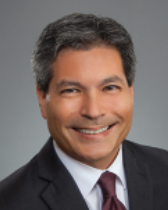 "Every part of any business curriculum now has new questions about existing models and cases, and many schools have hustled to introduce special open programs to help leaders and managers to adapt," says Dan LeClair, CEO of The Global Business School Network. "This is an important learning moment for current and future managers as well as scholars."
Some specific topics that business leaders as well as scholars are currently grappling with include how to think differently about risk in supply chains, managing teams in virtual environments, and reorganizing retail spaces for social distancing, LeClair says. 
LeClair also thinks that the changes implemented during the pandemic will have long-lasting effects on business education. In recent years, changes to curricula have been more rapid than ever before and have been driven by the themes of digital transformations and sustainability, he says. Being able to update curricula has been accelerated by the current crisis, and it has brought renewed attention to building more multidisciplinary education, according to LeClair.
In January 2020, prior to the outbreak of COVID-19 on a global scale, it was already suggested during the World Economic Forum's annual meeting that business schools engage in more cross-disciplinary teaching and research. One result of the pandemic is business colleges seeing the value in and learning how to quickly collaborate with other fields such as public health, medicine, engineering, and life sciences in order to equip students with a more holistic approach to problem-solving, according to Robert Ruiz, managing director of BusinessCAS, in an April article in Poets & Quants. 
Learning to be entirely dependent on technology when it comes to classroom learning will also have a lasting impact on business education. While many schools already offered online MBA programs and other distance learning options, the pandemic has accelerated the need for faculty and staff to be experts in effective online pedagogy.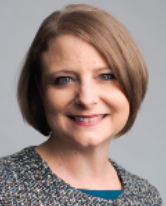 At The George Washington University School of Business, the instructional design team has hosted 24 faculty workshops and more than 120 sessions with individual faculty to address the challenges and opportunities of online teaching, according to Liesl Riddle, PhD, associate dean of graduate programs and an associate professor of international business and international affairs. 
The school already offered online degree programs and was, like many business schools, engaged in "overhauling" their courses to become more accessible to distance learners, Riddle says. The pandemic simply made this work more urgent, and now faculty are learning techniques to engage students through synchronized learning platforms and simulation games.  
"One thing is certain: schools are learning new ways to leverage technology not only for efficiency but also for efficacy, and that will have a much bigger impact on curricula than anything," says LeClair.●
Mariah Stewart is a senior staff writer for INSIGHT Into Diversity. This article was published in our October 2020 issue.