In June, a group of Southeastern Conference (SEC) business schools launched the Business School Diversity, Equity, and Inclusion Collaborative, a national network of diversity-focused resources and people within the business education community. Member schools will share best practices, offer support, and help advance important diversity, equity, and inclusion (DEI) conversations within their institutions.
The collaborative has already expanded beyond its original 14 schools, and the hope is that it will grow to at least 40 members by mid-2023, says Danielle Beu Ammeter, PhD, Business School DEI Collaborative chair and assistant dean for undergraduate programs at the University of Mississippi School of Business Administration.
"The primary goal is to create this network of people from business schools and the business community to come together and discuss DEI issues and what we're experiencing, various solutions and best practices, and how we can enhance and improve DEI," she says.
The precursor to the collaborative, the SEC Business School Diversity Conference, was launched in 2015 and held its inaugural conference in 2016 at the University of Missouri (MU). During that event, representatives from participating schools spoke with a group of students protesting a then-recent series of racist and homophobic incidents on MU's campus. Through those conversations, conference attendees recognized the importance of building support networks for DEI officers working in higher education, says Angela Guidry, vice chair of the collaborative and director of diversity, equity, and inclusion at Louisiana State University's (LSU) E.J. Ourso College of Business.
"Meeting with those students ignited something in all of us, really driving home the importance of what we were doing and what we could do on our own campuses," she says. "We knew right then that we needed to start meeting every year so that we could grow our network and our reach."
Now Guidry and others involved in planning the conference have determined the ideals of the initiative are too important and deserve a wider reach. 
"A major benefit of the collaborative is that it allows business school DEI offices with fewer people and resources to connect with schools and programs that have robust diversity initiatives in place," says Guidry. 
Using examples from more established programs in the collaborative, members can learn how to advocate for more funding, both internally and externally, and design comprehensive plans to advance DEI goals at their institutions.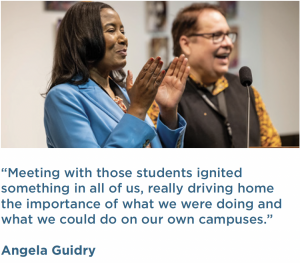 "It makes you more confident when you come back to your school and have those conversations with your dean," she says. "This way, they are able to see what is happening within our peer groups and they can understand their level of commitment to DEI and what changes need to be made. [The connections] also give a blueprint of how to track your progress, and more importantly, how to sustain progress."
One example Guidry cited was the implementation of summer readiness programs for traditionally underrepresented students at several member schools. Through the programs, high school and incoming college students can stay on campus and take introductory business courses to acclimate them to the college experience. After seeing the success of such programs at the University of Arkansas, the University of Georgia, and the University of Tennessee, Guidry advocated for a similar initiative at LSU's business school. The program launched this summer. 
Among other efforts, members of the collaborative have developed strategies to help recruit and retain more historically underrepresented students. In working with the Association to Advance Collegiate Schools of Business (AACSB) and various leaders in the business industry, Ammeter says corporations and business schools have become increasingly aware of the ethical and economic benefits of a diverse student population and workforce. 
"These are issues shared with the corporate world," she says. "It's not just AACSB pushing it — there is a pull from corporations that want to see more diversity in the graduates they're hiring."
Ammeter says the collaborative will also work to build its relationship with the AACSB to improve DEI standards within business education, such as including DEI requirements in the accreditation process. The collaborative is currently in the process of organizing its 2023 annual conference, which will be hosted by Haslam College of Business at the University of Tennessee, Knoxville.
"Eventually, we would like to build a network that includes every business school in the United States. We want to help effect meaningful change," Guidry says. "It's important that everyone understands the value that diversity brings to any organization, and that means diversity of all kinds — not just race, ethnicity, and gender, but also diversity of culture, thought, and experience."●
Erik Cliburn is a senior staff writer for INSIGHT Into Diversity.
This article was published in our October 2022 issue.