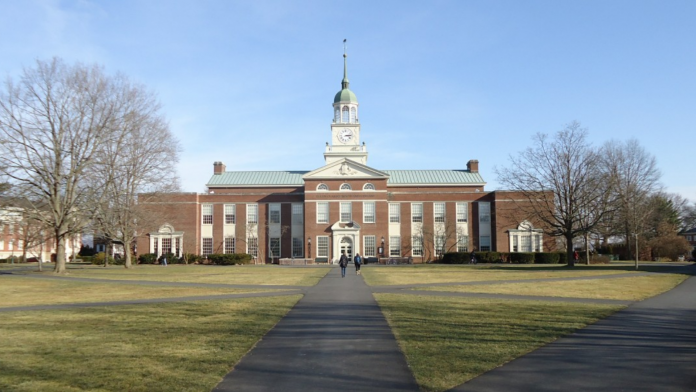 Hundreds of Bucknell University students participated in a walkout this week to protest the private Pennsylvania school's public safety practices and mishandling of a sexual harassment case on campus.
"We are here because we demand to be seen by this university," organizer and Bucknell student Jillie Santos said during the walkout, according to PennLive. "We demand accountability and transparency. We want the administration to respond and for Public Safety to work with students. We demand safety and security on this campus."
Roughly 300 demonstrators gathered in response to allegations that former chief campus public safety officer Stephen J. Barilar victimized multiple women of color and destroyed evidence of a student's sexual harassment claims. Amid accusations, Barilar stepped down as chief but is currently serving as special adviser to the general counsel, NorthcentralPa.com reports.
The student protesters also called attention Monday to the January lawsuit filed by former public safety officer Colby Snook, who filed a complaint regarding Barilar's mishandling of the claims. In the suit, Snook alleges Barilar allowed a student to erase cell phone evidence of a sexual harassment incident. After reporting the misconduct, Snook claims Barilar and others in the university's public safety department created a hostile work environment.
During the walkout, students demanded university officials show support for victims by denouncing misconduct and addressing the allegations against Barilar. They also pressed Bucknell officials to create a public safety advisory committee, conduct routine discussion forums with the new chief public safety officer, provide access to officer body cameras, and more.
In response to the protest, Bucknell issued a statement saying it prioritizes the safety and well-being of students and that the new chief public safety officer will be presenting his plans for engaging with the campus community later this semester.
The state's attorney general office is currently conducting an investigation into Barilar.