Chief Diversity Officer and Associate Dean for Diversity and Inclusion at Penn State Health Milton S. Hershey Medical Center and Penn State College of Medicine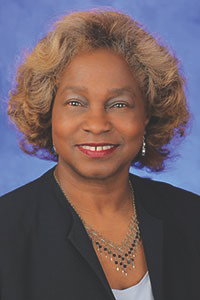 Lynette Chappell-Williams, JD, is the chief diversity officer and associate dean for diversity and inclusion at Penn State Health Milton S. Hershey Medical Center and Penn State College of Medicine in Hershey, Pa., where she has responsibility for advancing the organization's diversity and inclusion strategy. Since being with Penn State, a 15,000-employee health system and medical educator, she has co-led the implementation of a written patient bias policy to reduce provider experiences of bias. She has also overseen the establishment of the Rooney Rule to increase senior leadership gender and race/ethnic diverse representation, established diversity pipeline partnerships with historically Black colleges and universities, and developed the framework for Penn State Health and the medical college to be recognized as a best employer for diversity by Forbes, Military Times, Human Rights Campaign, and INSIGHT Into Diversity.
Before Penn State Health, Chappell-Williams served as the associate vice president for inclusion and workforce diversity at Cornell University. She was responsible for implementing staff diversity initiatives, overseeing the Title IX program, and leading the affirmative action program. While at Cornell, Chappell-Williams developed programs resulting in organizational recognition as a best employer for work/life by Working Mother Media, best employer for employees over 50 by AARP, adoption friendly employer by David Thomas Foundation, and Exemplary Voluntary Effort Employer by the Office of Federal Contract Compliance Programs.
Chappell-Williams has been nationally recognized for her work in diversity, inclusion, and work/life, including an HR Rising Star/Diversity Champion by HR Executive Magazine in 2006, the Legacy Award from Families and Work Institute in 2011, and Women Worth Watching by Diversity Journal in 2013.
Chappell-Williams received her JD from The Ohio State University and a Bachelor's in Science in psychology from James Madison University, where she was a charter member of Alpha Kappa Alpha sorority and a member of the honors program.
Chappell-Williams, originally from Newport News, Va., is a resident of the Harrisburg, Pa. area and has one daughter who is an alum of George Mason University and a graduate of Penn State University's master's program in criminal justice.