Associate Dean for Diversity, Equity and Inclusion, Dartmouth Geisel School of Medicine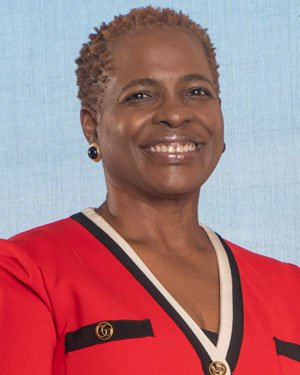 Dr. McBride, a St. Louis native, has an extensive and distinguished background. She has served as the Chief Diversity Officer (CDO) in various higher education institutions. In her current role, she serves as the associate dean for diversity, equity and inclusion at Dartmouth's Geisel School of Medicine
She previously served as the associate dean of diversity and inclusion, and a professor of medical education at Texas Christian University School of Medicine, and inaugural Vice President for Diversity and Inclusion at Salem State University where she was a member of the President's Executive Cabinet. During her tenure in this role, Dr. McBride initiated a campus climate survey, conducted microaggression  training for  faculty, developed the Cultural Competency Training/Curriculum within the Healthcare Studies program, and created a Diversity Leadership Speaker series that featured Dr. Anne Koch, who is widely recognized as a pioneer in the field of Transgender Medicine, and Dr. Antonia Novello, the first woman and first Hispanic United States surgeon. She also collaborated with undergraduate/graduate students to provide healthcare services to homeless veterans with the assistance of  Project Home, a agency that empowers adults, children, and families to break the cycle of homelessness and poverty.
She has also served as the Chief Diversity Officer at Philadelphia College of Osteopathic Medicine where she single-handedly created four (4) endowed scholarships for African-American, Latino, LGBTQI and Veteran students. Additionally, she served as Special Assistant to the President for Social Equity and University Ombudsperson within the Pennsylvania State University System. As Special Assistant to the President, Dr. McBride was committed to providing leadership, consultation and project management of policies, programs and services that promoted diversity as a means of achieving educational excellence and enhancing the quality of life for all members of the university community.  Additionally, it was during her tenure at Cal U that she singlehandedly increased the minority graduation rate 33 percentage points to 60.5 percent through her implementation of Cal U Men United, a mentoring group for young men of color. This mentoring group sought to provide a campus community that supports the growth, development and achievement of young men of color as they strive to become men of character prepared to take an active role in the global community. Many of the Cal U Men United participants have not only completed their bachelor degrees but also masters degrees and are now in rewarding careers. Prior to her role at Cal U, Dr. McBride held several positions in the Florida State University System including the Assistant Director of the Policy Institute of Conflict, Oppression and Terrorism Studies, Institutional Diversity Coordinator and Associate Professor in the Criminal Justice department. Dr. McBride is certified by the Florida Supreme Court as a County Court Mediator in the State of Florida, and certified by the State of Florida and Arkansas Commission on Police Officer Standards and Training to serve as a Human Diversity Instructor.
Dr. McBride began her career as a police officer in St. Louis, Missouri. She then transitioned to a federal criminal investigator for eight years in various international countries as an undercover operative and demonstrates competency working with people of diverse ethnicities and backgrounds. Dr. McBride is experienced as impartial dispute resolution practitioner around issues of promotion, salary inequality, evaluation disputes, sexual harassment and other issues regarding employment. Dr. McBride developed, implemented and assessed university-wide diversity policies and related initiatives, and possesses the ability to facilitate cooperation and consensus through education, negotiation and mediation.
Nationally recognized for her work, Dr. McBride was appointed to the Editorial Board with the National Diversity Council and INSIGHT Into Diversity magazine this past year. Dr. McBride has also won multiple awards for her diversity work, which includes: 2012, Women of Excellence Award by the New Pittsburgh Courier newspaper;  2012 Multicultural Leadership Award at the  3rd Annual Pittsburgh Diversity and Leadership conference; 2014 Most Powerful and Influential Women Award at the 5th Annual Philadelphia Diversity and Leadership conference; and 2015 INSIGHT Into Diversity Diversity Visionary Award in recognition for her development of  a Transgender Medicine Symposium for healthcare providers and a Science, Technology,  Engineering, Mathematics and Medicine (STEM+M) pipeline program to address the dearth of Hispanic health practitioners.
Dr. McBride earned her Doctor of Philosophy (2007) in Conflict Analysis and Resolution from Nova Southeastern University, Fort Lauderdale, Florida, and her Master of Science (1987) and Bachelor of Science (1986) in Criminology from Indiana State University in Terre Haute, Indiana.  Dr. McBride owes all of her success to her beloved parents Elmer and Mary McBride who passed away in the last two-years.