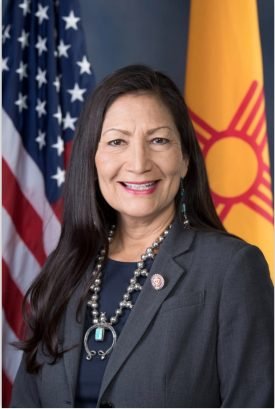 On Thursday, President-elect Joe Biden selected Democratic New Mexico Rep. Deb Haaland as Secretary of Interior, making her the first Indigenous person to serve as a U.S. Cabinet member.
The historic nomination comes after House Democrats encouraged Biden to consider Haaland for the position in a November letter. Haaland is an enrolled member of the Pueblo of Laguna and one of the first Native American women to serve in Congress.
In addition to Haaland, Biden plans to nominate Brenda Mallory to serve as the first African American chair of the White House Council on Environmental Quality (CEQ) and Michael Regan to become the first Black man to lead the Environmental Protection Agency (EPA), according to multiple news reports.
Mallory is an environmental lawyer who worked for the EPA and CEQ during the Obama-era. She also served on the steering committee for the Climate 21 Project, a collection of federal policy recommendations from a cohort of environmental experts.
Regan is secretary of North Carolina's Department of Environmental Quality and has more than two decades of work experience in environmental advocacy and regulation, including working for EPA's air quality and energy programs during the Clinton and Bush administrations, according to his biography on North Carolina's government website.
Biden's historic appointees are a follow through on his campaign promise to diversify the White House Cabinet. The president-elect also vowed during his campaign to make climate change one of his key agendas.
"The new administrator will need to first eliminate barriers that the Trump administration erected to make new rules difficult to enact, and then to expand Obama-era efforts to curb greenhouse gases from power plants, automobiles and oil and gas sites," The New York Times reports.
President Trump has reformed significant climate change policies such as giving more leniency on state emission regulations by restructuring Obama's Clean Power Plan and withdrawing the U.S. from The Paris Agreement, an international climate change treaty, calling it "fatally flawed" in a 2018 tweet.
"We have individuals coming to these positions who have seen what it's like on the other side, in terms of communities that have suffered," prominent environmental justice advocate Robert Bullard told The Washington Post. "They have been fighting for justice. Now they are in a position to make change and make policy. That, to me, has the potential to be transformative."