For many students, every academic year poses new challenges and uncertainties on the road to a college degree. In 2020, those challenges frequently became insurmountable, and students from all backgrounds began reversing course on their postsecondary plans at an alarming rate. 
Of the 58 million American households that had at least one member planning to attend college in the Fall 2020 semester, nearly 36 percent either cancelled their enrollment or had withdrawn from classes by December, according to the U.S. Census Bureau. 
Though many of the factors that contribute to students dropping out — such as financial hardship and a lack of family support — have remained the same, the pandemic has exacerbated the underlying struggles that many students already face, says Sarah Umbarger-Wells, PhD, associate director of First Scholars Initiatives at the Center for First-Generation Student Success. Despite these challenges, she believes that colleges and universities that confront pandemic-related dropout rates head-on have the opportunity to create long-lasting, positive change in higher education.  
"We have an opportunity to look at higher ed in an accessible way and utilize these new resources that we're going to create because we're in a virtual learning space to reach out to new students," Umbarger-Wells says. "If we believe that education is a human right and public good, then we should start making good on that."
A number of institutions have come up with new programs and initiatives to improve underserved student retention. Though the task of designing these during a pandemic can seem intimidating, they will ultimately make higher education more diverse, equitable, and inclusive now and after the pandemic subsides, Umbarger-Wells says.
Finances are traditionally one of the greatest obstacles on the path to a college degree for many students and a leading cause of low retention rates for those from low-income backgrounds. Now, with the pandemic leading to the greatest spike in unemployment since the Great Recession, paying for higher education has gone from challenging to seemingly impossible for many.
Nearly half, or 46 percent, of those who reported cancelling or withdrawing from classes in the fall cited the inability to pay due to a pandemic-related loss in income as a reason for changing their plans. Another 3.6 million cited changes to their financial aid, according to the U.S. Census Bureau.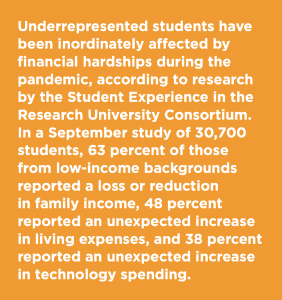 First-generation students were also more likely to experience financial hardships related to COVID-19, according to an August survey by the Student Experience in the Research University Consortium. Just over half had lost all or a portion of their regular income during the pandemic, compared with 32 percent of students who have one or more parents with a college degree.
"Students are having to work to support family members who have had COVID-19-related unemployment situations," Umbarger-Wells says. "That has made it difficult. We already knew that first-generation students and students from minoritized populations … a lot of them work and go to school at the same time. It's a difficult balancing act."
At the University of Memphis (UofM), administrators utilized a portion of the university's Coronavirus Aid, Relief, and Economic Security Act funds to support low-income student retention through innovative measures. They established a "buy-one-get-one" program that allowed struggling students to enroll in two classes for the price of one. While many schools cut employment opportunities, UofM increased on-campus jobs — which pay up to $15 per hour — for students, according to Karen Weddle-West, PhD, vice president for Student Academic Success at the university.

The school, which has 34 percent Black undergraduate enrollment, also increased educational efforts regarding COVID-19 and its effects on communities of color in hopes of limiting infection rates, she says. 
"The same population that is historically underrepresented, meaning students of color, are also the greatest percentage of students who are on Pell Grants and the greatest percentage of students who are likely to be compounded," Weddle-West says. "Those compounding variables [of the pandemic] really hit hardest for students of color."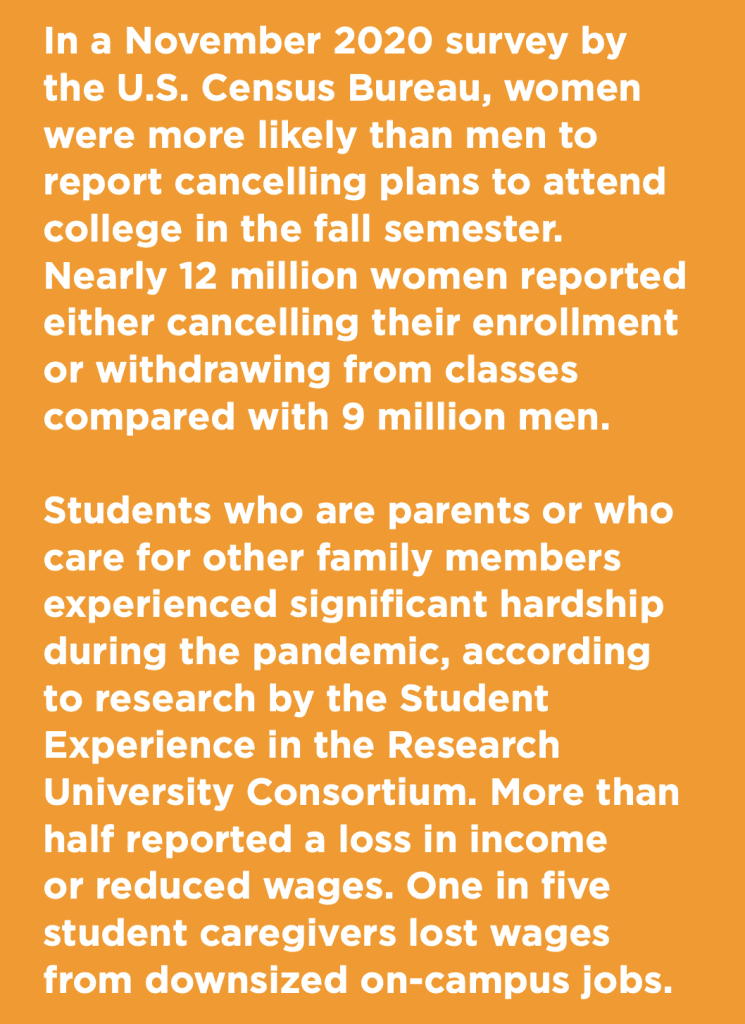 UofM and many other colleges have organized massive call and text campaigns to keep in touch with students, including those who are on the verge of dropping out or have already done so. Financial aid offices have increased outreach to help students access additional funds and to make sure they are aware of the financial implications of withdrawing from classes, such as having to return or repay student loans. 
Megan Coval, vice president of federal relations for the National Association of Student Financial Aid Administrators, explained to INSIGHT that many financial aid offices have had to restructure since the start of the pandemic in order to meet increased demand. It is the duty of these offices.— and higher education institutions at large — to ensure students are aware that they have options such as adjusting their amount of aid to make up for a loss in income, Coval said. 
Many students, especially those who are from disadvantaged backgrounds, may be unaware of all of the economic resources available to help them stay enrolled in school. A summer 2020 survey by technology firm EAB revealed that "lower-income and minority households appear less likely than in years past to access the federal financial aid they need to afford college," and that this decline will lead to greater inequities in educational access.  
Perhaps most troubling is the fact that fewer students are even bothering to look into their financial aid options, as FAFSA submissions have decreased by 6.2 percent, according to a November 2020 federal report. This lack of awareness regarding financial resources may be especially problematic for colleges and universities in future semesters. Even as the nation prepares to distribute the COVID-19 vaccine, college application rates for the coming academic year continue to decline. Multiple states and institutions of higher education are already reporting lower application and enrollment numbers for 2021-2022. 
In addition to financial aid outreach, many colleges may not be aware of the impact that other connections to the campus community can have on those who are struggling. While free virtual counseling, for example, is an important source of support for all students, it can be pivotal for those who are disadvantaged and facing issues such as imposter syndrome that have been exacerbated by the pandemic says Rochelle Plummer, executive director of student retention at Shippensburg University. A lot of these students already experience fear of the unknown when it comes to college, and the isolation from campus, as well as the challenges of taking classes remotely, can make them feel even more as if they don't belong in higher education, she says. 
"When we talk about underrepresented students, a lot of them come in from the start with imposter syndrome. You're already doubting yourself and now you have this new piece that comes into play," Plummer explains. 
Colleges and universities that want to truly support disadvantaged students must consider these types of issues. Realizing that not everyone has equal access to the technology necessary for online learning, for example, was an important lesson for schools at the beginning of the pandemic, says Plummer. But truly supporting underserved students requires going farther than lending laptops and other tools to realizing that simply using this unfamiliar technology can be intimidating and amplify the sense of imposter syndrome. 
Taking this type of empathetic approach to supporting vulnerable students is key to creating the more equitable future in higher education that Umbarger-Wells and other experts see a possible outcome of the pandemic. These significant changes to provide for students in need must come from the top down, explains Weddle-West, specifically university presidents and boards of trustees.
Erik Cliburn is a senior staff writer for and Mariah Bohanon is the senior editor of INSIGHT Into Diversity.