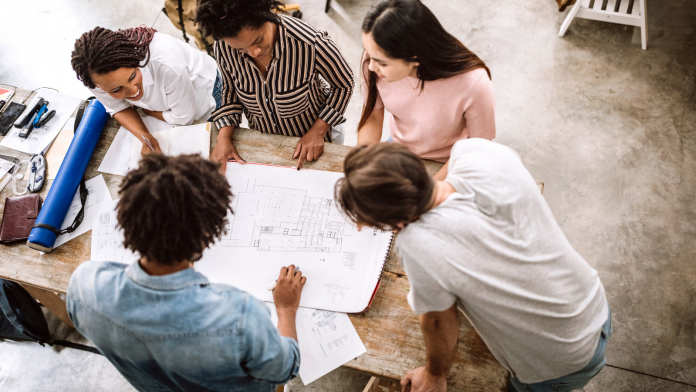 Two university initiatives on opposite sides of the country are working toward a common goal of diversifying the student populations of architecture schools. One is the A-Lab Architecture Development Program launched by the University of Southern California's (USC) School of Architecture. The other is a student-run organization, Future Designers for Syracuse (FDS), at Syracuse University's (SU) School of Architecture. Both are using their resources to connect with local underrepresented and economically disadvantaged high school students to introduce them to architecture, planning, and design as potential career paths. 
The new A-Lab Architecture Development Program offers a semester-long immersion experience on campus for local underrepresented high school juniors. Participants work on design projects alongside USC faculty and students. It focuses on three components: designing architectural solutions to real-world problems, professional development, and college preparation and mentorship. 
"Our goal is to inspire and help these students — future citizen architects — prepare for college while also empowering them to think creatively about the challenges that face architects, landscape architects, designers today and into the future," said Milton S.F. Curry, dean of USC Architecture, in a news release. 
FDS was launched in 2020 by SU student Karen Chow, who recognized a lack of free architecture resources for disadvantaged teenagers. "I would not have been able to do architecture if I did not have access to a free program in high school," she told the university's newspaper, The Daily Orange.
The organization meets with local high school students several times each semester and offers mentorship, assistance with portfolio creation, and help with the college admissions process.●
This article was published in our October 2021 issue.