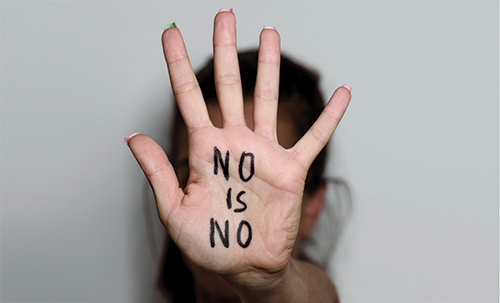 The rules that govern how Title IX offices investigate cases of campus sexual assault have undergone "near-constant change," in recent years, requiring institutions to "update policies, implement training, and understand the Office for Civil Rights' (OCR) expectations," according to the Association of Title IX Administrators (ATIXA).
In 2011, the U.S. Department of Education issued a Dear Colleague letter urging higher education institutions to take more responsibility in addressing campus sexual assault. The department followed up in 2015 with additional guidelines for Title IX investigators. Under these directives, colleges and universities were to use "preponderance of the evidence," or the lowest standard of proof, to determine whether a person accused of sexual assault is guilty.
In September 2017, Education Secretary Betsy DeVos announced the rescission of these Obama-era guidelines, stating that they "lacked basic elements of fairness" for the accused, and submitted new ones for public review in 2018. These proposed rules have faced fierce criticism from victims' rights groups and other civil rights advocates who say they are too lenient.
The Education Department was set to issue a finalized set of regulations in fall 2019; however, delays could extend their issuance to January 2020, according to The Washington Post.
INSIGHT Into Diversity recently spoke with three Title IX experts regarding the impact of Title IX protections on today's college campuses. They provided insight into the critical role of Title IX coordinators in combatting the epidemic of sexual harassment and assault in higher education as well as challenges facing the profession at a time of regulatory upheaval.
Responses have been edited for clarity and length.
Leah Gutknecht is assistant to the president for Compliance and Equity Management and Title IX officer at the University of Northern Iowa in Cedar Falls. She holds certifications as a Civil Rights Investigator, Title IX Administrator, Affirmative Action Professional, and Civil Rights Mediator.
Eric A. Kidwell is Title IX coordinator, library director, and a professor at Huntingdon College, a Methodist liberal arts institution in Montgomery, Alabama.
Scott Lewis, JD, is a partner at TNG, LLC. He is co-founder of ATIXA and has worked as a consultant and trainer for the U.S. Department of Education, U.S. Department of Justice, and the Office of the Vice President and the White House Task Force on Sexual Misconduct.
What do you find most challenging about being a Title IX coordinator today?
Gutknecht: One of the biggest challenges facing most of us in this role is the expectation that we have an airtight process that pleases everyone and to carry out those duties efficiently and effectively with limited staffing and resources. Even though the topic has garnered increased attention since approximately 2011, the resources have not necessarily followed at that same rate.
Kidwell: The thing that is most challenging is probably just trying to maintain a program of education and awareness on campus and trying to be creative with our programing so it may be more effective. One thing I keep hoping for is to get more students involved in helping us educate their fellow students, because I think that young people often pay more attention that way.
According to a 2018 survey on the state of the profession by ATIXA, "two-thirds of Title IX coordinators say they've been in their jobs less than three years, and one-fifth have held their positions for less than a year." Why do you think there is so much turnover in this field?
Gutknecht: The job has grown increasingly legalistic and is higher profile than it once was. Those factors alone require someone who is incredibly detail oriented but also has the capacity for the emotional toll the job takes. It's tough to be in a position where you're constantly hearing about alleged harm to others, but also being tasked with resolving those issues while still maintaining a neutral stance.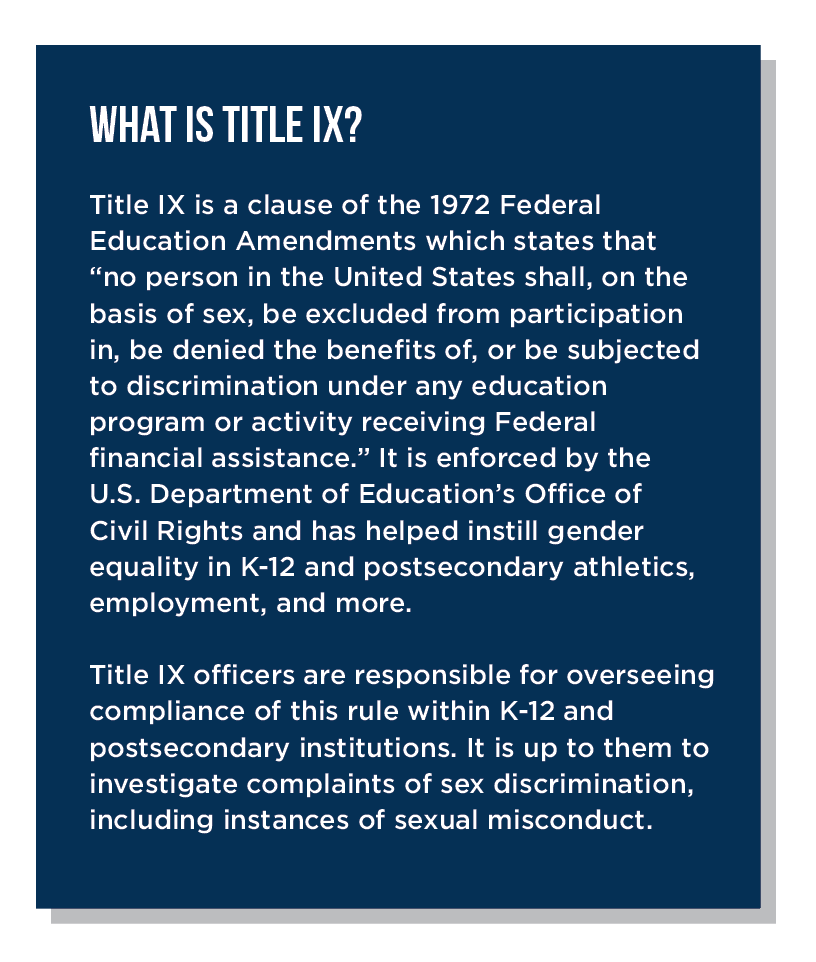 In the end, it's a no-win situation. No matter what you do, there's always going to be people who are not happy even if they feel that the case went in their direction. There's constant dealing with people in very stressful, traumatic situations. The job can be really tiring if you haven't built up your resilience and the capacity to deal with that on a daily basis.
It's also vital that a Title IX officer report directly to a president who's willing to grasp the significance of [Title IX] on their particular campus. Without that direct reporting relationship with a president who understands and supports your work, the position is an impossible place to be.
Kidwell: It can be a multitude of reasons. There are still some institutions that have not fully bought into what Title IX is supposed to achieve. They have a Title IX coordinator because they're required to, but then they don't give it any more thought because in their view it's just another government mandate. It can be a thankless job if you don't have support from the top level of your administration.
Burnout is also a concern. You're dealing with very serious issues where there's rarely an outcome where everybody is happy, so you may end up spending a lot of time talking to parents or others to explain your process and let them know that the institution really does have the best interest at heart for the parties involved. You can also get pushback from the administration because they might be concerned that the case is going to make the institution look bad.
Lewis: There's a lot of pressure. There's also an increase in litigation and more pressure from the government. The new [Title IX] regulations are slated to come out soon, which will add even more pressure. Plus, you have cases that might involve high profile faculty, employees, athletes, students, or others where you might get a lot of heat to resolve matters in certain ways that are inconsistent with what Title IX professionals are supposed to do.
Some campuses have decided to converge all of the equity and compliance provisions under one person. There are a rising number of offices of institutional equity that have Title IX, Title VI, Title VII, and the Clery Act all reporting to one place. If that's the case, then a Title IX coordinator may also become a director of overall institutional equity.
How can colleges and universities provide more support to Title IX coordinators?
Gutknecht: This role has been around for a long time, but it hasn't been as prevalent. Over the last several years, there have been many Title IX staffers still trying to build a foundation of support within their institution. But [Title IX] really needs to be as much in the forefront for universities and supported in the same manner as issues like enrollment and retention, diversity, mental health, and others. The reality is that Title IX affects each of those areas, and it should be elevated to that level of attention.
Kidwell: You need to have a budget, and the people doing this work should be … fairly compensated. It's one way to recognize the amount of time the job takes on the part of investigators and coordinators. It shows that the institution values what you're doing.
Lewis: First, make sure Title IX employees are trained properly and given adequate professional development to be working as investigators. They have to be trained in civil rights investigation, which is a lot more impartial than other models of investigation.
Second, when they get a case, the institution should — for lack of a better term — get out of the Title IX office's way and let them do their jobs.
That's a struggle we hear about in the Title IX profession, that [investigators] are getting pressure from internal and external sources because of the nature of one of the parties involved. Regardless of whether a claimant or respondent has some connection to the board of trustees, is a big donor or helping bring in a large grant, or a high-profile student or a high-profile athlete, the investigators need to be allowed to reach their own conclusions. If an institution has concerns, then they can hire an external oversight group.
With sexual assault being a more prominent topic today, do you find any differences in reporting? 
Gutknecht: We have a generation of college students who are much different than they were 10 years ago, and reporting [assault] now is much more acceptable. I wouldn't say we have more sexual assault; we just have more people reporting it. We have a clearer understanding of what an assault is and are in a better position to address issues as they arise, to work on our prevention efforts, and to continue educating our students about the topic.
Kidwell: Overall, I think that students are much more inclined to come forward and feel that they'll be listened to. That doesn't always mean that they'll get the resolution they're hoping for, because sometimes the conduct that's been reported does not rise to the level of being a Title IX issue, but overall things have significantly improved.
One of the concerns I have and try to address on my own campus is to de-gender the whole [reporting] process. When I talk with students and faculty and staff, I tell them that as the Title IX coordinator, I don't care what the sex or gender identity is of the parties involved because fundamentally that's irrelevant. All I care about is that there is a person who says they have been the recipient of this unwelcome behavior and that this other person or people are responsible.
Lewis: There are more investigators that are trained now than in previous years, and certainly more than before 2011. Students are also better informed about the resources available to them on campuses.
There has also been a rise in reporting of sexual harassment where you may have students saying staff or faculty members said something that made them really uncomfortable. I think that's one area where the administration could provide support by making sure the Title IX coordinators are able to spend some time getting the message out about what really constitutes harassment.
What do you think are some of the biggest misperceptions about Title IX work?
Gutknecht: One of the biggest misperceptions among students is that if they report an incident, it will automatically launch an investigation. Instead, it gives us the ability to make sure they have access to information, options, and resources in order for them to be able to make an informed decision about what they want to do in terms of next steps. 
Another is that universities are somehow trying to take on the role of the court in the criminal process, and that's just not true. Ours is an administrative and educational process just like at any K-12 school or place of employment. When someone in our community is harmed by another individual in our community, we have an obligation to address the situation. 
Kidwell: From the general public, one of the misperceptions is that institutions are just looking out for themselves and don't really have the well-being of students or their employees at the forefront. Yes, there are some that have mishandled cases that way. However, when you think about the total number of colleges and universities in this country, those are really a small number, but they're the ones you tend to hear about.
Lewis: One of the biggest misconceptions is that Title IX administrators and investigators are railroading respondents or trying to just sweep cases under the rug. There are some instances where campuses have done a very poor job of handling sexual misconduct or sexual assault, but I worry that a handful of bad cases will drive the regulatory or legislative process.
The other misperception is that campuses shouldn't be handling these cases because it's a crime and they should be left to law enforcement. There is a court decision from 1999 that is very clear that campuses have an obligation to manage these matters to the best of their ability. They are not something we can just hand off to law enforcement.
This article ran in the January/February 2020 issue.