Supplier diversity and procurement offices are responsible for buying, supporting, and managing the goods and services purchased by colleges and universities. These departments, which often have only two to three designated employees, are a vital yet often overlooked element of diversity, equity, and inclusion (DEI). Through them, minority-owned businesses can connect and form vital relationships with institutions of higher education that spend billions of dollars annually on campus purchases.
"Procurement connects sources and goods to the end user. We make sure there's a fit, functionality, and help to support the overall process," explains Krista Ferrell, executive director of the National Association of Education Procurement (NAEP). The association is a member-focused nonprofit that facilitates the development and ethical practices of procurement throughout higher education and currently represents more than 800 colleges and universities across the country.
INSIGHT recently spoke with Ferrell and fellow procurement expert Veronica Cook, co-chair of the NAEP supplier diversity program and executive director of the Supplier Diversity Program at the University of Connecticut (UConn), about advancing DEI principles within this area of work and the critical importance of collaboration and intentionality. 
Editor's Note: Responses have been edited for clarity and length.
Can you explain the concept of supplier diversity?
Cook: Supplier diversity is an intentional and strategic set of practices that demonstrate an organization's commitment to being inclusive in their procurement processes. It's not just checking boxes. It's about listening to the communities that are affected by the lack of inclusion and making sure we are equitable and inclusive when formulating how we go about our procurement practices every day.
In the best-case scenario, underutilized, small, minority-owned businesses are awarded contracts and given an opportunity to provide goods and services and build lasting relationships with the institutions with which they do business.
How does UConn's supplier diversity office operate?
Cook: The supplier diversity office at UConn is centered within procurement. Our DEI office is separate, but we collaborate because we understand our shared goals toward diversity and inclusion. The DEI office is looking at faculty, staff, and students to make sure the representation is there in terms of diversity, and we do the same in terms of procurement. 
Is this collaboration between supplier diversity, procurement, and DEI offices an anomaly?
Cook: Yes. At UConn, we immediately wanted to have a conversation [about collaborating] when our diversity and inclusion office hired a new person. We wanted to make sure they understood exactly what we were doing and how we fit into the scheme of [DEI work on campus] so that we could become partners.
How does a college or university reach out to the business community to make sure diverse suppliers are aware of bid opportunities so it's not an afterthought, but rather an engaged conversation? 
Cook: As a state university, we have certain goals regarding the number of minority-owned businesses that we work with. We advertise on our website and around the state to ensure businesses are aware of opportunities to work with us. There are also state-certified businesses that we utilize. In addition, we communicate with contractors or anyone that's going to be doing business with us, and there is an expectation that a certain percentage of [the funds] we allocate to them will be allocated to small and minority-owned businesses.
When small businesses contact me, I walk them through our procurement processes. As a supplier diversity practitioner, I am the doorway to let them know where to look. I guide them through our website so they know where to find information and proper contacts. We also have a tool called HuskyBuy that we have them fill out to connect them directly with the buying professional responsible for their commodities. We don't want the process to be so much guesswork that they don't know where to start.
Ferrell: Procurement is all about building relationships. If you're going to be successful in supplier diversity, you also have to be tapped into your community. There are a lot of organizations outside of the local Chambers of Commerce, such as focused action groups dedicated to helping diverse suppliers connect with opportunities. We tell our members to make sure to keep these organizations in your purview and build relationships with them so that they can help you find opportunities with their specific membership or demographic.
How can diverse suppliers assist in meeting supply chain gaps?
Ferrell: Supply chain means everything that happens between your raw materials and end use. Procurement is a part of that process. Throughout the pandemic, we heard story after story from our members about critical supplies for medical staff being in short supply. Many of NAEP's member universities have frontline providers who couldn't get masks or hand sanitizer. Many of our diverse suppliers stepped up and said, "I have 30 boxes of this stuff sitting in my warehouse. How can I help?"
Cook: We had a diverse supplier for many years who had been knocking on the door at UConn to do business, but there was just never a window of opportunity or a place where they fit. Then came the pandemic and the need for COVID-19 testing. This vendor was already positioned for that, so it was an opening for them to step in. 
What trends are you seeing right now in the area of supplier diversity?
Ferrell: We're seeing that more chief diversity officers are coming to supplier diversity offices and seeking partnerships. That's powerful because DEI is an all-inclusive effort. By integrating DEI practices into the procurement process, it helps to support the larger goals and objectives of the university. It leverages not only our buying power, but our exposure and the opportunities we have for working with diverse businesses.  
Cook: At UConn, we really didn't have a connection with our diversity and inclusion office in the past. Now that the supplier diversity program has become more visible and we have a new DEI vice president on board, we make sure to connect with the office to discuss the role that we each play in DEI. That way, when there are certain conversations taking place, we understand that everyone should be included. 
Ferrell: Procurement is so vital to university systems because we help to drive the strategic initiatives, direction, and plan. We're seeing more schools recognize this and bring their procurement office and their supplier diversity programs to the table to help drive the university forward as opposed to just purchasing pens and paper. 

Because schools are often decentralized, how do individual colleges such as engineering or business support supplier diversity efforts? Do supplier diversity and procurement officers have to educate individual deans on campus?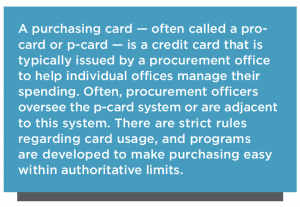 Cook: At UConn, we have our regional campuses, our main campus, and a university health center. For those entities, we have one central supplier diversity program; however, there are different initiatives that happen. We are decentralized when it comes to purchasing, but all purchases normally come through the procurement department [which operates the supplier diversity program]. 
I realized there was a great way to ensure everyone on campus who might make purchases understood our intentionality with regard to utilizing suppliers from underrepresented groups. I went to my department head and said we need to utilize the purchasing card program and take the opportunity to educate staff. My request was that in order for someone to get their purchasing card, they had to go through a short online course [about supplier diversity] and earn a certificate of completion. That way, we know that they understand this issue and how they can help with our efforts in this area.
There was pushback from others on this, but my department head stood behind me. We stood on the commitment that this is what we're going to govern ourselves by. We ultimately had 600 people go through the course in order to obtain their cards.
What advice do you have for smaller colleges and universities that have limited procurement staff or are just getting started in supplier diversity?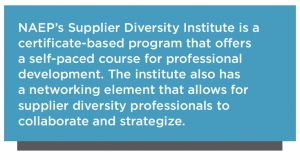 Cook: The first group that I connected with when I became a supplier diversity practitioner was the NAEP. It sincerely meant so much that Jesse Moore, who you named the INSIGHT Into Diversity Supplier Diversity Award after, took my call while he was moving from one job to another. He walked me through what he was doing for Purdue University. He introduced me to the NAEP Supplier Diversity Institute, and I was able to be a part of that.
At the institute, you have this network that is your family outside of your college or university. It was very well put together. Since I was new, there was somebody that was willing to talk to me and tell me how I should get started in this area. 
Ferrell: One of the great values of being a member of NAEP is the community connection and access to education. You don't have to "build the well" by yourself. Somebody else has already done it or seen it, and if they haven't, they will sit down at the table with you and help you brainstorm solutions. That is one of the great values of this organization.— not just to the individual, but to the institution. If you are procurement department at a small school with only one or two people on staff, the NAEP community becomes your staff. [They demonstrate that] this work is not just about the numbers. It's not about being able to say, "Oh, I awarded 75 diverse contracts this year." It's about what you're truly doing to educate and promote supplier diversity awareness on your campus.●
Mariah Stewart is a senior staff writer for INSIGHT Into Diversity. Visit NAEPNet.org for more information about supplier diversity in higher education. To find out more about the INSIGHT Into Diversity Jesse L. Moore Supplier Diversity Award, click here.
This article was published in our October 2021 issue.