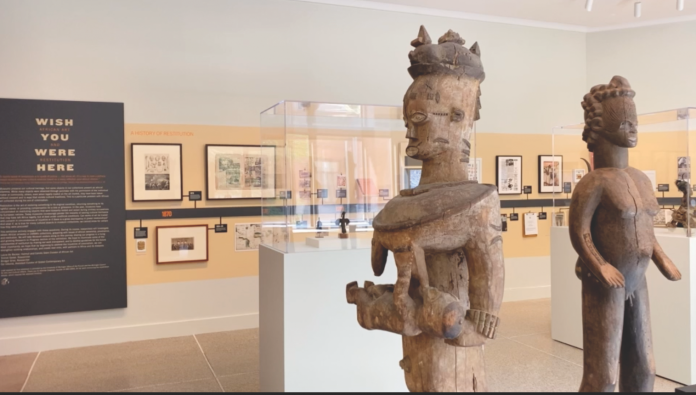 In 1897, British troops laid siege to the wealthy metropolis of Benin City in what is now Nigeria, stealing thousands of sacred relics, revered works of art, and other artifacts from the royal palace and private homes. At least 3,000 cultural objects were stolen from the devastated kingdom and shipped to private collectors and museums across the Western world. 
Now, nearly 125 years later, some of these relics may be on display at the University of Michigan Museum of Art (UMMA). Researchers there are currently undertaking the laborious task of tracing 11 pieces of historic African art — including three Benin Bronzes — to determine if they were taken by force rather than crafted for export and legally purchased. A new exhibit, Wish You Were Here: African Art and Restitution, features these objects and will highlight the museum's ongoing research into their origins. 
UMMA's efforts reflect a growing demand for museums and universities to repatriate artifacts stolen from colonized societies. Nigerian officials have appealed to Western museums and governments for decades to return the Benin Bronzes, and formerly colonized societies across the world — including many Native American tribes — have joined in the push for their own sacred artifacts to be returned. This movement has been growing in Europe in recent years and, amid the push for racial justice, is gaining traction in the U.S.
UMMA's exhibit is one of the most innovative examples of this effort because the museum has committed to making the entire research process transparent to the public. The project is also detailed online to increase its visibility. Being transparent in this work helps fulfill UMMA's educational mission as a campus museum and may strengthen public trust in these types of institutions, says museum director Christina Olsen, PhD. 
"There are a lot of legitimate questions and anger about the colonialist roots of museums, so this [exhibit] is an effort to try to do right and be honest about the past and come up with sustainable, ethical ways of repairing that trust," she explains. "That's a very lofty goal, but I think if this work is successful it could be a possible model for other museums."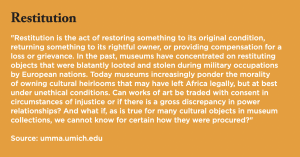 Discovering the origins of the pieces in the Wish You Were Here exhibit requires "deep research" by curators and graduate students who will use the museum's object files to trace the artifacts' long histories. The exhibit, which opened in August, is designed with blank walls and empty timelines so that researchers can fill in details for the public as new information is discovered.
"We have some tremendously accomplished, knowledgeable scholars at our fingertips and can turn to a number of Africanists and graduate students for help with this intensive work," Olsen says, adding that this research may be more difficult for museums with fewer resources. At UM, faculty from multiple disciplines are engaging with the project by providing their expertise and using the exhibit as a "rich source of pedagogy" for students, she says.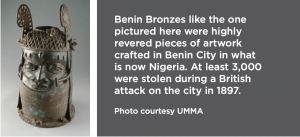 As UMMA learns more about the history of the artifacts, it plans to work with officials in their countries of origin to determine each one's future. "The researchers involved have been contacting specialists at many of those communities — historians, anthropologists, museum professionals, healers, and traditional authorities — to tell them about the objects we're investigating and to exchange information as we start to gather it," Olsen explains. "Once their provenance is more thoroughly determined, we'll be discussing with them the possibility of repatriation or restitution if that turns out to be the right course."  
Other universities have been less willing to work with groups who have asked for plundered items to be returned. 
In the U.S., many of these belongings, including human remains, were taken from Indigenous burial sites. The Native American Graves Protection and Repatriation Act (NAGPRA), passed in 1990, required institutions to begin the repatriation process by cataloging their collections of Indigenous remains and burial objects. Yet prominent museums such as Harvard University's Peabody Museum of Archaeology and Ethnology have been criticized for delaying or outright refusing to return these collections to tribes. The university has claimed that while many of the thousands of artifacts and remains in its collection have been successfully traced to specific geographic regions, there is not enough evidence to determine which tribal groups should receive them.   
The demand for repatriation has gained more footing in the wake of the racial justice movement and the appointment of Deb Haaland — the first Native American to serve as a cabinet secretary — to the U.S. Department of the Interior. In July, the department announced that it was meeting with Indigenous and Native Hawaiian leaders to revise NAGPRA, with Haaland stating changes to the law were long overdue. "I'm hopeful this process will eliminate unnecessary burdens to the repatriation process and allow Indigenous peoples greater access to their ancestors' remains and sacred items," she stated in a press release. 
At UM, Native American remains and burial objects were returned to the Saginaw Chippewa Indian Tribe of Michigan in 2014. The tribe reburied the people and relics stolen from their original gravesites in a special ceremony, a practice shared by other groups whose ancestors and cultural possessions have been returned by universities and museums decades or even centuries after they were originally taken. 
While tracing and repatriating such objects is often painstaking work, higher education institutions have an obligation to undertake such efforts, says Olsen. When it comes to the Wish You Were Here exhibit, one of the ultimate goals is to "do right," she says. 
"If these works of art have been illegally passed along to the museum, [doing right] means returning them to their legal, ethical owners," Olsen explains. "As an institution, we want to be modeling and practicing transparency in a way that is extremely important right now for the museum field."●
Mariah Bohanon is the senior editor of INSIGHT Into Diversity. To view the online version of the University of Michigan Museum of Art's Wish You Were Here: African Art and Restitution exhibit, visit umma.mich.edu. 
This article was published in our November 2021 issue.