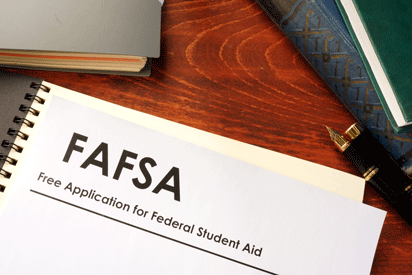 A newly released report from the National College Attainment Network (NCAN) shows there has been a steep decline in Free Application for Federal Student Aid (FAFSA) renewals for the 2020-2021 school year.
The free application, which determines eligibility for federal Pell Grants and state financial aid, low-cost loans, and more, has nearly 250,000 fewer returning student applications from the lowest-income backgrounds for the 2020-2021 cycle than last year, according to the analysis by NCAN. Overall renewals for the application are down nearly 5 percent — more than 350,000 applicants — compared to last year.
FAFSA completion rates are a "strong indicator of postsecondary enrollment," as NCAN's executive director Kim Cook said in a recent statement, so the declines could predict a drop in the number of low-income students who will attend college this fall.
NCAN data reveal a clear disparity in FAFSA renewal between the lowest income students and those who come from households with modest earnings. Completions from returning applicants in households earning less than $25,000 per year declined by 8 percent whereas returning applications from individuals with a family income greater than $50,000 decreased by only 1 percent.
The reduced number of applications directly correlates with the outbreak of COVID-19. Since February, when the coronavirus emerged in the U.S., declines have more than doubled, going from 2.3 percent fewer total completions to 4.7 percent. The lag in FAFSA renewals accelerated in mid-March when many states began enforcing stay-at-home orders and schools announced transitions to online classes.