In January 2021, Davidson College — a private institution originally founded by the Presbyterian Church — took a major step toward increasing religious diversity on campus when it overturned bylaws requiring that the college's president and at least 80 percent of its Board of Trustees be Christian. 
While many praised Davidson's decision, some powerful alumni expressed fierce criticism of the changes occurring at their alma mater. Former North Carolina Gov. Jim Martin (R) and current U.S. Rep. Greg Murphy (R) were among 11 former trustees who issued a letter to thousands of fellow alums condemning the bylaw revisions and other steps Davidson had recently taken in support of diversity, equity, and inclusion (DEI). The letter accused the college of "wander[ing] into the realm of political and social activism," according to a copy obtained by The Charlotte Ledger.
In response to this opposition, other alumni took major steps to show their support of the college's decision. Greg and Shannon McFayden, both of whom graduated in the early 1980s, launched a challenge to match dollar for dollar donations up to $100,000 in DEI investments.
"The college's Christian foundation means we promote inclusivity, not exclusivity," the couple said in a statement to the campus community. "To be inclusive, an institution must offer entry points to leadership, not barriers. After the bylaws were changed, we knew it was the right time to make a more significant investment in Davidson."
The major controversy at this small college demonstrates the power that alumni can have when it comes to supporting DEI efforts. Whether it's through sizable donations such as the McFaydens' or through advocacy and volunteerism, alums across the U.S. are exerting their influence and serving as change agents for positive reform on college campuses.
Targeted Giving
One of the most obvious ways that alumni can contribute to an improved campus climate is through monetary donations. Historically, alumni giving has been one of the greatest sources of financial support for U.S. academic institutions, according to a 2019 study by the Council for Advancement and Support of Education. In fact, such philanthropy has risen drastically in recent years, increasing nearly 500 percent from 1988 to 2018. 
Some higher education institutions have leveraged this power by targeting DEI fundraising efforts specifically at alums. In October 2020, Bowdoin College's Office of Annual Giving created a weeklong donation drive for a new alumni fund designated for campus DEI efforts. The challenge also benefited from an anonymous donor who agreed to give $100 for every alumni donation made between October 5 and October 11. As a result, the school received nearly 1,950 gifts to support its Office of Inclusion and Diversity, student activities, and more. 
Donors can also direct individual monetary gifts toward specific DEI-related causes. Jay Larry, JD, a 2014 graduate of Vanderbilt University (VU) and a 2017 graduate of VU Law School, reallocated his annual donation to the university in 2020 to support LGBTQ students. Recognizing the difficulties that many members of this population would face in being forced to move home during the pandemic, Larry asked that his gift go directly to the campus's K.C. Potter Center, which offers a homelike environment and safe space for LGBTQ students. 
"That experience really helped me realize what an important role alumni are able to play in advocating for students and doing our part from wherever we are in the world," Larry says.
Advocacy Efforts
In addition to monetary support, Larry donates his time by serving as president of the LGBTQIA+ Association of Vanderbilt Alumni (LAVA). Aside from providing a community, the group promotes awareness of LGBTQ issues on campus. LAVA recently sponsored a virtual panel discussion on anti-LGBTQ legislation that was open to the entire VU community. The Vanderbilt Association of Hispanic and Latinx Alumni and the Association of Vanderbilt Black Alumni have also hosted campus-wide discussions as part of the school's mission to share diverse perspectives on social issues. 
Graduates of other colleges and universities are taking similar steps. At Duke University, alumni affinity groups joined in hosting a virtual town hall to discuss racial issues following George Floyd's murder. More than 2,000 people attended the event, according to Clarybel Peguero, EdD, the university's senior director for volunteer engagement.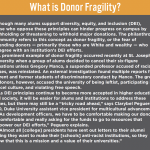 "What I have loved about watching our affinity groups, which consist of alumni of color and our LGBTQ+ groups, is that they are opening up their programming to our wider alum [community] and really helping them in this time to understand their privilege," Peguero says. "They are also educating them on ways to be allies, to not just be a bystander, but to be a part of the solution and not the problem."
Colleges and universities looking to leverage alumni influence in order to propel DEI efforts should recognize that opportunities such as these — in which graduates donate their time and expertise rather than their money — are extremely valuable, she says. 
This can be especially true when looking to engage the entire alumni community, not just those who can afford monetary donations. Graduates of color and those from low-income backgrounds, for example, may be less able to contribute financially to their alma maters because they are statistically more likely to have education debt and in greater amounts than their peers. 
"[Student debt] is a big deterrent and it's very real, and it also could be something that triggers [alumni] when you're asking them for money," Peguero explains. "As far as giving back financially to the university, some of them don't feel that they have the opportunity to do that because they are in so much debt, and a lot of them will give their time and still be involved in other ways."
In July, Duke launched a multicultural advancement initiative that "partners Duke alumni of color and philanthropy to drive targeted funds to students of color and anti-racist initiatives." 
The inspiration for this project came from Peguero's own history as an alum of Syracuse University, which hosts a special reunion for underrepresented graduates every three years. 
"It created the idea that this is what you do — you graduate and then you find ways to return to the university to give back and volunteer," she says of the reunion. The event allows alumni to connect with current students and to share their campus experiences, both positive and negative. "You get to be the voice of the voiceless [and] you get to use your experience and where you thought maybe the university could have done better and really help the current students achieve that."
At Illinois State University (ISU), leaders have begun formally reaching out to diverse alumni to learn about their past campus experiences in an effort to create a more inclusive community and support anti-racism. In the wake of Floyd's murder, the ISU Alumni Association Board of Directors launched a DEI committee to conduct this outreach. 
"This group is committed to listening to alumni and learning about systemic prejudice and taking action to ensure change," Kristin Harding, ISU executive director of alumni engagement, explained in an email to INSIGHT.

A first step for the committee was to hold a listening session for underrepresented alums to share their perspectives. The event featured people of color who graduated from ISU across a 50-year span from 1968 to 2018. These graduates have "proven to be effective at sharing their story and their experience — both good and not so good, no matter how long ago they attended," Harding wrote. 
One realization that came out of this effort was that alums want to be better informed about and engage with current DEI efforts on campus, according to Harding. The committee plans to host additional listening sessions and continue conducting outreach that unites current campus community members with diverse alumni. 
ISU's Black Colleagues Association (BCA), which is designed for African American alums, has also developed its own ways to positively influence recruitment and retention for students of color. The group had a record fundraising year for student scholarships in 2020. This October, it will host a special homecoming weekend that includes a virtual scholarship celebration, an alumni meet-and-greet, and other opportunities for current students to connect with graduates from similar backgrounds as themselves.
Alumni associations such as BCA can be powerful forces for positive change on college campuses, Harding stated. Members have the ability to influence programming, outreach, and university policy. 
Moving forward, the ISU Alumni Association intends to hold additional listening sessions for underrepresented graduates to share their experiences. The group also plans to continue hosting online events, as they discovered during the pandemic that virtual formats allow for broader engagement.
"We have been successful and want to continue to empower our alumni to be engaged by cultivating strong alumni relationships with the institution while serving our population with a combination of celebratory and educational experiences," Harding wrote. "DEI work is not easy work and we plan to recognize the needs of our diverse communities and design programs with social identities in mind." ●
Mariah Stewart is a senior staff writer for INSIGHT Into Diversity. 
This article was published in our October 2021 issue.