On June 15, 2012, President Barack Obama announced the creation of a revolutionary new program known as Deferred Action for Childhood Arrivals (DACA) to protect undocumented young people brought to the U.S. as children from deportation. The program was to serve as a temporary solution until Congress could develop and agree upon legislation that would provide these individuals with a pathway to citizenship — something it had failed to do multiple times since the Development, Relief, and Education for Alien Minors (DREAM) Act was first introduced in 2001. 
"Now, let's be clear — this is not amnesty, this is not immunity," Obama said during his announcement. "This is not a path to citizenship. It's not a permanent fix. This is a temporary stopgap measure that lets us focus our resources wisely while giving a degree of relief and hope to talented, driven, patriotic young people."
A decade later, more than 700,000 individuals are currently enrolled in DACA — allowing them to legally attend school and obtain jobs in the U.S. without the threat of deportation. Despite this success, the program has been at the center of near constant legal battles, and its future remains far from certain. Many advocates for immigrant rights say that this 10th anniversary is a sore reminder of the nation's failure to come up with a more permanent solution, and that now is the time for Congress to finally act.
Under DACA, undocumented young people who were brought to the U.S. as children are protected from deportation if they meet the following basic criteria:
Were under the age of 31 as of June 15, 2012

Came to the U.S. before their 16th birthday

Have continuously resided in the U.S. since June 15, 2007

Are currently in school, have a high school diploma or equivalent credentials, or are a military veteran

 

Have not been convicted of a felony, significant misdemeanor, or three or more other misdemeanors, and do not otherwise pose a threat to national security or public safety
Individuals who enroll must reapply for DACA status every two years. The program has been lauded for making it possible for hundreds of thousands of young people to earn college degrees, start careers, and help support their families. Roberto Gonzales, a University of Pennsylvania professor who studies DACA recipient outcomes, recently called it "indisputably the most successful policy of immigrant integration since the 1980s," explaining that "it is really the American Dream put into reality at a scale of hundreds of thousands."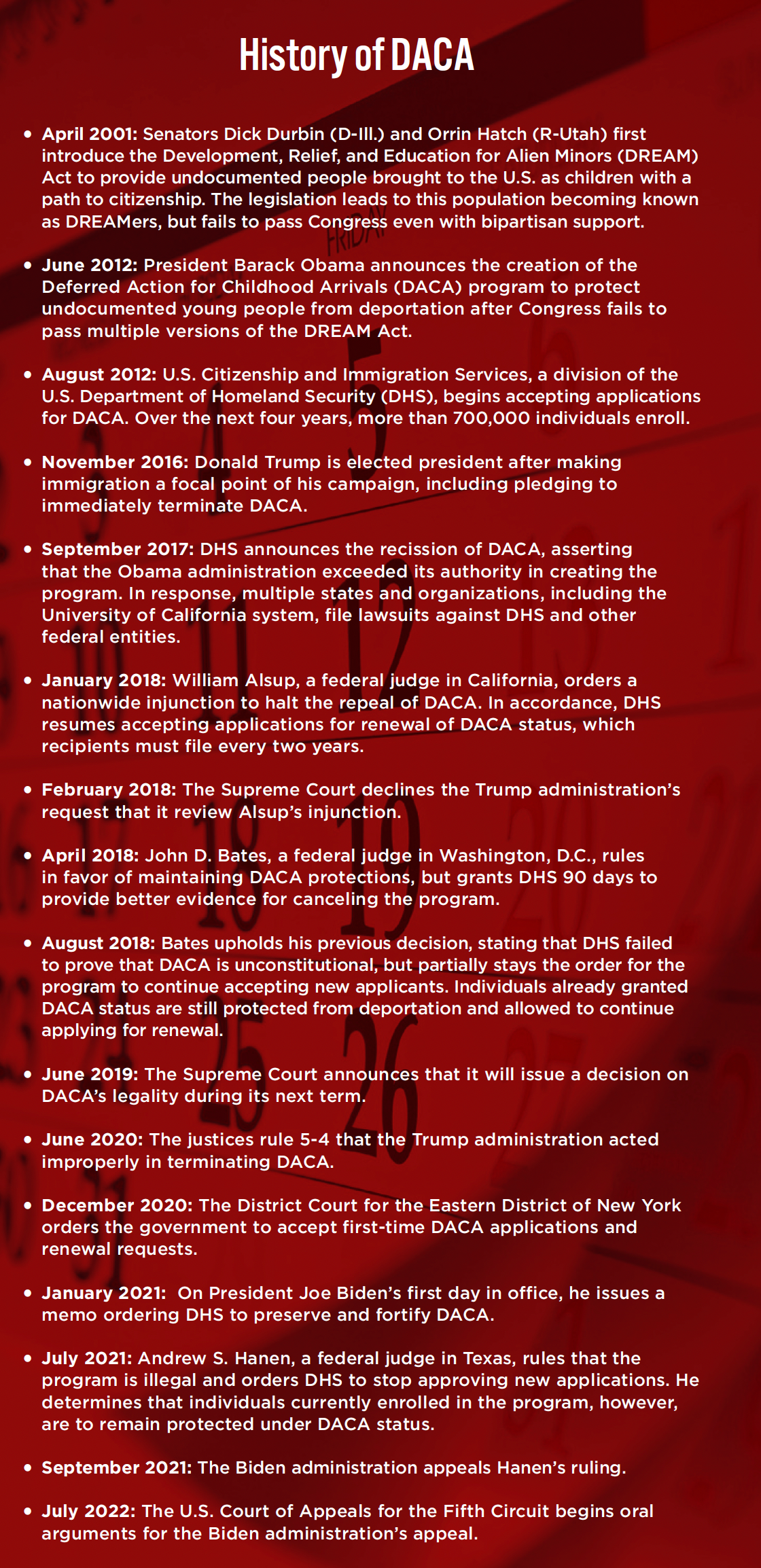 Yet multiple challenges to the program's legality by conservative politicians, most notably those in the Trump administration, have meant that these individuals, often referred to as DREAMers, have had to live in constant fear that the lives they have built in the U.S. could be upended by deportation. Research by the Center for American Progress shows that the average DACA recipient has resided in the U.S. since the age of 7, and the majority are now more than 26 years old. Many are raising children who are U.S. citizens, and tens of thousands work in overburdened industries such as education and health care. 
Furthermore, DACA's requirement for recipients to have lived in the U.S. since June 15, 2007, means that many teenagers today do not qualify. Most of the approximately 100,000 undocumented individuals who graduated from U.S. high schools in 2022 are ineligible for the program's protections because they immigrated to the U.S. after this date, according to the advocacy organization FWD.us. This significantly impedes their ability to enroll in higher education, receive financial aid, or apply for jobs — all while college enrollment continues to drop nationwide and the economy struggles with unprecedented workforce shortages. 
For now, the fate of DACA and the more than 700,000 people under its protection continues to hang in the balance. The U.S. Court of Appeals for the Fifth Circuit is currently considering the program's legality after the Biden administration challenged a federal judge in Texas who ordered the U.S. Department of Homeland Security to stop approving new DACA applicants last year. The court is expected to make a decision in the fall, and experts say it is likely that the case will eventually reach the Supreme Court. The justices previously ruled in favor of preserving the program in June 2020, but advocates are concerned that the court's present conservative majority does not bode well for DACA's future.
Many immigrant rights activists, however, say that the next step must be to replace DACA altogether by providing a path to permanent citizenship for DREAMers. In Congress, legislators on both sides of the aisle blame their opponents for repeatedly failing to develop and pass a solution despite numerous polls showing bipartisan support for this demographic to become U.S. citizens.
Many DACA recipients now report feeling frustration and burnout after years of advocating for this right while bearing the emotional burden of being undocumented. In June, some of these individuals testified before the U.S. Senate Judiciary Subcommittee on Immigration, Citizenship, and Border Safety during a special hearing to commemorate DACA's 10th anniversary and to push for lawmakers to pass the latest iteration of the DREAM Act. 
Dalia Larios, a Boston-based physician and the first DACA recipient to graduate from Harvard University Medical School with honors, spoke to the committee about the impact of this legislation. She stated that the thought of deportation is "exceptionally painful" because it would separate her from everyone and everything she knows, and shared how the health care and medical community would be affected by losing thousands of DREAMer employees. Larios also noted that finding a way to help all undocumented immigrants safely live and work in the U.S. should be a moral and economic imperative for lawmakers.
"I personally don't consider myself more deserving than anyone else," she told the subcommittee. "I think that Congress should approach this in a comprehensive manner, thinking about the fact that lives are at stake here."●
Mariah Bohanon is the managing editor of INSIGHT Into Diversity.
To learn more about DACA, the DREAM Act, and how you can encourage lawmakers to take action, visit rememberthedreamers.org/take-action.
This article was published in our September 2022 issue.