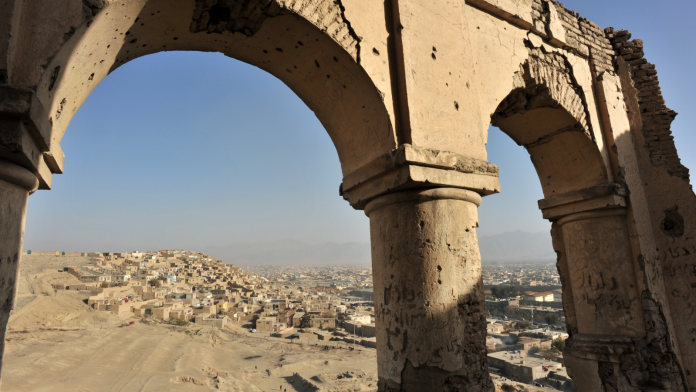 When the Taliban seized control of Afghanistan's government on August 15, Afghan American college students had to watch the chaotic takeover unfold from afar.
Afghan American Students
"I was in class the other day when I found out there was an explosion at the airport that left many people dead," says Mariam Farzayee, president of the Afghan Student Association at Virginia Polytechnic Institute and State University. Farzayee, who has family still living in Afghanistan, adds that it was hard to focus on classwork after learning of the August 26 bombing.
Farzayee decided to channel her feelings of helplessness over the situation abroad by assisting those displaced by the crisis. With more than 6,000 refugees already relocated to Virginia, she created a GoFundMe campaign to collect donations for those settling in Roanoke and nearby areas. 
Many Afghan Americans are taking similar steps to support refugees and bring attention to the plight of those still in Afghanistan. The United Afghan Association (UAA) has organized multiple humanitarian aid efforts, including a protest in San Francisco and a relief supply drive in the Bay Area. The association's board members include leaders from the Afghan student associations at the University of California, Los Angeles (UCLA), the University of California, Davis (UC Davis), and the University of California, Berkeley.
"Overall, Afghan American students are heartbroken, but through this heartbreak we have come together to fight for Afghan lives," Harris Razaqi, UAA board member and president of the UC Davis Afghan Student Association, wrote in an email to INSIGHT.
Razaqi says he has been rallying students and faculty at his university. On August 21, he penned a letter to the campus administration with signatures from faculty and student groups requesting the school's vocal support of the Afghan student population. Although the UC Davis chancellor made a statement shortly after the letter was published, Razaqi says he would like to see more. 
Maryam Muska, a fellow UAA board member and the former president of the UCLA United Afghan Club, agrees and says she recognizes that students and universities play an integral role in organizing and promoting social change. 
"We want [universities and students] to help us and come together and work with the refugees; we want them to work with us to create policy changes in America to expedite visas and help the current refugees and to pressure the [United Nations] to focus on the human rights and women's rights violations by the Taliban in Afghanistan," Muska says.
Both Farzayee and Muska say that higher education institutions should provide tangible services such as free counseling for students affected by this crisis, donate money or resources to Afghan causes, and try to meet whatever other needs Afghan American students may have during this time.
"As Afghans, we quite literally watched our country fall, we saw our people killed, and we have families in Afghanistan who we do not have contact with," Muska says. "Our homes are full of grief and despair. We need our university admins and professors to empathize with us and understand that we are in a very difficult time in our lives."
Student Veterans
For student veterans who were deployed in Afghanistan, seeing the country return to Taliban control after 20 years of war has been emotionally overwhelming, says Billy Francis, director of Florida State University's (FSU) Student Veterans Center. 
"In many cases, Afghans have saved the lives of our American men and women, and so there's a very, very special bond there," he explains.  
Those who served in Afghanistan may be experiencing "anger, sadness, guilt, shame, and a sense of having made this enormous sacrifice for the good of the country and the good of others — very noble and altruistic motives that motivated many of them to join the military — and now it feels like it's all wasted," UCLA psychiatrist Bruce Kagan stated in a recent article by UCLA Health Services. University researchers also caution that news reports and images of the current violence in Afghanistan can be triggering for student veterans suffering from post-traumatic stress disorder or depression. They urge those grappling with these issues to seek mental health support. 
One of the most significant ways that colleges and universities can help student veterans during this difficult time is by simply making support services visible and easy to access. Francis points to FSU's website as an example, as the university prominently displays a link to the Student Veterans Center on its homepage. 
"We want to let [student veterans] know that they have a place where they can be themselves and we are going to walk through life with them," Francis says. He adds that it is important to point out the positive results that have come from service members' efforts rather than focusing solely on the trauma they may have experienced or frustration they may be feeling.  
Another resource on campus is the mental health or counseling office. In addition, many student-veteran centers like the one at FSU help to connect these students with both on- and off-campus services to support their social, emotional, and mental well-being. The U.S. Department of Veteran Affairs VetSuccess on Campus program offers peer-to-peer counseling as well as professional counselors who are specifically trained to support former military members who are pursuing college degrees. 
For some struggling student veterans, helping Afghan refugees is one way to channel their feelings into something positive. In September, the Virginia Commonwealth University Student Veterans Association (VCU SVA) launched a campaign to gather items for Afghan refugees who are temporarily housed at Fort Lee and Fort Pickett. Thus far, the group has received an outpouring of donations including clothes, diapers, and toys.
"For 20 years these Afghan families risked their lives to ensure our success in Afghanistan," SVA President Shae Gavit said in a VCU news release. "We want to do as much as we can do to make them feel safe and comfortable here. They may never be able to go home again."●
Lisa O'Malley is the assistant editor of INSIGHT Into Diversity.
This article was published in our October 2021 issue.