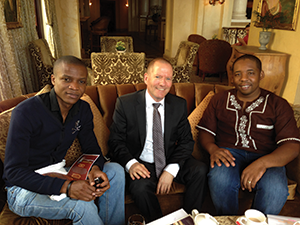 In the 2018-2019 academic year, the average cost of tuition and fees for an undergraduate student at a private, nonprofit university in the United States is $35,676, according to U.S. News & World Report. Even at a four-year public institution, students are paying, on average, $9,716. The total in-state program cost for public online colleges averages $37,200, excluding fees. 
[Above: Shai Reshef meets with two students in South Africa in November 2013.]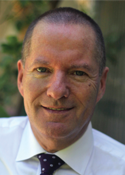 These are price tags many students can't afford, says Shai Reshef, president of University of the People (UoPeople), a low-cost online university that charges no tuition and minimal fees in an effort to open higher education to all qualified applicants, regardless of their financial situation.
Prior to founding UoPeople, Reshef was the chair of KIT eLearning, the online learning partner of the University of Liverpool. "It was a revelation to see how powerful online learning can be," says Reshef, "but I also realized that, for most people, it was nothing but wishful thinking. It was too expensive." It occurred to him that many of the things that make traditional universities so expensive could actually be had for free via open-source technology, the sharing of teaching resources, and volunteers. Someone just needed to put all the pieces together, which is exactly what Reshef did.
This academic school year is UoPeople's 10th, and over 18,500 students from more than 200 countries and territories are currently enrolled. The university offers associate and bachelor's degree programs in business administration, computer science, and health science as well as MBA and an MEd program.
The project hasn't always been an easy sell, though, in a world where many are still wary of online education. "There are a lot of people who have this preconception or prejudice about education online," says Reshef. "It's new, and it's not what they're used to, and they are afraid of it. But that doesn't mean that it's not good." 
Reshef stands firm in his belief that UoPeople offers classes that match brick-and-mortar universities' quality of education. As evidence, he cites agreements with the University of California, Berkeley; New York University Abu Dhabi; and the University of Edinburgh that allow UoPeople associate degree graduates who qualify for admission to pursue bachelor's degrees at these partner institutions. Reshef also notes that in 2014, the university received accreditation from the Distance Education Accrediting Commission (DEAC), a national agency recognized by the Council for Higher Education Accreditation.
Some organizations warn, however, that national accreditation comes with its drawbacks. According to GetEducated.com, a consumer group that ranks online colleges and works to protect students from online education fraud, there are important differences between national and regional accreditation. More than 85 percent of U.S. colleges hold regional certification — the "gold standard," according to the organization's website. And regionally accredited colleges and universities do not widely accept transfer credits awarded by nationally certified online programs — a problem for students wishing to use their UoPeople credits to move on to other institutions. Employers and certification agencies may also refuse to accept credits and degrees from universities that are not regionally certified. 
Kristine Azagra, a current business administration student at UoPeople who lives in the Philippines, recognizes that choosing an online degree over a brick-and-mortar university may have its downsides. "There are some parts of the world which view online university as somehow less valuable compared to the traditional university," she says. Nevertheless, after graduating with an associate degree from UoPeople in February, Azagra elected not to try to transfer to a traditional institution. "I am familiar with the UoPeople system and its quality," she says. Azagra is also a scholarship recipient, which she says played a part in her decision, as she may not be able to receive similar financial aid at another institution.
The estimated costs of a UoPeople degree — $2,060 for an associate, $4,060 for a bachelor's, $2,460 for an MBA, and $2,660 for an MEd — are drastically lower than tuition and fees at many other institutions. Additionally, 17 percent of UoPeople students currently have scholarships, says Reshef. The university earmarks financial support for certain groups of students and awards scholarships on a first-come, first-served basis. Reshef hopes that UoPeople can eventually double that number to 34 percent. "Our mission is that no student will be left behind due to financial reasons," he says, "so if they can't pay the fees, we give as many scholarships as we have."
UoPeople's low cost and scholarships have attracted students who might not have an opportunity to attend college otherwise: refugees and asylum seekers, undocumented immigrants, first-generation and low-income college students, people carrying debt from previous universities, those who are working, and student-parents. "UoPeople is for those who are qualified for higher education but [for whom] the doors are shut," says Reshef. "We use the internet to bring quality higher education to everyone who deserves it but cannot attain it otherwise."
In order to do so, UoPeople has had to maintain a lean budget and efficient operations. Technology has been the key, says Reshef. Instead of an admissions staff of tens or hundreds, UoPeople has four. Professors are volunteers overseen by a paid academic coordinator, and some day-to-day assignments are peer-reviewed. And of course, the university doesn't provide housing, a health clinic, or other similar services that brick-and-mortar universities furnish, enabling it to reduce overhead.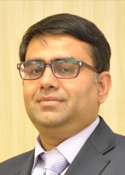 The result is an ultra-efficient, ultra-diverse online educational environment that Saif Jalil, an MBA student who lives in Saudi Arabia, describes as being a great experience. "Students are from different cultures and backgrounds," he says. "And my professors are attentive and respond well to questions." 
Azagra agrees that one of UoPeople's strengths lies in its diversity. "It is designed to [help you] get a degree regardless of your location, race, or ethnicity," she says. "It gives underprivileged students an opportunity to get a college education, especially those [who are] victims of war, [who are] discriminated against due to their financial conditions. … In other words, UoPeople gives hope to those who may have lost hope."
For Reshef, UoPeople isn't an end, though; he hopes it is the beginning. "University of the People is university by the people and for the people, and that's creating a movement for tuition-free university," he says. "I think that more than anything else, we've built a model for other universities and for governments to show them that the challenge of higher education can be addressed … not necessarily our exact model, not necessarily by us, but we've shown them that there is a way."
Alice Pettway is a contributing writer for INSIGHT Into Diversity. This article ran in our March 2019 issue.