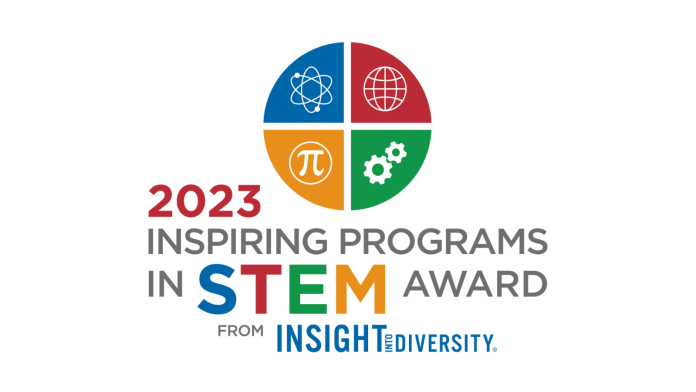 INSIGHT Into Diversity 2023 Inspiring Programs in STEM Award winners are recognized for their exemplary and innovative initiatives designed to recruit and retain underrepresented individuals in science, technology, engineering, and math. Read about them here.
MS in Business Analytics – STEM-designated
Adelphi University Robert B. Willumstad School of Business
The STEM-designated MS in Business Analytics course at Adelphi is dedicated to increasing the number of women leaders in the field. Students learn to apply machine learning, text analytics, and artificial intelligence. They collaborate and intern directly with real-world corporations to gain workforce experience and insight. Adelphi's female faculty members in the industry serve as inspiring role models.
---
Einstein Enrichment Program 
Albert Einstein College of Medicine Office of Diversity Enhancement
The Einstein Enrichment Program at Albert Einstein College of Medicine, part of the New York state-funded Science Technology Entry Program, provides 80 middle and high school students a virtual opportunity (since COVID-19) to explore careers in health and science, gain SAT prep, develop science projects, hear presentations by physicians and scientists, and learn research skills.
---
Diversifying Our Curing Community (DOCC)
Arkansas State University College of Science and Mathematics
DOCC seeks to increase the number of under-represented students accepted into medical schools. Students take short courses and receive a stipend, along with funding for housing and food expenses. They participate in social activities that create community, such as dining at a faculty mentor's home, hearing guest speakers, and meeting with medical school representatives.
---
Dreamline Pathways
A.T. Still University of Health Sciences
Dreamline Pathways is a community-based collaboration that introduces K-12 students to health professions. The program involves experiential learning opportunities, including campus visits and engagement with graduate students; a free summer health care academy in collaboration with Truman State University; and mentorships, internships, and shadowing opportunities at campus clinics or in clinical settings. Immersion experiences are integral components.
---
Career Pathways in Public Health Laboratory Science
Association of Public Health Laboratories (APHL)
APHL and the Centers for Disease Control and Prevention collaborate on the Career Pathways in Public Health Laboratory Science program, which offers internship, fellowship, and leadership opportunities. Fellows and interns pursuing careers in public health fields gain key skills through real-world experiences and networking while also supporting diverse communities.
---
Biomedical Sciences Enrichment Program: Mentorship and Workforce Development
Charles R. Drew University of Medicine and Science College of Science and Health
The Biomedical Sciences Enrichment Program is a yearlong program that exposes students to career paths in biotechnology, biopharmaceuticals, and research. Students design proposals and work with mentors to carry out their research. They also participate in workshops and seminars on emotional intelligence, professional development, communication skills, and scientific writing.
---
PEER and WISE Programs 
Clemson University College of Engineering, Computing, and Applied Sciences
The PEER and WISE programs support students academically and demonstrate best practices and high graduation rates for underrepresented populations at predominantly White institutions. PEER and WISE are Implementation Partners for GE's Next Engineers Program, a $5 million investment to diversify the engineering pipeline in Greenville and Upstate South Carolina. 
---
STEM ALL IN 
Clemson University College of Engineering, Computing, and Applied Sciences (CECAS)
STEM ALL IN empowers participants to pursue STEM graduate degrees through on-campus experiences, educational sessions, and network building. Participants build relationships with each other and university representatives, forming supportive cohorts that carry from the application stage through graduation.
---
College of Science Mentoring and Inclusion Collaborative (COSMIC) 
Clemson University College of Science
In COSMIC, enrolled students from eight affinity groups gain a keen sense of belongingness. The program exemplifies diversity, fosters inclusion, and encourages and supports the recruitment and retention of women and underrepresented students.
---
Virtual STEM Program
College of The Albemarle Mathematics and Engineering 
The College of The Albemarle offers its Virtual STEM Program for sixth-grade students in rural counties. Some activities are in person, and others require collaboration among student teams. The program includes a science fest, monthly virtual STEM nights, and a summer camp on campus. Throughout the program, students engage with faculty in STEM departments.
---
Challenge Summer Bridge
Colorado School of Mines Multicultural Engineering Program
Challenge Summer Bridge is a free program designed to prepare underrepresented students in STEM education for the academic rigors of college. Students meet with campus resource officers and peer mentors and build community as they engage in daily classes, workshops, and activities.
---
DECtech
Colorado School of Mines
DECtech is led by women students and engages K-12 girls with an interactive and hands-on approach as they discover and explore STEM fields through after-school camps, summer camps, and internships. DECtech staff also assist in high school classrooms, STEM fairs, and other opportunities where they serve as role models for girls interested in STEM.
---
Bridge to the PhD Program in STEM 
Columbia University Fu Foundation School of Engineering and Applied Science 
The Bridge Program is designed for students seeking to strengthen graduate school applications and prepare for the transition into graduate school. It provides a comprehensive system of support, a community of peers, STEM research experiences, relevant coursework, mentorship, professional development, and employment at Columbia.
---
The Columbia University and Amazon Summer Undergraduate Research Experience (SURE)
Columbia University Fu Foundation School of Engineering and Applied Science 
SURE is an academic-industry collaboration designed to support under-represented minorities and female-identifying students in STEM on their pathways into graduate school in engineering and science. Fellows receive room and board, a weekly stipend, and travel reimbursement. Students have in-lab research opportunities with faculty, professional development programs, a site visit to Amazon facilities, and mentorship from graduate-level students.
---
Duke Technology Scholars Program (DTech)
Duke University Office of information Technology, Pratt School of Engineering, Trinity School of Arts and Sciences
DTech offers year-round coaching, on-campus programming, summer living-learning communities, mentorship, networking, and internship matching for women students who are computer science, electrical engineering, and computer engineering majors. Participants are assisted in securing a paid internship in the tech industry in one of three hub cities: Silicon Valley, Calif.; Chicago, Ill.; and Research Triangle Park, N.C.
---
Women in STEM Career Day 
EXP
EXP is a nonprofit organization that supports 13 high schools in underserved communities in Southern California. Hosted annually by local colleges, Women in STEM Career Day introduces women high school students to STEM-related careers. Students engage through expert panels, hands-on activities, local and international networking opportunities, and "Lunch with a STEM Professional."
---
Women in Engineering and Computer Science Program (WIECS)
Florida Atlantic University College of Engineering and Computer Science
WIECS fosters a supportive learning environment that encourages women students to earn degrees and ultimately pursue careers in engineering and computer science. WIECS provides mentoring, professional development, leadership opportunities, academic support, and social activities.
---
Sustainable Pathways from Community College to Bachelor's Degree for Urban Youth in STEM (S-STEM)
Hudson County Community College School of Science, Engineering, Technology, Mathematics
S-STEM provides students with the financial and academic resources to transfer to a four-year institution. In addition to covering tuition, the program also covers textbooks, computers, and living expenses. Scholars are engaged through research and internship opportunities, cross-campus peer mentoring, S-STEM learning communities, STEM research conferences, transfer fairs, an annual STEM Research Conference, and summer research opportunities.
---
Girls STEM Institute (GSI) at IUPUI
Indiana University–Purdue University Indianapolis School of Education
GSI empowers young women of color to explore STEM careers, focusing on the whole person through the integration of STEM learning with overall wellness and well-being. Students gain STEM learning experiences that challenge them to think critically. The curriculum centers issues of inequity, racism, and other stigmas as social constructs that can be overcome and dismantled.
---
Leadership through Engineering Academic Diversity (LEAD) 
Iowa State University College of Engineering
LEAD supports multicultural and international students who receive on-going communications about events, resources, check-ins, and reminders. LEAD fosters academic success, social networking, and access to industry professionals and mentors.
---
The Paul T. Englund Emerging Scholars Award
Johns Hopkins University School of Medicine Department of Biological Chemistry
This award recognizes emerging scholars who are at the postdoctoral or assistant professor level in mechanistic biology and demonstrate potential for future impact on the field. Awardees receive an honorarium and are invited to present a seminar in the spring. Program goals include creating a more diverse seminar series and providing mentoring and networking opportunities.
---
Scholars Assisting Scholars (SAS)
Kansas State University College of Engineering
SAS focuses on women and other underrepresented students in the College of Engineering. Over the years, SAS has evolved and now serves as both a tutoring space and a meeting place where students connect, problem-solve, practice leadership, and build community. Tutoring covers learning strategies and core courses. Training workshops include suicide prevention and bias awareness.
---
Department of Computer Science and Technology 
Kean University Hennings College of Science, Mathematics and Technology
The Department of Computer Science and Technology has improved the environment for women and underrepresented students in computing by enhancing research experiences, recruitment efforts, and teaching practices. Overall enrollment rose 60 percent from 2015 to 2022, and women student enrollment increased from 15 to 20 percent. Fifty percent of the department's women students are from historically excluded groups.
---

Landmark College Institute for Research and Training (LCIRT) Undergraduate Research Mentorship Program
Landmark College School for Neurodiversity Research and Innovation
LCIRT is a mentorship program that helps neurodivergent STEM undergraduates develop research-oriented resumes and assists with graduate school searches and application processes. It also helps them attain research-related internships and employment. Program goals include improving retention rates, supporting the development of STEM research and transferable skills, and increasing the number of neurodivergent researchers in society.
---
Cybersecurity Program Undergraduate
Maryville University Simon School of Business 
By offering local startups and nonprofit agencies cost-free IT security analysis and knowledge about compliance requirements, the Cybersecurity Program provides students with opportunities to practice and develop workforce-ready skills. They learn about cyber defense technology, cyber policy, and best practices in working collaboratively as professionals.
---
Student Enrichment Program for Underrepresented Professions (StEP-UP) 
Medical College of Wisconsin
StEP-UP is a multiyear program that allows middle school through college students to explore the medical field in a hands-on capacity, thrive in a supportive environment, and gain understanding about the medical school application process. It serves to recruit local talent for the graduate school pipeline to help diversify the workforce.
---
Louis Stokes Alliance for Minority Participation Program (LSAMP)
Miami University College of Arts and Science, College of Engineering and Computer Science, Farmer School of Business, College of Creative Arts
LSAMP is a multidisciplinary program created to increase underrepresented student recruitment, retention, and attainment of undergraduate and graduate degrees. Students receive academic success coaching, programming support, course advising, study and tutoring sessions, research experiences, graduate and professional school prep, professional development, and financial incentives.
---
Senior Design Scholars Program
Milwaukee School of Engineering
The Senior Design Scholars program exposes graduating high school students to STEM majors in a college academic setting, and provides mentoring experiences in team building and cross-cultural communication as well as the opportunity to develop analytical skills in STEM fields, nursing, and business.
---
Bagley College of Engineering Summer Bridge 
Mississippi State University James Worth Bagley College of Engineering 
In partnership with local companies, the Summer Bridge program offers immersive, monthlong, industry-relevant, experiential learning experiences at no cost to participating students. They also receive on-campus housing, access to class instructors, peer mentors, and textbooks and materials.
---
Robotics Outreach Program 
New Mexico Institute of Mining and Technology (New Mexico Tech) Mechanical Engineering Department
New Mexico Tech students engage with K-12 classrooms across the state by helping educators identify topics and connecting weekly with classroom students in coding and robotics activities. The young participants design, build, test, and compete as part of New Mexico Tech's annual robotic combat competition. Through the program, underrepresented students learn STEM skills, are exposed to STEM work, and gain mentors.
---
VOYA Summer Camp Program
New York Institute of Technology College of Engineering and Computing Sciences
VOYA Summer Camp supports STEM-based learning for underrepresented middle school students and connects STEM innovations with real-world resolutions. This year, students built a tech-infused, environmentally friendly, low-impact smart building. Working in teams, they used 3D modeling, 3D printing, laser cutting/engraving, augmented-reality skills, and Arduino programming.
---
Bilingual Cohort
Northeast Wisconsin Technical College
The Bilingual Cohort program creates an inclusive and supportive framework for students with perceived language barriers to earn college credit, explore high-wage career paths, and succeed at the postsecondary level. The model includes embedded bilingual coaches, an admission and advising contact, and identity-based peer mentoring groups.
---
Northwestern Medicine Scholars Program (NMSP)
Northwestern University Feinberg School of Medicine
NMSP is a four-year pipeline program that invests in a Chicago public high school serving a high percentage of Black, Latino, and low-income students to spark interest in medical careers. Scholars participate in distance learning with live surgery broadcasts, periodic on-site programs, and mentoring with Northwestern physicians/leaders.
---
Native Explorers Program (NEP)
Oklahoma State University Center for Health Sciences, School of Biomedical Sciences – Department of Anatomy and Cell Biology
NEP exposes Native American students to STEM disciplines and medical fields through a broad network of professionals, tribal partners, and federal agencies. The flagship program is a two-week summer course featuring hands-on activities and mentoring for college-level participants. NEP has also provided hands-on STEM lessons for K-12 students affiliated with Oklahoma-based tribes and classrooms in public schools.
---
Operation Orange
Oklahoma State University Center for Health Sciences
Operation Orange is a free, one-day mini medical camp for middle and high schoolers. Participants spend a day in the life with Center for Health Sciences medical and graduate students. The program encourages female and other underrepresented students to pursue and succeed in health sciences. They participate in hands-on demonstrations, study anatomy, and explore career opportunities.
---
STEM Academy
Orange Coast College
STEM Academy connects college students interested in STEM to the resources and tools they need for academic and career success. It involves advising, peer mentorships and networking, research opportunities, future teacher education programs with four-year institutions, winter/summer prep courses, weekly events and workshops, and free materials and resources.
---
Native Pathways Program (NPP)
Oklahoma State University Center for Health Sciences, Office of American Indians in Medicine and Science (AIMS), College of Osteopathic Medicine at Cherokee Nation
NPPs are specific to American Indian students and include existing and new programs that focus on various activities such as recruitment, retention, a day in the life of a medical student, pre-admissions workshop, summer STEM internship on campus and in tribal hospitals and clinics, and shadowing and career exploration opportunities.
---
Diversity, Equity, and Inclusion Programs
Oklahoma State University College of Engineering, Architecture and Technology (CEAT)
CEAT offers a summer bridge program, networking opportunities, Diversity Week, DEI Engineering Week, wellness series, women's history panel, STEM Pride Week, opportunities for faculty to connect with students, scholarships for underrepresented STEM students, and study abroad experiences. CEAT also hosts community council partnership meetings to address the disparity of STEM education in low-income areas.
---

Carill-Purdue Agribusiness Science Academy (C-PASA)
Purdue University College of Agriculture
C-PASA is a multidisciplinary program designed to increase the number of women and other underrepresented students in agriculture and related sciences. High school students learn about career opportunities within agribusiness and communication, biological sciences and engineering, and plant and environmental sciences via presentations, projects, workshops, and industry tours.
---
Vet Up! DVM Scholars
Purdue University College of Veterinary Medicine
Vet Up! DVM Scholars supports underrepresented, rural, and disadvantaged students through scholarship assistance and structured retention activities throughout their four-year curriculum. They receive academic, financial, and career counseling, and monthly meetings with their peers, faculty, and staff mentors provide social activities and opportunities for academic prep work.
---
Equity Building Fellows
The Rockefeller University
The Equity Building Fellows program gives doctoral candidates and postdoctoral associates the opportunity to help develop programs that drive campus DEI progress. The program fosters dialogue guided by social justice frameworks, intersectionality, and the experiences of those with multiple marginalized identities, and increases the sense of belonging for women and other underrepresented groups in STEM.
---
Black in STEM Celebration
Saint Louis University Division of Diversity and Innovative Community Engagement
The Black in STEM Celebration, which held its inaugural event in March 2023, is a commemoration of contributions made by Black STEM professionals that empowers Black students in STEM by fostering confidence and inspiration. The ceremony also presents awards to people who identify as Black STEM professionals, educators, students, and pioneers.
---
Motivating & Engaging with STEM Activities (MESA)
St. Philip's College Division of Arts and Sciences
MESA is a two-week summer program serving underrepresented elementary, middle, and high school students. Participants enhance their math skills and gain hands-on experience in engineering, robotics, and computer programming. The program involves project-based learning and emphasizes problem-solving and critical thinking skills.
---
Summer Engineering Seminar (SES)
Santa Clara University (SCU) School of Engineering
This five-day immersion program serves high school sophomores and juniors from underrepresented communities who are interested in engineering careers. It begins in the summer and extends through the academic year, during which they have Zoom check-ins with an SCU student mentor. SES has expanded to include a second, advanced summer program.
---
Ignite Leadership & STEM Academy
Society of Extraordinary Women
Led by a nonprofit organization committed to making a positive community impact, the four-week Ignite Leadership & STEM Academy is designed for middle and high school students. It focuses on STEM, leadership skills, team building, financial literacy, presentation skills, and college preparation. A key goal is to increase graduation rates for women who engage in nontraditional subjects and careers.
---
Collegiate Science and Technology Entry Program (CSTEP)
State University of New York College of Optometry
CSTEP offers internships for underrepresented college students seeking STEM professions (particularly optometry), as well as a summer gateway course, annual CSTEP Symposium, annual Bronx-Manhattan Research Expo, professional development, resume review, mock interviews, personal statement review, and career, admissions, and financial aid counseling.
---
Downstate Public Health Scholarship Program (DPHSP)
State University of New York Downstate Health Sciences University School of Public Health
DPHSP helps underrepresented, disadvantaged, and first-generation students learn public health competencies. Through scholarships, internships, and professional development, students gain valuable experience and support that encourages them to enter the public health workforce. In turn, they will help to reduce health disparities, promote health equity, and serve as experts in areas of emergency preparedness for communities in need.
---
STEM Scholars/STEM-UP
Temple University College of Science and Technology
Emerging STEM Scholars/STEM-UP programs are cost-free, supporting pathways for underrepresented students from middle school through college. Students develop teamwork and leadership skills through design projects and robotics competitions. Key modules are math concepts, real-world science, science literacy, applied STEM, and technology.
---
TCU STEM Scholar Program
Texas Christian University College of Science & Engineering
This full, four-year scholarship is open to underrepresented students in North Texas. During a four-week summer enrichment program, scholars take an introductory course for credit, attend leadership and professional development workshops, and obtain on-campus employment. Throughout the semester, they receive academic advising, tutoring, and mentoring. Educational travel funds, study abroad, and research opportunities are also offered.
---
MedAchieve
Touro College of Osteopathic Medicine New York – Harlem Campus
MedAchieve is a two-year, after-school STEM program serving New York City high school students interested in careers in medicine. Students are mentored weekly and exposed to osteopathic medicine and other medical sciences, foundations in scientific and medical research, and lab science. Public health-related topics like COVID-19 and health care disparities are addressed in lectures and other activities.
---
Hill-Lopes Scholars Program
Towson University Jess & Mildred Fisher College of Science & Mathematics
The Hill-Lopes Scholars Program seeks to improve the advancement and retention of women in STEM fields through community, professional development, networking, and career exploration. Scholars participate in one-to-one mentorship, research, workshops, and small-group experiential programs with peers and STEM professionals.
---
Triangle Women in STEM College Summer Intern Program
Triangle Women in STEM
The Triangle Women in STEM initiative works to establish North Carolina's Research Triangle region as a preeminent destination for women in STEM. The College Summer Intern Program provides networking, connection, and learning for women students by fostering community, hosting impactful speakers, and providing exposure to the local STEM landscape.
---
Bridge to Engineering Success at Tufts (BEST)
Tufts University School of Engineering, School of Arts and Sciences
Collaborating with the Office of Undergraduate Admissions and the School of Engineering and run by the Center for STEM Diversity, BEST is a four-year program aimed at recruiting and retaining low-income, first-generation, underrepresented STEM students who are offered admittance to the program through their application to Tufts University.
---
STEM Ambassadors
Tufts University School of Engineering
STEM Ambassadors are Tuft students from under-represented populations who visit local middle and high schools to give presentations and conduct hands-on activities. The goal is to help local students build personal connections to various STEM disciplines and reinforce that such fields are attainable for anyone by changing the conversation and challenging stereotypes.
---
The University at Albany EXCELlence in STEM Program
University at Albany, State University of New York College of Arts and Sciences; College of Emergency Preparedness, Homeland Security, and Cybersecurity; College of Engineering and Applied Science
EXCELlence in STEM empowers students, particularly those in historically underrepresented groups, to excel in STEM. The program utilizes a peer tutoring program, dedicated learning commons, individualized Student Success Teams, microgrants to assist students in need, and academic assessments early in the first year to close knowledge gaps.
---
Serving Underrepresented Populations through Engagement and Research (S.U.P.E.R.)
University of Arkansas for Medical Sciences Division for Diversity, Equity and Inclusion
S.U.P.E.R. is a yearlong HBCU-Academic Health Center pilot training program for pre-health college students who engage in community-based research projects that address health disparities. They are trained by faculty in public health and medicine with a focus on population health, study design, evaluation, data analysis, implementation, and scientific writing.
---
Pathways Academy Research Academic Mentoring Pathway for Underrepresented Populations (RAMP-UP)
University of Arkansas for Medical Sciences (UAMS) Division for Diversity, Equity and Inclusion
Pathways Academy prepares underrepresented K-12 students statewide for careers in STEM and health care. Pathways Academy RAMP-UP is year-round and engages participants in grades 9-12 in educational activities, the UAMS Community Scientist Academy, research and lab experiences, test preparation, and career readiness. The program also offers a two-week summer camp that last year focused on health disparities research.
---
Destination Dental School (DDS)
University at Buffalo, State University of New York School of Dental Medicine
DDS serves historically underrepresented and disadvantaged students seeking careers in dental medicine. The eight-week, hybrid, summer program features lectures, hands-on activities, admissions and Dental Admissions Test prep, networking, and research projects. Participants learn about life as a dentist and dental student and build research skills.
---
Medical Scholars Program
University of California, Riverside School of Medicine
Medical Scholars prepares undergraduates for health careers or to conduct biomedical research, with priority given to first-year students and new community college transfer students who are socioeconomically or educationally disadvantaged. Activities during the multiyear, cohort-based program promote academic success and professional development. Participants distinguish themselves through leadership and volunteerism within underserved communities.
---
Summer Engineering Institute (SEI)
University of California at San Diego Jacobs School of Engineering
SEI, a five-week, residential, credit-bearing summer transition program, is open to all incoming first-year engineering students and aims to foster community and prepare them for rigorous coursework. The program hosts weekly community-building events, introduces campus resources, and offers two summer courses to support academic success. A large percentage are from groups typically underrepresented in engineering.
---
Undergraduate Pre-Health Program (UPP)
University of Colorado Anschutz Medical Campus Office of Educational Initiatives and Career Pathway Program
UPP tools and experiences help underrepresented undergraduate students become more familiar with issues that impact equity in health care. Yearlong programming includes academic workshops, training and certification sessions, community projects, and cultural discussions. Participating students explore a wide variety of health care fields and graduate programs.
---
First Year Scholars Program (FYSP)
University of Georgia College of Engineering
FYSP supports students actively pursuing an engineering degree who demonstrate a financial need and an interest in promoting underrepresented and underserved groups in engineering. The program provides a $4,000, nonrenewable scholarship. Via an intro course, students plan their curriculum, create a resume, apply for scholarships, learn about clubs and resources, and complete a mini capstone project.
---
Articulation Agreements to Strengthen Applicant Pipeline
University of Georgia College of Pharmacy (UGA Pharmacy)
UGA Pharmacy has signed articulation agreements with seven public universities in Georgia, creating pathways to a doctor of pharmacy degree, particularly for underrepresented students. Among the partner schools, two are Hispanic-Serving Institutions and one is a historically Black college. Students receive academic and mentoring support and participate in panel discussions featuring diverse voices in pharmacy.
---
Tifton Veterinary Diagnostic and Investigational Laboratory (TVDIL)
University of Georgia College of Veterinary Medicine
TVDIL is a collaborative program that focuses on first-generation, underrepresented, rural students from socioeconomically challenged backgrounds. Students attend full-day workshops and participate in two to eight weeks of competitive paid internships to gain exposure to STEM careers in animal-human public health and veterinary medicine, with emphasis on laboratory diagnostics.
---
teachHOUSTON
University of Houston College of Natural Sciences and Mathematics
teachHOUSTON addresses the critical need for diverse and highly qualified STEM teachers. Students are prepared via ongoing field experiences and rigorous research-based instruction from faculty who have extensive teaching backgrounds in public schools. Scholarships are awarded to 85 percent of students in the program.

---
UHCLTeach
University of Houston-Clear Lake College of Science and Engineering, College of Education
The UHCLTeach program prepares STEM preservice teachers to implement engaging, inquiry-based learning through research-driven, culturally relevant methods. Students receive four-year, need-based scholarships and mentoring, and they participate in a summer institute where they receive field-based classroom experience. They are equipped to serve in low-income schools and have the resources and tools necessary to teach in science and math classrooms.
---
Research, Academics and Mentoring Pathways (RAMP) to Success
University of Massachusetts Lowell James B. Francis College of Engineering
RAMP begins as a six-week summer bridge program for new students and continues throughout their college years. The mission is to increase representation of women and people of color in leadership positions in academic and engineering careers. Students graduate with a portfolio of extracurricular activities in research, industry experience, entrepreneurship, and community engagement.
---
Medical Scholars Pathway Program
University of Miami Leonard M. Miller School of Medicine
The Office of Diversity, Inclusion and Community Engagement coordinates activities for the Medical Scholars Pathway Program, including High School Careers in Medicine, Health Careers Motivation, Summer Training in Research, and Medical College Admission Test Prep. Each offers opportunities for historically excluded high school, undergraduate, and graduate students to pursue careers in health care.
---
BME High School Internships
University of Minnesota (UMN) Department of Biomedical Engineering (BME) College of Science and Engineering
BME offers a six-week paid research program designed to attract underrepresented high school students to STEM education and careers. Participants work with faculty members in labs, visit industry partners, and tour UMN labs. They engage through mentorship and skills development sessions. Upon successful program completion, faculty provide letters of recommendation to support their UMN application.
---
STEM-POWER Research Program
University of Nebraska-Lincoln School of Biological Sciences
The STEM-POWER Research program seeks to empower low-income, first-generation, and underrepresented students through research opportunities and activities that support academic, personal, and professional development. The summer research program structures support and resources for incoming first-year students as scientists in research and jump-starts their university experience.
---
Club Scrubs – Oklahoma City
University of Oklahoma College of Medicine, Office of Diversity, Inclusion, and Community Engagement
Club Scrubs is a free program for underserved and underrepresented high school students considering a career in the health care field. Participants explore career paths through engaging biweekly, hands-on workshops and activities such as utilizing ultrasounds and orthopedic surgery tools, pathology procedures, physical therapy exercises, intubation, casting techniques, and dental procedures.
---
PITT STRIVE (Success, Transition, Representation, Innovation, Vision, and Education)
University of Pittsburgh Swanson School of Engineering
STRIVE focuses on recruitment, enrollment, retention, and timely PhD graduation of underrepresented engineering students; improving faculty awareness of impediments to success; and achieving an inclusive academic culture and climate. With PSP, PhD enrollment among underrepresented students rose from less than 5 percent to over 9 percent, and 26 underrepresented PhD candidates have graduated in the past seven years.
---
First-Generation Summer Start Scholars Program
University of South Carolina (USC) College of Engineering and Computing
Newly admitted, first-generation, students pursuing a degree in engineering or computing participate in a three-week residential summer program featuring high-impact activities. Students receive $1,000 annual scholarships, peer mentoring, and support services. USC is a designated First Forward Institution by the National Association of Student Personnel Administrators for its work with first-gen students.
---
NSF Bridge-to-Math Doctorate
University of Texas at Arlington Department of Mathematics
The NSF Bridge-to-Math Doctorate program seeks to increase the number of PhD students in mathematics from underserved populations. The one-year program consists of academic preparation, mentoring, and financial support, and allows students to develop a strong sense of belonging.
---
Women in STEM (WiSTEM)
The University of Texas at Austin Division of Diversity and Community Engagement
WiSTEM works across colleges and units on campus and with STEM educators, alumni, and advocates across Texas and beyond to close the gender gap in STEM. It creates experiences and support networks for pre-college women and STEM undergraduate students to explore, pursue, and persist within STEM majors and career pathways.
---
eSTEM (BIPOC Excellence in STEM)
University of Vermont College of Engineering and Mathematical Sciences
eSTEM is designed for underrepresented students interested in STEM careers. Students are given opportunities to build their professional networks, connect with researchers on campus, attend national and international STEM conferences, prepare resume and portfolio materials, discover research and internship opportunities, and build community.
---
Mathematics, Engineering, Science and Achievement (MESA)
Ventura College
MESA supports first-generation, low-income, and historically underserved community college students through tutoring, educational planning, academic excellence workshops, industry networking and exposure, and professional development. MESA works with industry partners and universities to promote internships and propels students into calculus-based STEM undergraduate programs.
---
STEM Academic Research & Training (START) Internship Program
Wake Technical Community College
START interns are diverse community college students who are paid to conduct undergraduate research, learn about being a STEM professional, build bridges with partner universities, and present their work either in a poster session or a peer-reviewed, internal journal. There are no GPA or course requirements.
---
Center for STEM Inclusion (CSI)
West Chester University of Pennsylvania College of the Sciences and Mathematics
CSI actively promotes diversity and equity initiatives in the College of the Sciences and Mathematics to increase access to STEM careers for a diverse body of students. CSI has four pillars — Outreach, Access, Persistence, and Career Readiness — each of which help build supportive student communities with demonstrated success.●
This article was published in our September 2023 issue.