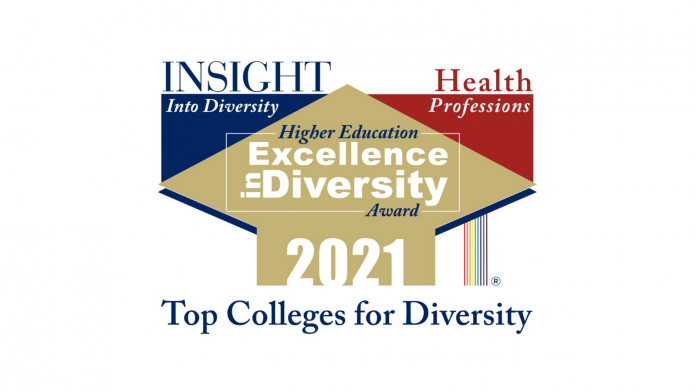 The annual INSIGHT Into Diversity Health Professions Higher Education Excellence in Diversity (HEED) Award recognizes health professions schools that are dedicated to a diverse and inclusive campus. Several 2021 Health Professions HEED Award-winning institutions shared why they applied for this national honor.
Betty Irene Moore School of Nursing at the University of California, Davis
"We viewed applying for the HEED Award as an opportunity for us to do a thorough assessment of our existing DEI processes and structures as measured against the INSIGHT Into Diversity standards. Applying for the award has been very helpful in guiding us to ask, 'Do we do this?' 'How well do we do this?' and 'Why aren't we doing this?' This has provided an opportunity to celebrate areas where we have been successful, identify gaps in order to invest resources in areas of greatest need, and benchmark and learn best practices from other institutions."
Florida State University College of Medicine
"It is a privilege to be able to apply for recognition through the HEED Award program. Our president and senior leadership within the college of medicine are committed to realizing the potential of the university as a public-serving institution, and that can only be achieved by recognizing diversity and being inclusive in all that we do. To be honored as a recipient of this prestigious award helps us in that mission."
John P. and Katherine G. McGovern Medical School at UTHealth
"The HEED Award would assist us in our recruitment efforts by recognizing us as a medical institution that demonstrates an outstanding commitment to diversity and inclusion."
TCU and UNTHSC School of Medicine
"As a new medical school in Texas, it has been a joy and an honor to be recognized as one of the 2021 Health Professions HEED Award recipients. It has brought our community members a sense of pride and accelerated our desire to strive for inclusive excellence. To be recognized for our commitment to increasing diversity on campus and working to create a culture of inclusion for students, employees, and the communities we serve is something we can share with our hospital partners, board of trustees, and local elected officials."
Texas A&M University College of Veterinary Medicine & Biomedical Sciences
"To be nationally and internationally recognized related to our commitment to inclusion, diversity, and equity is an important metric for success. It is important to the college to continue to focus and show commitment and engagement regarding diversity and inclusion and lead the nation in these areas in our profession. The HEED Award is a gold standard for recognition in diversity and inclusion among health care colleges."
Texas A&M University Irma Lerma Rangel College of Pharmacy
"The mission of the Texas A&M University Irma Lerma Rangel College of Pharmacy is to develop and inspire a diverse group of future leaders in pharmacy practice and pharmaceutical sciences through transformational education, innovative research, holistic care, and effective outreach and service. These goals align with the standards and criteria of the INSIGHT Into Diversity Health Professions HEED Award."
University of Florida College of Pharmacy
"We applied for the HEED Award because it highlights institutions that have made an extraordinary commitment to DEI. The University of Florida College of Pharmacy has taken great strides to illustrate that DEI are deeply rooted in our core values. We also have applied to further learn best practices within the DEI arena."
University of Houston College of Nursing
"The Health Professions HEED Award is an outward recognition that the University of Houston College of Nursing is dedicated and committed to making diversity and inclusion a top priority in academic nursing. We bring together stakeholders to improve equity in health and health care while keeping a keen focus on making sure underrepresented groups are nurtured and guided into the profession. The national award is gratifying to our faculty who work tirelessly to incorporate policies, strategies, and human kindness into the curriculum so that all students feel valued and welcomed."
University of Louisville Health Sciences Center
"Each year when we apply for this award, it allows us to have a process to gather the details of our DEI efforts across our health sciences center. It also provides us with a way to highlight some of our accomplishments, see where we have room to grow and improve vastly, and have external validation that our work is making an impact and is meaningful. For those individuals and offices most immersed in this work, it gives us all something to celebrate when we receive this award."
University of Maryland School of Nursing
"The HEED Award represents excellence in diversity and signals that we are an organization committed to creating inclusive excellence. In addition, the application process is an opportunity for us as a school to evaluate ourselves, engage partner departments, and assess areas for growth."
University of Minnesota School of Nursing
"The Health Professions HEED Award is highly respected and has been very meaningful for the entire school. It supports our diversity leadership. The HEED roundtables this past spring were incredibly valuable to identify areas of potential growth and initiatives."
University of Rochester School of Nursing
"We appreciate the attention that INSIGHT Into Diversity has focused on diversity. It brings greater visibility to our school for DEI initiatives. In completing the award application each year, it always brings to light additional resources, programs, and initiatives for us to consider and plan for in the coming year."
University of Wisconsin-Madison School of Nursing
"We believe that receiving a HEED Award would affirm our commitment and approaches to building health equity through nursing education. We are honored to highlight our own existing and future DEI work within health care through this application. Though our work is ongoing, we believe our progress and frameworks can serve as a model for other schools of nursing and could open doors for us to continue to learn from other organizations."
Vanderbilt University School of Nursing
"Because the school's mission and that of INSIGHT Into Diversity are closely aligned, we wanted to reapply for this award. If received, this award will allow the school to be recognized for its diversity efforts and programs. It will also allow us to share with other nursing programs strategies for increasing diversity and inclusion within the profession. This award will also be another exemplar of how universities and colleges can partner with businesses such as INSIGHT Into Diversity to promote diversity and inclusion."
Virginia Tech Carilion School of Medicine
"INSIGHT Into Diversity's stringent review of our diversity efforts helps to identify where we may have deficiencies and shines the light on impactful, innovative strategies that contribute to a welcome, inclusive medical school community."
Weill Cornell Medicine
"We hope to share through the HEED Award the breadth and depth of Weill Cornell Medicine's efforts, spanning all areas of our institution, to make diversity and inclusion truly ingrained in our culture. This includes our pipeline programs for students as young as high school, recruitment and retainment of diverse medical and doctoral student classes and faculty, and research funding to address health disparities and equity."●
This article was published in our December 2021 issue.