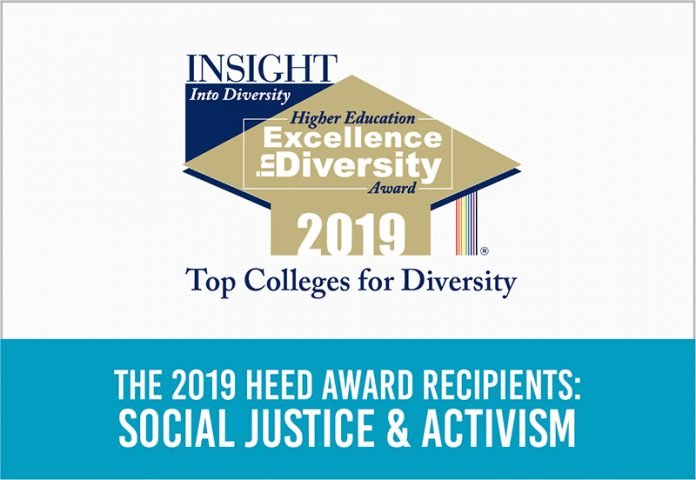 The annual INSIGHT Into Diversity Higher Education Excellence in Diversity (HEED) Award recognizes colleges and universities that demonstrate an outstanding commitment to diversity and inclusion. In our November 2019 issue, we recognize the year's winners with a series of vignettes highlighting some of the most important factors assessed by the HEED Award.
Partnerships with Social Justice Organizations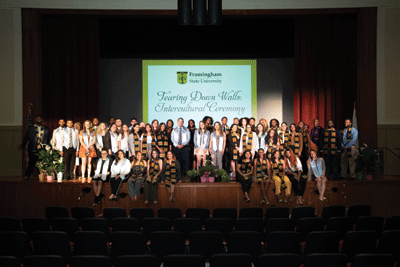 Framingham State University has established several partnerships with local, regional, and national organizations that assist in responding to national trends and incidents of hate that have occurred on campus. Last year, the university partnered with ADL, formerly the Anti-Defamation League, Lawyers' Committee for Civil Rights, and the Smithsonian to host programming on "Hate Activity on College Campuses," "Defining Hate Crimes on College Campuses," and the virtual symposium "Dialogues across the Puerto Rican and Caribbean Diaspora," respectively.
"Know Your Rights" (KYR)

University of Louisville's (UofL) Brandeis School of Law students and community volunteer groups provide KYR sessions at Kentucky's largest immigration detention center. KYR materials assist detained individuals who do not have an attorney, and volunteers also interview them, possibly leading to pro bono legal representation in a limited number of cases. The KYR program is a collaboration with the National Immigrant Justice Center and is facilitated under the leadership of professor Enid Trucios-Haynes, JD, co-director of the law school's Brandeis Human Rights Advocacy Program and director of UofL's Muhammad Ali Institute for Peace and Justice.
The Audre Lorde Social Justice Living Learning Community
(Audre Lorde SJ LLC)
The Audre Lorde SJ LLC at the University of Kentucky is a living-learning community that offers students a distinctive opportunity to develop their understanding and advocacy for intersecting identities such as race, ethnicity, sexual orientation, and gender identity through a social justice lens. Students who participate in the community have the ability to engage in tailored co-curricular programs and a host of dynamic course offerings that help them reflect on their own identities and others' experiences. Students live in the same residence hall area and develop a set of community standards so that all members of the community feel supported.
Leaders for Equity, Advancement and Diversity (LEAD)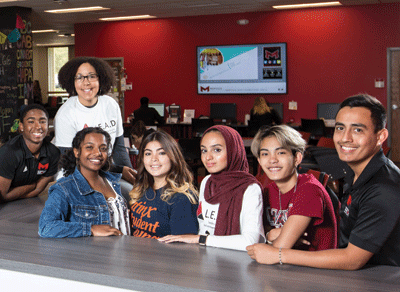 Maryville University's LEAD program is a council made up of 32 students who have an executive role in a cultural or social awareness student group on campus. Participants directly communicate with school administrators, faculty, and staff as they promote multicultural awareness and a welcoming campus environment. Through their work, they are creating spaces for the majority of students on campus to learn about cultures and identities different from their own. In doing so, participants gain important career skills and develop a network of support.
Multicultural Leadership Summit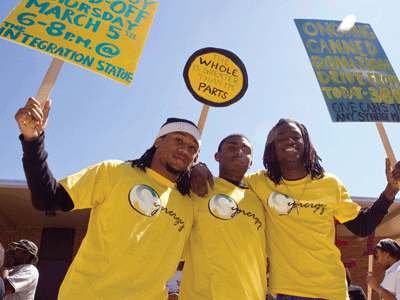 The annual Multicultural Leadership Summit at Florida State University focuses on building a foundation of knowledge that enhances student success in leadership in the areas of multiculturalism and social justice. During the event, participants learn about their identities and how these identities affect the way the students choose to show up in the world. Participants are empowered to be agents of social change in the global community.
Through the Survivors' Lens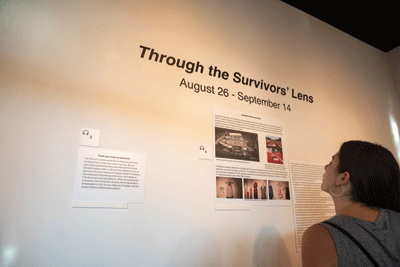 Through the Survivors' Lens at Ohio University is a survivor-centered, arts-based event which provides a compelling, visual means for provoking thought and reflection on survivorhood. Using the methodology of PhotoVoice, organizers worked with survivors of sexual assault, domestic violence, dating violence, stalking, and harassment to capture photographs of what survivorhood and trauma looks like. Fifty-two photographs were displayed from 20 different survivors. Accessibility is a core part of the exhibit, and braille is provided, as are audio recordings with item descriptions of the photographs. Organizers are working with other partners to create a virtual reality online exhibit of Through the Survivors' Lens.
Support for Small, Minority, and Women Entrepreneurs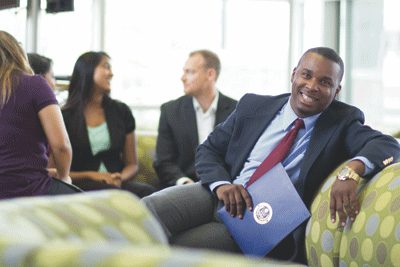 The Hillsborough Community College (HCC) Office of Procurement strategically provides extensive outreach with small, women and minority business entrepreneurs (W/MBE) to level the playing field in contracting and purchasing in an open access marketplace. HCC encourages W/MBEs to participate in all contracting, subcontracting, and joint venture opportunities. For example, during the recent ribbon-cutting ceremony for the Drs. Kiran and Pallavi Patel Allied Health Building at HCC's Dale Mabry Campus, it was noted that the project was completed on time and under budget. This state-of-the-art medical technological facility used six W/MBE firms, which were integral to this success.
Next Step Retreat
Union College, NY will participate in its sixth year of the Next Step Retreat, an annual event that gives students a forum to develop knowledge and skills to become better change agents, leaders, and activists in regard to diversity, equity, power, privilege, prejudice, and discrimination. The mission of Next Step is to create a safe and inclusive yet challenging experience for students, staff, and faculty, where issues of social injustice and oppression are discussed honestly and openly through each others' experiences and stories.
Memorial to African Americans Enslaved by William & Mary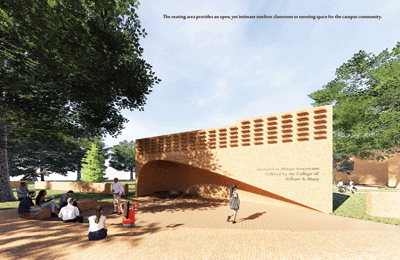 Like so many other institutions of higher education, north and south, William & Mary's hidden history includes a slaveholding past. After an international competition to solicit ideas, the university selected a concept for the Memorial to African Americans Enslaved by William & Mary as a way to acknowledge this harsh fact. The concept, created by 2011 graduate William Sendor, is titled "Hearth" and resembles a brick fireplace, representing both a place of work for the enslaved as well as a place of gathering and community. Now that a concept has been selected, a building committee with faculty, staff, students, and Board of Visitors representatives will hire an architect to develop the design.