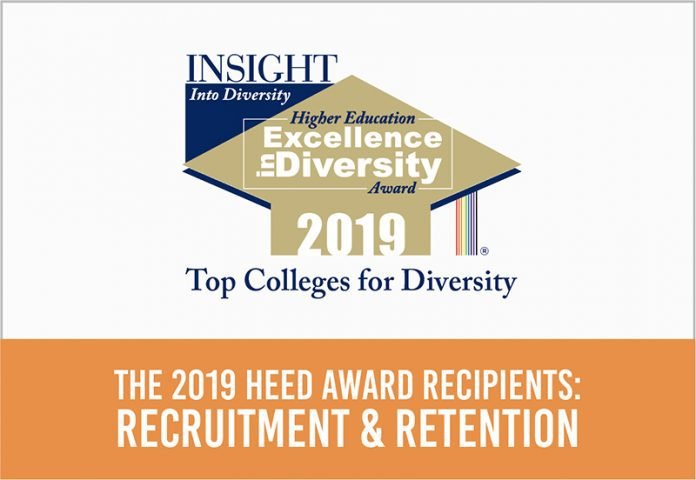 The annual INSIGHT Into Diversity Higher Education Excellence in Diversity (HEED) Award recognizes colleges and universities that demonstrate an outstanding commitment to diversity and inclusion. In our November 2019 issue, we recognize the year's winners with a series of vignettes highlighting some of the most important factors assessed by the HEED Award.
Pathways to Academic Success and Opportunities (PASO)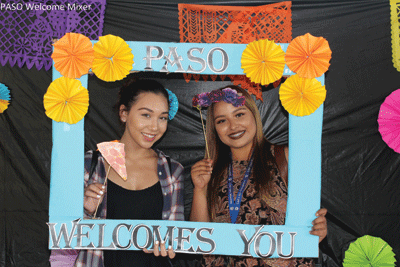 PASO is a federally funded Hispanic-Serving Institution program at California State University San Marcos dedicated to increasing retention and graduation rates among Latino students by infusing culturally relevant curriculum, enhancing existing student support services, introducing innovative technological approaches, and striving to promote educational equity at the institutional level. PASO has helped to increase the number of Latino students receiving federal financial aid by 30 percent. The program recently was selected as one of 16 national finalists out of 166 nominations for Excelencia in Education's 2019 Examples of Excelencia.
MLK Academy

The MLK Academy is one of Western Michigan University's (WMU) longest running programs designed to promote student success. The MLK Academy began in 1968 to support African American students attending WMU. This program has continued for more than 50 years and now has broadened its focus to assist first-generation students with economically and academically disadvantaged backgrounds. The MLK Academy provides academic, social, and professional development support for students from the first year of college through graduation. Participants are provided peer coaches to mentor throughout their college experience. This program is facilitated by the Division of Multicultural Affairs.
Campamento Hispano Abriendo Nuestro Camino a la Educación
University of North Carolina at Greensboro's (UNC Greensboro) summer pre-college program for students from Latinx backgrounds, CHANCE, provides first-generation, underserved Latinx high school students with a pathway to college. Through CHANCE, Latinx students engage in a weeklong college preparation and leadership skills development experience. The program offers faculty-led classes in a range of majors that track into professions following graduation. To date, 57 percent of participants have enrolled in college with a retention rate of 92 percent for those who enrolled at UNC Greensboro. These students have also achieved an average GPA of 3.3. CHANCE has served over 341 students since 2017.
Latinx Preview Day

To recognize the contributions of diverse perspectives within the student body, Mississippi State University's Holmes Cultural Diversity Center sponsors Latinx Preview Day, an exploration program for Hispanic and Latinx students in grades 9-12. This special visit allows students to explore Mississippi State's campus, learn about academic and non-academic resources, and engage with current Hispanic and Latinx students, faculty, and staff. Mississippi State's Office of Admissions and Scholarships presents a free and expansive leadership conference called SPARK (Students Paving a Road to Knowledge), which is designed to assist underrepresented rising seniors in laying the foundation for their future.
New Approaches to Diversity and Inclusion Grant Program
The University of Georgia (UGA) is committed to creating and improving efforts to make the campus a more diverse and inclusive community. Drawing from $300,000 in private funds dedicated by the president, the New Approaches to Diversity and Inclusion Grant Program provides between $10,000 and $25,000 to administrative and academic units for the implementation of new initiatives to enhance the academic experience of underrepresented, first-generation, rural, and other underserved students at UGA. The purpose of the grant is to expand support for underrepresented and underserved students and to develop or adopt new programs that foster an inclusive and welcoming environment for all UGA students.
A Letter to Every Student
The Division of Diversity, Equity, and Inclusion at Texas Tech University (TTU) collaborates with the Office of Admissions in creating embedded messaging throughout campus communications that includes the many student-centered services. This past year, efforts included a letter from the vice president of the Division of Diversity, Equity, and Inclusion and chief diversity officer to every student admitted to TTU. The letter centered on creating an inclusive campus community that values the diverse perspectives and opportunities to thrive at TTU. TTU's recent designation as a Hispanic-Serving Institution speaks to the success of the collaborative work in enrolling and retaining students from diverse backgrounds.
LATINX VIDEO SERIES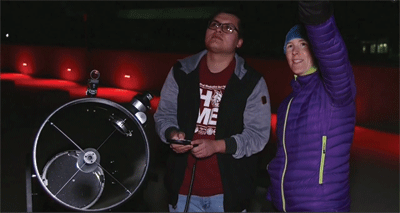 Starting in 2019, Central Washington University (CWU) partnered with Yakima Valley College (YVC) and the Univision affiliate in Yakima to produce Orgullo Comunitario, a weekly video series that spotlights high-achieving Latinx students who have graduated from YVC and continued their educations at CWU. The segments, in Spanish, support CWU's commitment to diversity and inclusiveness and allow students to talk about their experiences as well as their aspirations. In addition to being broadcast during the Univision news program, the segments are posted on the Univision website.
Equity Guides
Augustana College instituted policies to enhance recruitment and retention of employees from underrepresented groups through training "Equity Guides." The policies require a diverse pool of candidates; an equity guide on search committees; and diversity, equity, or inclusion questions to be included in interviews. The guide's responsibility is to ensure issues of diversity, equity, and inclusion are factored into Augustana's recruitment and retention strategies. Equity guides have received training related to the influence of unconscious bias, myths about merit and fit, addressing microaggressions, and ground rules for search committees.
Emerging Scholars Symposium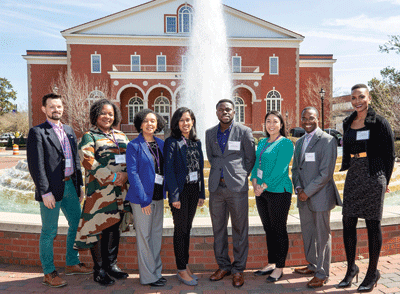 East Carolina University (ECU) offers the three-day program for scholars nearing the end of their terminal degree studies and recent graduates, including postdoctoral scholars. The program is designed to diversify ECU's faculty pipeline with emphasis on groups underrepresented in their field. Participants engage with ECU academic leaders, learn about faculty life at ECU, and showcase their research.
HireReach
To increase the diversity of faculty and staff, Davenport University is implementing HireReach, a collaborative, three-year initiative between West Michigan's Talent 2025 Diversity and Inclusion Working Group and West Michigan Works! with the purpose of training employers on an evidence-based selection process. These strategies help employers to not only hire the best possible workforce but also increase diversity among their staff. The process evaluates candidates holistically, targeting skills relevant to each job and reducing the potential for unconscious bias.
Faculty of Color Network

In the past three years, nearly 40 percent of new faculty members hired at Adelphi University have been people of color. Recruitment is only the first step in bringing greater diversity to faculty; equally important is engaging faculty of color in the academic life of the university. The Faculty of Color Network was created by the Office of Diversity and Inclusion and Faculty Center for Professional Excellence to support recruitment and strengthen retention efforts by promoting involvement, scholarship, and tenure. It provides networking and mentoring opportunities for faculty of color, offers research workshops, and promotes collaborative relationships with colleagues across the university.
Future Faculty Development Program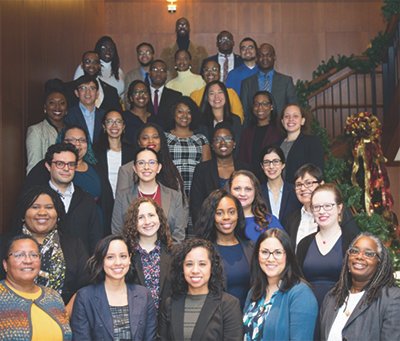 This year marks the 11th anniversary of the Future Faculty Development Program at Virginia Polytechnic Institute and State University (Virginia Tech). The goal of the program is to recruit underrepresented graduate students or post-doctoral students, including individuals who identify as African American, Hispanic, Latinx, American Indian, Alaska Native, or Pacific Islander. Last year, 19 underrepresented faculty were hired at Virginia Tech.