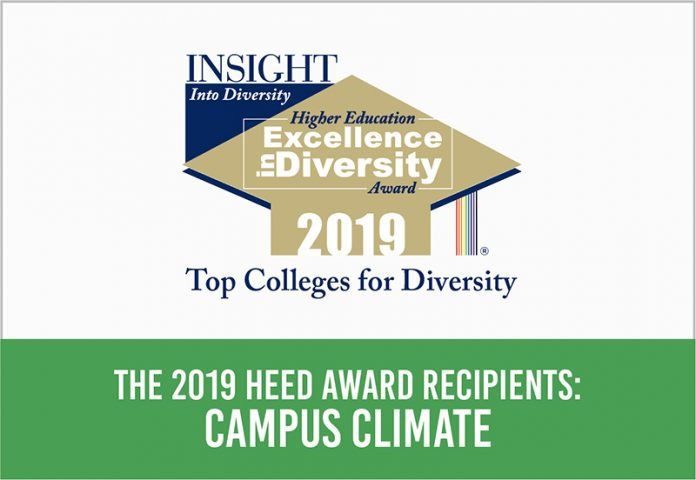 The annual INSIGHT Into Diversity Higher Education Excellence in Diversity (HEED) Award recognizes colleges and universities that demonstrate an outstanding commitment to diversity and inclusion. In our November 2019 issue, we recognize the year's winners with a series of vignettes highlighting some of the most important factors assessed by the HEED Award.
Building a Community of Equity Professional Development Program (BaCE)

Designed for staff, faculty, and administrators at Washington State University Vancouver (WSU Vancouver), BaCE provides conceptual and practical frameworks, self-reflection, and group discussion, skill-building, and action steps to align with and advocate for equity throughout the campus community. BaCE facilitates Goal 4 of the WSU Vancouver strategic plan to promote an ethical and socially just society through an intentional commitment to equity, diversity, and inclusion. Specifically, BaCE supports the following commitments: ensuring equitable opportunities and outcomes for students, infusing equity throughout the campus structure and working toward equity in all aspects, and building and maintaining a safe and welcoming environment for all.
Negating Hate Digital Quilt

The word "inclusion" is at the base of a new "Digital Quilt" called "Negating Hate" on Millersville University's website. The webpage serves as a visual collection of inclusive, supportive statements from members of the campus community. All are encouraged to submit their own statement and contribute to the patchwork of positivity that is growing there. The ultimate goal is that this Digital Quilt will continue to grow and live on in perpetuity as a symbol of Millersville's mission and focus on diversity.
Orientations for Students of Color

Grand Valley State University (GVSU) hosts orientations designed for students of color prior to the start of the fall semester. Laker Familia Orientation, serving those who identify as Latinx and Hispanic, recently held its sixth orientation. This is the third year for Black Excellence Orientation, for students who identify as Black or African American. Using similar models, both orientation programs hosted dinners for parents and guests, team-building activities, and opportunities to network with current students, faculty, and staff members. More than 200 first-year students participated in August 2019. After orientation, programs like Brothers: Black Male Scholars, Laker Familia, Niara (for women of color), and Queer Connections support students throughout their GVSU journey.