The annual Health Professions Higher Education Excellence in Diversity (HEED) Award recognizes institutions that demonstrate an outstanding commitment to diversity, equity, and inclusion in healthcare education. In our December 2019 issue, we recognize the year's winners with a series of vignettes highlighting some of the most important factors assessed by the Health Professions HEED Award.
Since 2000, the College of Graduate Studies at the Medical University of South Carolina (MUSC) has sponsored the annual E.E. Just Symposium to promote recognition of diversity in the biomedical sciences. Named in honor of Ernest E. Just, a prominent 20th century African American marine biologist and South Carolina native, it brings approximately 300 underrepresented undergraduate students and their advisors to MUSC. The event includes a session with nationally recognized scientists and scholars as invited speakers and role models, as well as career development opportunities where students meet with representatives of MUSC's six colleges to learn about the programs the school offers.
MGH Institute of Health Professions held a series of Latinx Heritage Month events to merge the campus community with the Greater Boston Latinx community. The events included a showcase of a student trip to Peru, with catering provided by a local Peruvian restaurant, and an interactive presentation on Bomba, a traditional Puerto Rican music and dance style. In partnership with a primarily Latinx middle school, the institute had a screening of a film discussing the U.S. border crisis. The keynote presentation, "The State of Latinx Health in Boston," featured Boston's Health and Human Services chief and Fenway Health's medical director, both of whom are Latinx.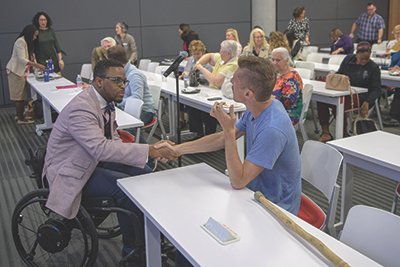 The Inclusive Excellence Speaker Series at The University of Arizona College of Medicine – Phoenix (COM Phoenix) brings fresh perspectives and voices to campus to share stories that are not being told or not being told frequently enough. The series gives students the opportunity to meet and interact with dynamic speakers. In addition, medical student organizations and COM Phoenix's Office of Diversity and Inclusion host an annual discovery series, HealthWeek, which has sessions that offer unique perspectives on how different cultures and communities access and navigate today's healthcare system. All sessions are free and open to the public.