In 2019 and 2020, the United States will celebrate legal achievements by women that changed the course of history.
[Above: A suffragist in Washington, D.C., circa 1910-1920 (Photo by Harris & Ewing/Library of Congress)]
Next year marks the 100th anniversary of women's suffrage, which granted them the legal right to vote. Programs, events, and exhibits to celebrate the centennial are planned throughout the country in the interest of the continued advancement of women's rights. To learn more about celebrating the women's suffrage centennial, visit 2020centennial.org.
This year, America will recognize the 150th anniversary of the first woman to become a lawyer in the U.S.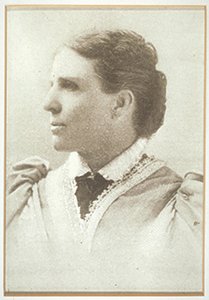 Arabella Babb Mansfield was born in Des Moines County, Iowa, in 1846. She later graduated from Iowa Wesleyan College in Mount Pleasant, Iowa, and then studied the law under her brother's tutelage at his law office.
At the time, Iowa prohibited women from taking the bar exam, but Mansfield managed to take it anyway and passed with high scores. She then went to court to challenge the law that prohibited her from practicing, eventually winning her case. She became the first female American lawyer in 1869, more than 50 years before women's right to vote would be recognized.
To celebrate Mansfield's contributions to the advancement of women in law, the National Conference of Women's Bar Associations plans to release a special publication this year.— Raising the Bar: America Celebrates 150 Years of Women Lawyers. To learn more, visit womenlawyers150.com.
Despite the many years that have passed since Mansfield created a path for others, women still have a long way to go in the progress toward equality, according to the Institute for Inclusion in the Legal Profession.
In 2018, only 34.8 percent of the lawyers who are members of the American Bar Association (ABA) were women, according to the ABA. In the same year, female lawyers earned only 80 percent of their male counterparts' annual salaries, according to the ABA.
"Within the legal profession, while we see more women achieving success as lawyers and attaining greater positions of authority, there remains much more to be accomplished, particularly for women of color, those who are [LGBTQ], those who live with disabilities, and those who come from disadvantaged backgrounds," the institute stated in a news release.
Kelsey Landis is the editor-in-chief of INSIGHT Into Diversity. This article ran in the July/August 2019 issue.