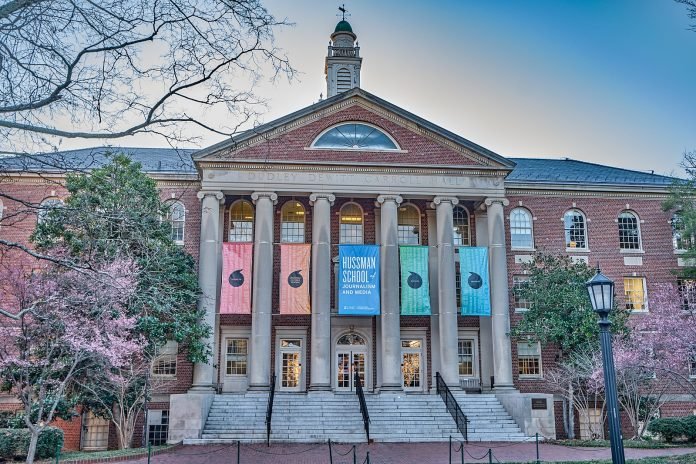 Pulitzer Prize-winning investigative journalist Nikole Hannah-Jones was named the Knight Chair in Race and Investigative Journalism at the University of North Carolina's (UNC) Hussman School of Journalism, the school announced last week.
Hannah-Jones is an alumnus of UNC and the creator of The New York Times' 1619 Project, an inclusive collection of content and lesson plans about slavery in America. Additionally, Hannah-Jones has established a professional development program to help increase and retain journalists of color called the Ida B. Wells Society for Investigative Reporting. The society, which relocated from Harvard University to UNC in 2019, has more than 4,500 members.
"This is the story of a leader returning to a place that transformed her life and career trajectory," Susan King, dean of UNC Hussman, said in a press statement. "Giving back is part of Nikole's DNA, and now one of the most respected investigative journalists in America will be working with our students on projects that will move their careers forward and ignite critically important conversations."
In her Knight Chair professorship, Hannah-Jones will help students work on national investigative projects that can potentially be published in The New York Times.
"I've spent my entire career trying to mentor young journalists. I try to be for them what I needed when I was trying to make it and become successful," Hannah-Jones stated in the press release. "I'm grateful for the opportunity to give back by helping students pursue their dreams and learn how to practice the type of journalism that is truly reflective of our multiracial nation."
Hannah-Jones has faced opposition from right-wing politicians who condemn her 1619 Project and anti-racist philosophies. Most recently, Senate Minority Leader Mitch McConnell wrote a letter to Education Secretary Miguel Cardona last week saying the 1619 Project is "nonsense" and has a "politicized and divisive agenda."
During an interview with CNN on Monday, Hannah-Jones responded to McConnell's letter saying the banning efforts of the project is a free speech issue.
"If you look at the rhetoric of Sen. McConnell and state legislators all across the country who are trying to get bills passed to prohibit the teaching of the 1619 Project — it's not about the facts of history," Hannah-Jones told CNN. "It's about trying to prohibit the teaching of ideas that they don't like."