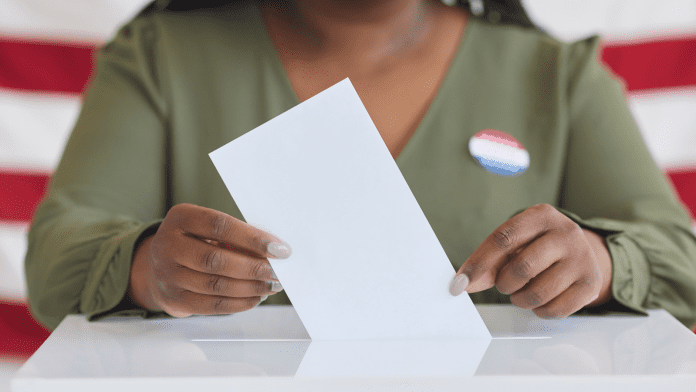 August 2020 marked the centennial of the passage of the 19th Amendment, a law meant to grant women in the U.S. the right to vote nearly 150 years after the nation was founded. Despite this long overdue victory, many women — especially those of color — would remain disenfranchised due to voter suppression laws until the advent of the civil rights movement. As the push for women's rights evolved over the latter half of the 20th century, so too did their participation at the polls and in politics. Although efforts to block access to the ballot for underrepresented voters continue today in the form of voter ID laws and other targeted policies, women of all backgrounds have become a force strong enough to sway elections, lead Congress, and even serve as vice president of the United States.
A History of Women's Voting Patterns and Rise to Political Office
The 1920s – 1950s
Despite the victory of the 19th Amendment, many women continued to abide by traditional gender roles that discouraged their participation in political life. In the first year in which they were eligible to cast a ballot in federal elections, only 36 percent did so, compared with 68 percent of men. By the 1940s, the gap had narrowed, with women hovering around 10 percentage points less likely to vote than men. For women of color and those who were low-income, however, disenfranchisement remained the norm.
Yet even with low voter turnout, women ascended to Congress in steady, if low, numbers. The first woman senator, Hattie Wyatt Caraway of Arkansas, was elected to office in 1932, and nearly 40 women were elected to the House and Senate between 1935 and 1955 alone. Patsy Mink of Hawaii became the first Asian American congresswoman when she was elected to the House in 1952.
The 1960s
The Civil Rights Acts of 1957, 1960, and 1964 as well as the Voting Rights Act of 1965 eased, but did not eradicate, barriers to the polls for women of color. The women's rights movement began to shift perceptions of gender roles and emboldened women, especially younger generations, with a sense of duty when it came to civic participation. New groups such as the National Organization of Women (NOW) advocated for gender equality in politics and public life on a massive scale. By the 1966 midterms, men's dominance at the polls had become marginal, and by 1968 the U.S. had its first Black congresswoman, Rep. Shirley Anita Chisholm of New York.
The 1970s
Men and women turned out in equal numbers for a presidential election for the first time in 1976. One year later, 15 congresswomen created the Congressional Caucus for Women's Issues, a bipartisan group "intended to foster camaraderie among women legislators and bring a collective focus to women's issues, many of which their male counterparts had long ignored," according to The Atlantic. Today, the caucus has 177 members, both women and men.
A 1975 extension of the Voting Rights Act eased restrictions for women from Asian, Latinx, and other backgrounds by ending discrimination against "language minorities" and requiring voter registration materials be made available in languages other than English.
The 1980s
In the 1980 presidential election, the percentage of eligible women voters who cast a ballot was greater than that of eligible male voters for the first time in history — marking the beginning of a pattern that still holds true for every age group except those 65 and older. The election was also the first time that men and women showed a distinct division in their choice of candidate, as only 47 percent of women supported Republican candidate Ronald Reagan compared with 55 percent of men. The decade marked the beginning of what the Brookings Institute calls "the gender realignment of American politics" as women began to increasingly skew left at the polls.
By 1984, the gender gap in African American voter turnout had become sizable, with Black women outnumbering Black men at the polls by 6 percentage points.
In 1989, Ileana Ros-Lehtinen of Florida became the first Latinx woman elected to the House of Representatives.
The 1990s
Women continued to outnumber men at the polls by 2 to 3 percent in both the 1992 and 1996 federal elections.
Dubbed "The Year of the Woman," 1992 saw more new women elected to Congress than in any previous decade. Subsequently, the Congressional Caucus for Women's Issues succeeded in passing a series of landmark equal rights laws, including the Family and Medical Leave Act of 1993 and the Violence Against Women Act of 1994. The caucus also successfully advocated for revolutionary changes to federal health care policies and research, which until that point had largely been conducted by and for men.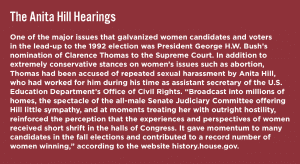 The 2000s
The gender voting gap widened, with women outnumbering men in federal elections by 7.8 million in 2000, 8.8 million in 2004, and 10.7 million in 2008. Their high turnout and continued preference for Democratic candidates helped secure the historic election of President Barack Obama in 2008. Also in that year, Black women made history by having the highest voter turnout of all racial, ethnic, and gender groups, with nearly 70 percent casting a ballot.
November 2008 saw another historic first as the percent of eligible women voters ages 65 to 74 at the polls caught up to the number of men in their same age group for the first time. Women ages 75 and older, however, continued a longstanding pattern of being far less likely than their male counterparts to participate in elections.
The 2010s
State lawmakers across the country began issuing a series of voter restriction policies intended to disenfranchise people of color and underserved communities. By the end of the decade, 25 states passed new laws making it more difficult to vote. Despite these barriers, Black women showed up to the polls in higher percentages than women of every other race in 2012. By 2016, they outnumbered Black men voters by 9 percentage points.
The 2016 election revealed a sharp partisan divide based on age, education level, and ethnicity and race. While women overall were still more likely to vote Democratic, White women cast more ballots for Donald Trump than for Hillary Clinton by 2 percentage points. By contrast, nearly 70 percent of Latinx women and a dramatic 98 percent of Black women voted for Clinton, according to the Pew Research Center.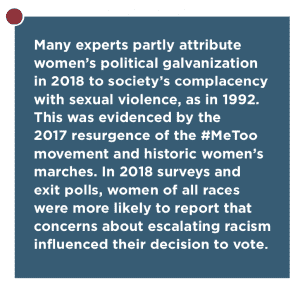 By the 2018 midterms, however, the percent of women who voted Democratic nearly doubled. 
A record number of 117 women were elected to the House and Senate, including the first Native American and first Muslim congresswomen. Alexandria Ocasio-Cortez, at 29 years old, became the youngest woman to ever serve in Congress. LGBTQ women also broke records in federal, state, and local elections across the U.S. As in 1992, these historic victories led 2018 to be dubbed "The Year of the Woman."
2020
The gender gap in federal elections persisted, with 55 percent of women supporting President Joe Biden in the November federal election compared with 46 percent of men. Nearly 70 percent of Latinx women voters.— a population disproportionately affected by the economic and caretaking burdens of the COVID-19 pandemic.— voted for Biden. Surveys revealed that level of education, race and ethnicity, and age were stronger indicators of political preference than gender.
A record number of Republican women were elected to Congress in November, bringing their total number to 36. Even with significant gains for both parties, however, women still comprise only 27 percent of the House and Senate combined; women of color account for just 10 percent. Fewer than 1 in 3 state lawmakers are women, and only nine are governors.
Despite continued underrepresentation, women overcame a major barrier when Kamala Harris was elected vice president 100 years after the ratification of the 19th Amendment. She is the first woman, first African American, and first Asian American to serve in the nation's second highest office.●
Mariah Bohanon is the senior editor of INSIGHT Into Diversity. This article was published in our March 2021 issue.